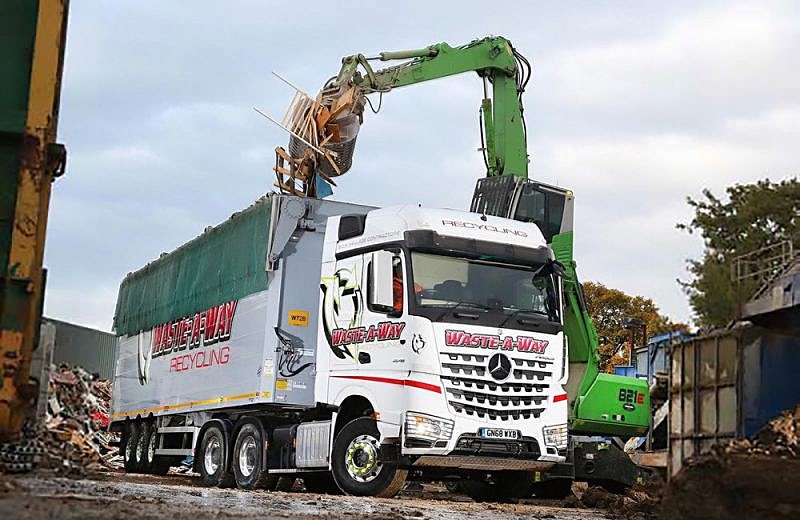 Basildon-based operator Waste-A-Way, which runs a haulage fleet of 38 tractor units, has added 14 double-drive Arocs 2648 models, delivered by Sparshatts Truck & Van.
Each of the models have flat-floored BigSpace cabs and second-generation 12.8-litre straight-six engines producing 476hp and they replace 10 Arocs, which had provided four years' reliable, cost-effective service. The additional 10 models reflects the growth fo the business and the additional work that Waste-A-Way has to undertake.
The company says it gained its first experience of Mercedes- Benz operation after taking on a new contract in Dover. It inherited a number of trucks bearing the three-pointed star, which were maintained by Sparshatts. The same dealer then delivered Waste-A-Way's first new Mercedes-Benz trucks approximately 10 years ago. "We've not looked back since," declared director Ian Whitehair.
"With Sparshatts' support Mercedes-Benz trucks work really well for us, particularly the Arocs, which is impressively strong and robust, so ideally suited to our kind of work.
"We'd been running 450hp versions, but are now favouring the 480hp engine, because the extra bit of power for hills seems also to be resulting in slightly better fuel efficiency," said Ian Whitehair.
"We're getting 5.8-6.2mpg which is excellent for this job, not least because the tractor units power the hydraulics for tipping."