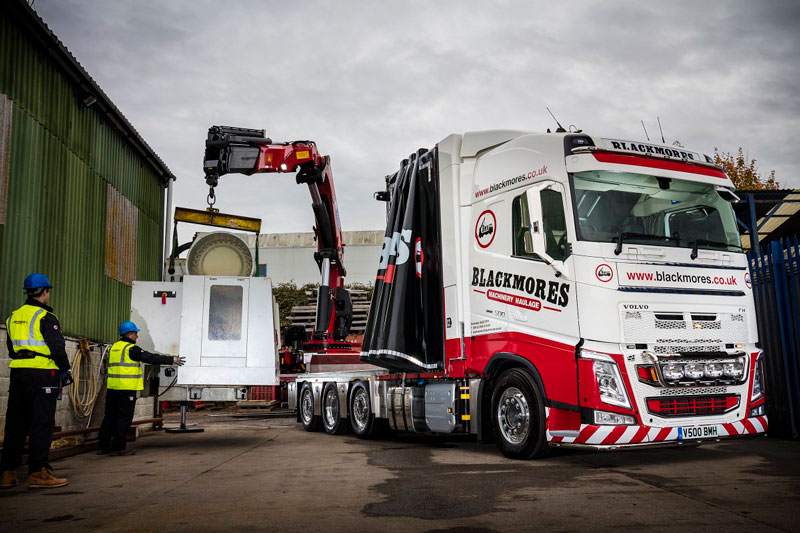 Yeovil-based Blackmores Machinery Haulage has taken delivery of an FH- 500hp 8×2 Tridem rearsteer, 44 tonne GTW drawbar that provides a custom engineered 'transport solution'. The FH-500, which was supplied by Truck and Bus Wales & West, is the first new truck the company has purchased in thirty years of successful international machinery haulage.
Blackmores FH Tridem, the first in the UK to have a low chassis height of 1100mm from the ground to the top of the chassis frame. Lowering the running height of the Volvo's chassis was essential to achieving the 4-metre overall height required for Continental work.
Low chassis height was equally crucial for access to many UK sites, where tight access would be a major challenge for conventional multi-axle rigids.
Bodybuilder CCH of Helstering in the Netherlands re-packaged chassis mounted components, including the batteries, air tanks and AdBlue tank. They also fitted a number of stainless steel tool boxes which were made by Tilburg Truck Parts in Valkenswaard.
For ease of use, the body superstructure is a 'cartridge system'. The result is that it takes only thirty minutes to remove the demountable curtain assembly. The curtains, which were made by NetCap, are mounted on a roller system that sits on a rave rail that has been reduced from the more standard 180mm to just 100mm. The internal height of the curtainside body is 2.8 metres, allowing most machines to be carried in under 4 metres overall height. The headboard is demountable. Lower profile 385/55R 22.5 single tyres on all axles help save vital centimetres. The bodywork is mounted on a chassis length superstructure that extends from the back of the cab and which provides a rigid base for the whole body and crane. Lashing eyes are placed every metre. The crane itself is a 60 tonne metre, rear mounted HMF 6020 model.
Blackmores prefer rear mounted cranes as they allow a longer reach from the back of the chassis. An important feature of the HMF is that the accuracy of the electronic control system allows the stabilisers to be deployed safely, without fully extending them. It means that the truck can work in much more confined spaces, such as London streets, without disrupting traffic. Wayne Scott of Blackmores Machinery Haulage says that: "The centre of gravity is very low and we can achieve full stability at 100% lift with less than a 50% extension of the legs."
"We intend to keep the Volvo Tridem for at least 10 years," continues Wayne. "That's why everything on it is stainless steel, custom built and engineered for durability and longevity."