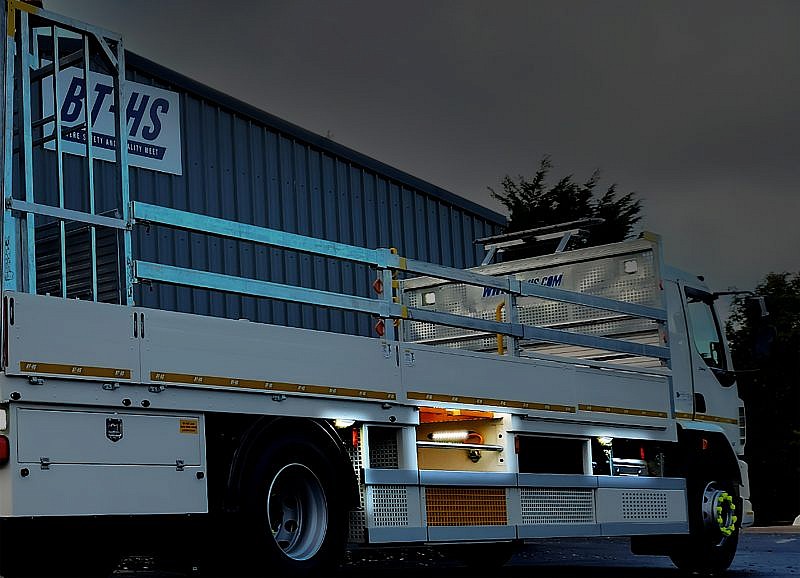 BT- HS, a leading provider of specialised traffic management and highways vehicles, has specified high-intensity low-voltage Labcraft Nebula strip lights and Scenelites for its IPV (Impact Protection Vehicle) range which, says the company, meet its high safety standard.
Based in Chorley, Bespoke Traffic & Highways Solutions comprises 6 divisions: traffic management, emergency services, fleet support, rail services, civil engineering, and vehicle rental.
Jason Grigg, UK Customer Account Executive for BT-HS, explains the reasoning behind the company's equipment choice:
"The nature of the specialist work carried out by our customers dictates the very highest quality and performance regarding every aspect of each vehicle we provide. Efficient and reliable lighting is no exception and, in this regard, we selected the Labcraft Nebula strip light and Scenelite Si9 because they match the high-spec' safety criteria our customers demand."
Designed and manufactured in the UK by Labcraft, the Si7 Nebula strip light is surface mounted on each side of the IPV cone well to provide a brightly lit and safe working area for operatives as they distribute cones onto the road.
"Nebula incorporates the Orizon LED strip light," explains Matt Stubbs, Sales Manager for Labcraft, "which uses the latest in LED Cree technology, for optimum performance and reliability – essential factors when operating in a potentially hazardous environment. The waterproof LEDs achieve greater luminosity, allowing us to offer a brighter unit whilst using fewer LEDs to maintain a low power draw – it's where safety and efficiency meet."
Set in a low profile, tough aluminium housing, Nebula is made for quick and easy 'plug-and-play' installation, making it ideal for BT-HS to retro-fit to new or existing vehicles. "Plus," says Jason Grigg, "we needed a lamp that sits as flush as possible, to minimise the risk of accidental damage and to keep the access clear."
For additional illumination onto the immediate areas around the vehicle, BT-HS have specified two Labcraft Si9 Scenelites. Fitted to the front and rear sides of the vehicle, the Si9 is the first of its type to emit a bright white light, allowing crystal clear visibility.
"The Si9 is made from polycarbonate and the lens features an anti-glare light guide which disperses the light evenly to avoid any hotspots, providing a clean and sharp field of light, on both sides of the vehicle," adds Matt Stubbs.
Furthermore, says Labcraft, the robust outer cover, provides protection against severe weather conditions and pressure washing.
"The Labcraft Nebula and Scenelite are now part of our standard specification, and it's reassuring to deal with a like-minded British manufacturer from whom new equipment and parts are always readily available," concludes Jason Grigg. "We build, convert and fabricate to the highest standard and in this regard, Labcraft ticks every box."
Established in 2018, BT-HS specialise in dedicated 12t, 18t and 26t IPV crash cushions, blockers, cone layers, mobile lane closure boards, 7.2/7.5t and 3.5t traffic management vehicles and surface treatment vehicles. The company is accredited with FORS Silver Hire, Avetta (compliance management systems) and is a member of BVRLA (British Vehicle Rental and Leasing Association).