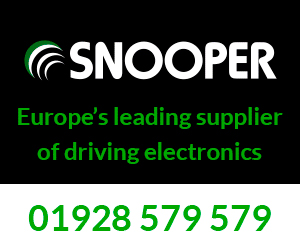 By Phil Jones, Head of Sales and Marketing at Snooper UK.
Bridge strikes are a frequent problem in the UK. The issue refers to trucks and other large vehicles striking bridges, causing disruptions to train services, deliveries and the public as well as costing millions of pounds in damage.
The latest statistics from Network Rail show that there were 1926 bridge strikes in a one year period. This resulted in 204,013 minutes of train delays and cost £16 million, not including the cost of undelivered goods and a loss in productivity which is thought to add an additional £10 million worth of damages.
What's more, bridge strike accidents are bad news for truckers. An accident could result in a driver losing their job, being prosecuted for offences that could lead to imprisonment or loss of their driver's licence, serious injuries, or in the worst cases, even death.
Bridge strikes can also impact trucking operators, who can be liable for the cost of repairing any damages, recovering the vehicle and it's load, paying for any train delays and could even lose their operator's licence.
Unless there is missing or outdated street signage on the approach to the bridge, any bridge strike that occurs is the responsibility of the vehicle driver and recently councils have been looking for new ways to prevent these expensive accidents. In one city in America, police are
even handing out $2200 fines to drivers responsible for bridge strikes. So what can be done to prevent these collisions and protect drivers from repercussions?
It's important that you know the exact measurements of the vehicle being driven and check this before starting each new journey.
That means that as well as ensuring the load is safe and secure, that you measure the height and width of the cab, the trailer, the load and equipment. It's important that you measure the trailer yourself and not rely on the information inside the cab as coupler height can vary. It is the responsibility of the driver to check this before getting behind the wheel of the vehicle.
Once the journey has begun, it's important to remember that the height of the vehicle can change, for example, by adjusting the fifth wheel, or when loading or unloading a trailer.
Phil Jones, Head of Sales and Marketing at Snooper, said: "Until very recently, the number of bridge strikes that occurs each year has been on the rise. Many people put this down to the fact there has been an increase in large vehicles on the roads but we believe that there are a few different reasons for this. The main reason being that many truck drivers now use their smartphone and generic maps for navigation.
"Google Maps and the other popular mobile navigation apps are made for the average motorist, and don't take in the considerations of truck drivers, for example, avoiding routes with low bridges."
Snooper has recently launched a new product to help truck drivers avoid these costly collisions. The Truckmate Bridge-Saver is a new device that warns you of upcoming obstacles based on the input vehicle dimensions.
Mr Jones, continued: "If you are driving a large vehicle, it's crucial that you take precautions to prevent any issues from occurring. We recommend that all truck drivers review their route before setting off and use a sat-nav that is designed for large vehicles. However, we understand the reasons that drivers would prefer to use their mobile phone for navigation and that is why we have launched the Bridge-Saver.
"The device is compact so you don't need to worry about having to carry around an extra piece of bulky kit between jobs and provides an extra level of precaution to keep you moving and protect you from any accidents."
The Bridge-Saver device has an easy-to-read 5" LCD screen displaying vehicle details and current speed, informed by the built-in GPS speedometer. The device costs just £99.99 from gb.snooper.eu.