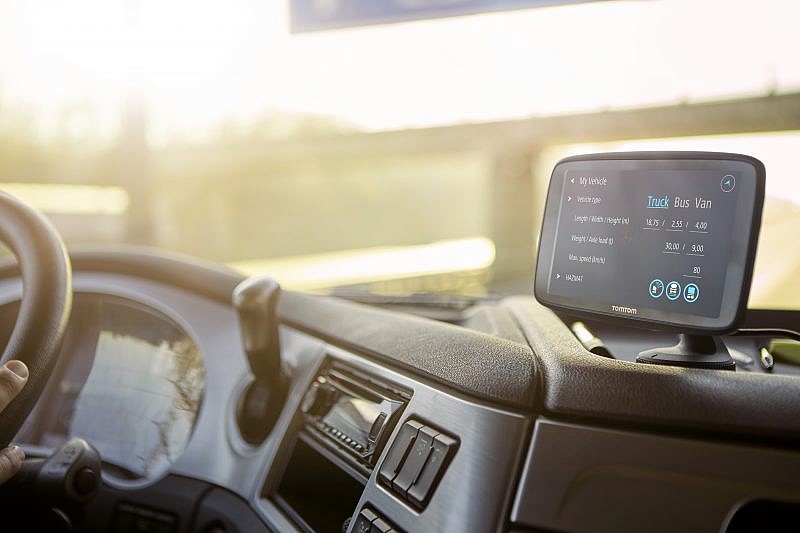 Kuda Automotive are pleased to announce the launch of the brand new TomTom GO PROFESSIONAL range of large vehicle sat navs. Perfect for truck operators, coach drivers and more, the GO PROFESSIONAL devices are not only true leaders in their class, but offered through Kuda Automotive's great interest free monthly payment plans also extremely affordable.
The new TomTom GO PROFESSIONAL range are specifically developed to help professionals get to their destination safer and more efficiently. The new sat nav range comes with Lifetime large vehicle map updates over Wi-Fi®, and tailored routing, guiding drivers to carefully selected truck, van and coach points of interest (POIs), such as fuel stations and parking. The TomTom GO PROFESSIONAL sat navs are compatible with Siri and Google Now™, allowing drivers to get full access to their personal assistant with their smartphone safely tucked away, allowing them to focus on the road.
The new TomTom GO PROFESSIONAL ensures efficient journeys. It provides customised routes for a truck, bus or van's dimensions, weight, cargo and max speed, while also giving drivers a realistic arrival time. The sat navs include over 50,000 truck, van and coach bus fuel stations, parking spots, restaurants and services centres across Europe. TomTom has carefully selected these dedicated POIs from DKV, ParkyourBus and Les Routiers to meet professional drivers' needs.
Tim Vincent, Head of Product Market Development at Kuda Automotive commented "It's fantastic to be working so closely with a large brand like TomTom, and we are proud to be working with them to launch their brand-new product line. We pride ourselves in offering the leading products to the UK's leading commercial vehicle operators with the after sales care to back it up. Offering these fully loaded GO PROFESSIONAL units from TomTom further reassures our customers that we are not only experts in what we do, but are always offering the latest innovations in the industry".
VISIT;
www.kudauk.ltd.uk