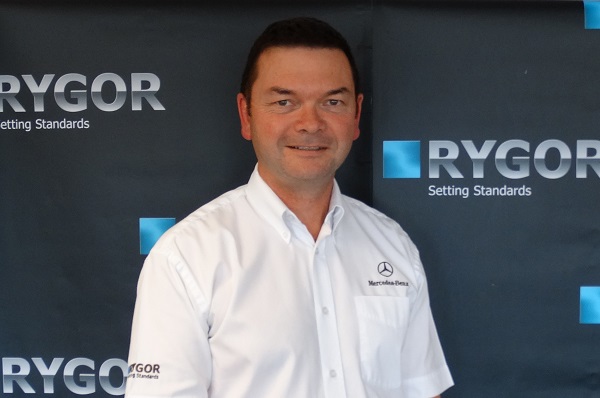 In an industry facing increasing pressure to perform economically and ecologically responsibly, Mercedes-Benz commercial vehicle Dealer group, Rygor Commercials has found a true asset in TRUCKTraining Manager, Chris Moore.
Chris took time out of his busy schedule to give us some insight into his role:
 Tell us about your experience with Commercial Vehicles…
"I started my working life with the military, driving all sorts of plant machinery and trucks. I then moved to Wiltshire Police, mainly with Roads Policing and Collision
Investigation. I finished my Police career as a trainer, teaching emergency response driving to both the Police and Fire Service. Having previously gained my LGV licences with the military, I decided to take my training expertise into the commercial vehicle industry about four years ago. Rygor continuously invest in staff and industry training and I've never looked back."
What does your role encompass?
"No one day is the same. I can be doing vehicle demonstrations, or professional handover training with drivers. This week I've already spent a day off-road highlighting Rygor's latest demonstration vehicle, a Mercedes-Benz Unimog U530.  I also run fuel economy training for drivers. Rygor uses a Mercedes-Benz programme called Fleetboard which remotely monitors driving style to improve fuel economy – it's getting increasingly popular. I work all over the country and it's really varied."
How long does a session of TRUCKTraining usually take?
"It's completely flexible but generally about half a day. Training needs will vary from business to business and from driver to driver. My job is to tailor the training to the individual, ensuring that customers get maximum benefit from new technology and improvements in driving behaviour."
What would you cover in the session?
"I start with the basics, but it's not about teaching drivers to drive. We recognise that most drivers on our courses are experienced, so our training is designed to teach them how to get the best out of their vehicle. When you've been driving the same way for years, sometimes it's handy to just be shown how you can tweak procedures. I cover everything from safety checks, controls and technology, to using the exhaust brake correctly to decrease wear on brakes and save fuel. I also encourage drivers to have confidence in using the torque of the engine which is a key element of improving fuel economy."
Why would you recommend TRUCKTraining to customers/fleets/transport managers?
"There are so many reasons. Fuel saving, from an environmental point of view and from a financial one is so important. Many of the techniques used to reduce a customer's carbon footprint will also have a knock-on effect on reducing potential vehicle maintenance issues, such as brake wear. It helps to improve the physical and mental wellbeing of drivers and focusses on all aspects of safety. Our TRUCKTraining is a crucial part of what makes Rygor an industry-leading commercial vehicle Dealer."
What is the most rewarding thing about your role?
"Honestly? It is very satisfying when a driver who may initially not be very receptive to training comes and shakes my hand at the end of the session and says "thank you, I've learned something today". It's great to know that I've directly contributed to a positive change in their working life, and to know that change will also filter through to the company that they work for. Cost effectiveness at a driver level means that companies are financially benefitting their business by utilising TRUCKTraining and they're helping to secure their company's future in a competitive marketplace."