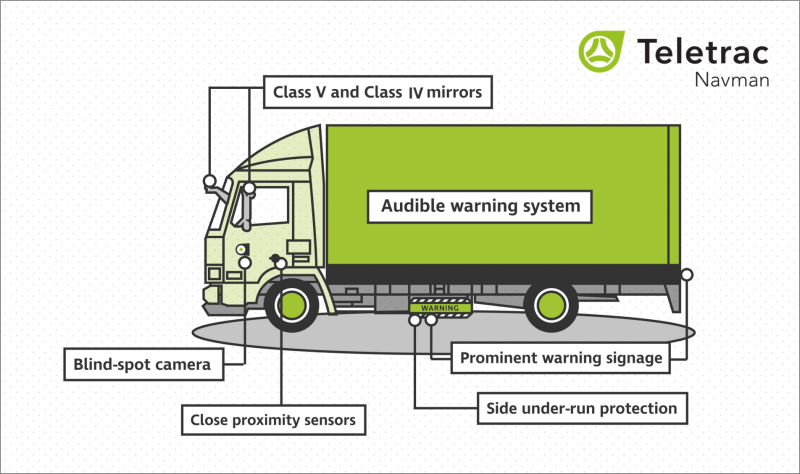 At the forefront of telematics for more than 25 years, Teletrac Navman has launched the DVS Safe System, a new technology package to help fleet operators meet London's Direct Vision Standard (DVS), mandatory from October 26, 2020.
The scheme led by Transport for London (TfL) forms part of the Vision Zero Plan, designed to eliminate all deaths and serious injuries within the capital's transport network by 2041. It calls for HGVs over 12 tonnes and entering or operating in Greater London to hold a valid HGV Safety Permit.
To be eligible for a permit, operators must ensure their vehicle meets a minimum 'one-star' rating or fit 'Safe System' measures to improve vehicle safety. Teletrac Navman's new package is designed specifically to help operators meet the new safety requirements and avoid fines of £550 per day, as well as £130 for the driver of a non-compliant vehicle.
Ensuring fleets achieve three of the required safety rating standards, the new technology package includes a nearside, rear-facing blind spot camera and in-cab monitor screen for the driver, to eliminate blind spots and increase visibility. It also consists of a close proximity sensor system to detect the presence of nearby objects, as well as audible alerts, which signal to vulnerable road users that a vehicle is about to make a left turn.
Commenting on deploying the package in preparation for the rollout is Paul Dodimead, Fleet Manager at Michael R Collier: "A minimum of six of our HGVs enter London five days a week, so the new direct vision rules will significantly impact our business. That's why we moved quickly to search for a supplier who could help us comply with the law and keep other road users safe.
"Not only did Teletrac Navman succeed on cost but also in manner, making us better informed to navigate and adhere to the intricacies of this new legislation. We're currently installing the technology across our fleet, so we can operate business as usual come October."
Peter Millichap, Director of Marketing at Teletrac Navman, added: "With safety and compliance core components of our offering, Teletrac Navman is well placed to ensure fleets can achieve the necessary standards set out in the DVS, allowing them to continue to travel freely and safely within London's boundaries, whilst avoiding costly penalties."