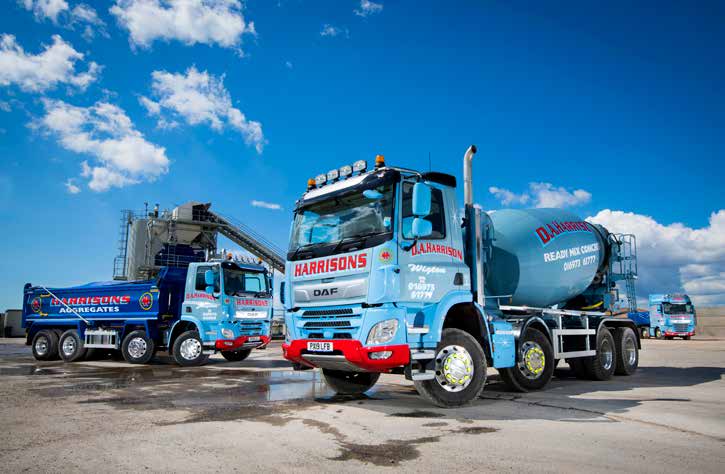 Family-owned DA Harrison has been operating from the Cumbria region for just over 60years. Ronnie Hitchens takes a look at how the company has evolved.
Since its formation in 1958, DA Harrison has grown a large fleet of mixers, tippers and skip-loaders, as well as a busy long distance haulage operation. A single marque fleet for much of its recent history, over the past two years it has taken on over 30 DAFs, the latest coming in the form of eight-wheel mixers and both six and eight-wheel tippers. These vehicles join DAF skip-loaders and XF 6×2 tractors that have also been taken on in the last couple of years.
Managing director, Richard Harrison, a son of the founder, is closely involved in the business today and has overseen many important developments. These include growth into a number of large beef and sheep farms, expansion of the company's preformed concrete operation, Atlas Concrete, and the subsequent increase of DAF numbers in the multi-operation fleet.
DAF due diligence
"We had been very comfortable with our Scania fleet, but the boss had been hearing increasingly good things about DAF trucks from other local hauliers we know and trust," says DA Harrison's transport manger, Ray Milburn. "We also knew the local dealer, Solway DAF already and had a good relationship with it despite not buying anything from there until a couple of years ago." Now though, the operator has 15 mixers, a growing number of tippers, 11 XF tractor units and a skip-loader. "It has all happened quite quickly in a way, but there is no doubt that it is working very well," adds Milburn. "Our drivers are loving them, the fuel is good and the service we get from Solway DAF is second to none."
The latest DAFs to join the line-up are four CF410 8×4 mixers with Thompson bodies. They are largely as additions, as the firm's pre-mix concrete business grows in line with increases in building and construction locally. With much of the work for both mixers and tippers involving a tough mix of on and
off-road operations, DA Harrison has been pleased with the strong build quality and traction they deliver. "We are in and out of our own quarries, our three concrete mixing sites and our prefabricating operation," says Ray. "It doesn't get any easier for them after that, as they are delivering to a variety of off-road sites such farms and a variety of construction projects."
Tractors put to the test
Alongside the hurly-burly of the mixer and tipper action, DA Harrison operates 11 DAF XF tractors. These are needed for the busy pre-formed concrete business that delivers not only across the Cumbrian region, but
to all four corners of the UK. "We have 85 trailers at the moment, ranging from tippers, flats, tautliners and our 22 specialist rear-steer short artic flats designed for the delivery of our concrete products to sites around the country."
It's demanding work, not just for the trucks but the drivers as well, which was a major consideration for the operator in its selection of DAF vehicles.
Taking an overview of his developing fleet, Richard says: "We have grown by staying flexible and looking at all the options open to us. The DAFs are premium quality trucks, and that fits the way we like to operate. At the end of the day though, we also have to make a profit, so we need to get the package right when we buy them and they need to perform well once we have them on the road. The right fuel economy, reliability and driver comfort. Right now, they are delivering and we are largely happy with the way things are going."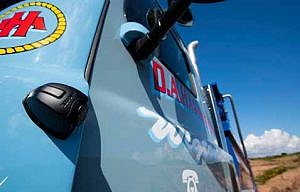 View from the old guard
George Conway has been with DA Harrison for 42 years and drove one of the earliest DAFs to join the fleet, an XF510. "I really wasn't too sure at first, but the boss asked me try it and let him know what I thought so I was happy to do it. I guess my report was good enough, because he has bought a lot more since then," he says. "I don't kid myself it was just my say-so, but it wasn't hard to give it a very good rating. That was a couple of years ago now, but even today I love the comfort and quietness of the big DAF. There's plenty of storage, visibility is good all-round and the hot/cold seat temperature system is fantastic! As a tool out on the road, the DAF digs in well too. It's a 510hp, but it pulls as well as a 550hp I had from another manufacturer – and the exhaust brake on the DAF actually works really well… unlike some of them out there!"