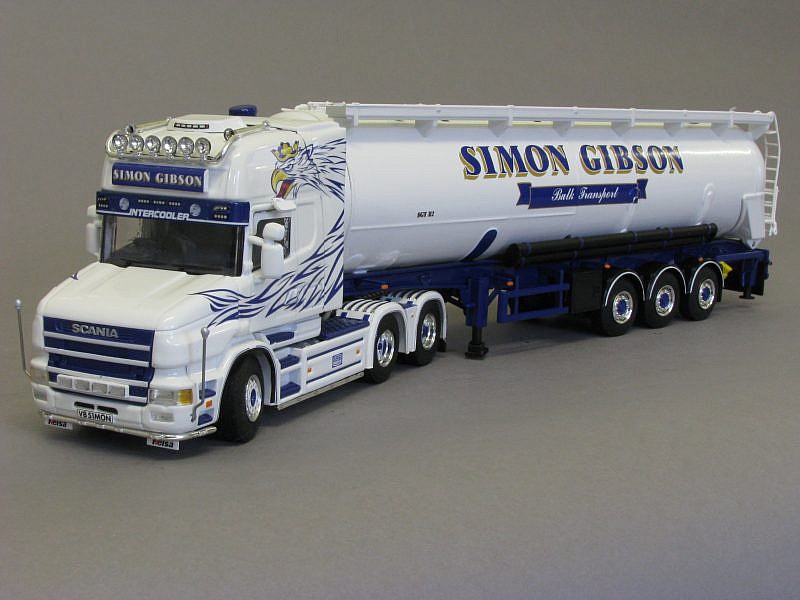 Derbyshire based promotional model trucks specialist, Search Impex, is pleased to announce the release of a Scania Topline T cab (6×2, twin wheel tag axle) tractor unit with 3 axle, bulk tipping powder tanker trailer, customised in the well-known livery of Yorkshire based operator, Simon Gibson Transport.
The model has been produced exclusively for Search Impex by WSI Collectibles as a certificated Limited Edition (205 pieces).
Simon Gibson has been involved in the haulage industry all his life and spent as much of his childhood as was possible riding around in a truck with his father who was an HGV driver.  Simon left school a couple of months before his 16th birthday and started a 5 year mechanical apprenticeship in a workshop for a local family haulage business.  Only ten days after his 21st birthday, Simon passed his HGV class 1 driving test and started driving artics on a mix of general haulage and refrigerated transport throughout Europe.
Originally based in the East Yorkshire village of North Newbald, Simon Gibson Transport Ltd was established in 2000 by Simon Gibson at the age of 25.  Starting out as an owner driver with a single truck, the subsequent growth of the Company can only be described as nothing less than spectacular. Some 7 years later, the business moved to the current HQ on a 5 acre site comprising offices, workshops & warehouses in the East Yorkshire town of Goole. And in just 19 years, the haulage operation has expanded from just one truck and driver to become today's impressive operation employing about 200 people and with a fleet numbering almost 200 trucks and a comprehensive variety of bulk tipping and bottom discharge tankers in various sizes (38cu to 60cu), not to mention a selection of curtain trailers.
Simon Gibson Transport specialises in the transport of bulk powder and granular products, as well as bagged and palletised products and undertakes the handling and storage of food and non-food products.  In the UK, the business benefits from having 24 strategically located operating centres, so enabling excellent countrywide coverage and efficient use of trucks.  Whilst a limited amount of European work has always been undertaken, it was in 2016 that the Company came to acquire a truly pan-European perspective when French operator,
Groupe Charles Andre (GCA), purchased a 75% stake in the business.  This resulted in a significant increase in turnover and put the new Group in a stronger position to win larger contracts and pool resources.  In 2017, with its combination of tipping and bottom discharge tankers, the Group delivered well in excess of 4 million tons of product throughout Europe.
In the UK, the Company continues to invest heavily in its high-profile fleet of trucks.  Indeed, last year, the firm added 31 new Volvo FH 500 6×2 and 20 Volvo FM 460 tractor units to the fleet – these additions being part of plans to improve capacity as the business grows.  These, as with the other trucks in the fleet, are all seen very much as a tool of the trade to help ensure the maintenance of high standards and the delivering of an impeccable service.
Within this operator's impressive fleet are one or two special trucks which are known for making regular appearances at truck shows around the country – such as the Scania T cab on which the model will be based.  The T cab is, however, also a working truck just like other trucks in the fleet – so model collectors and truck enthusiasts may well already have seen it out and about on the UK's roads, earning its keep!
Models, available from Search Impex, are priced at £169 each (including UK delivery & VAT).
For details of availability of this and other models, collectors can visit the Search Impex website at Search Impex or call on 01332 873555.