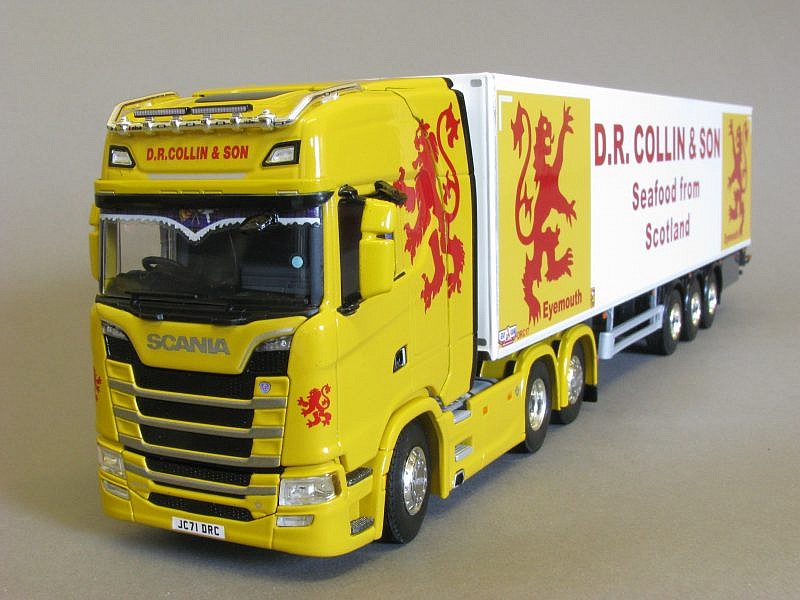 Customised promotional model vehicle specialists, Search Impex, are delighted to announce the 1:50 Scale Scania S590 V8 High (6×2, single wheel tag axle) tractor unit with 3 axle, refrigerated trailer, customised in the distinctive livery of Scottish operator and seafood specialist, D R Collin & Son Ltd.
The models have been produced exclusively for Search Impex by WSI Models as a certificated Limited Edition (155 pieces). This is also the first time an official production run of models has been commissioned by this well-known operator.
Established in 1952 and now in its 70th year, D R Collin & Son is based in Eyemouth, Berwickshire in the South of Scotland. The town lies 5 miles north of the English border and is where the mouth of the river Eye provides a natural harbour.
In 2008, DR Collin established its own dedicated cooking plant and since then has gone on to grow the business to include 8 dedicated plants and 3 fresh fish shops around the UK. This move has vastly expanded the Company's product range and now enables it to supply the full range of cooked and fresh produce. Known for "Delivering the Taste Of Scotland", the Company sources, transports and supplies the very best of Scottish seafood to award winning restaurants around the country and around the world. A home delivery service, run via the Company's fresh fish shops (www.drcollinfish.co.uk) has also recently been set up and provides nationwide coverage. The fish and shellfish (often caught in local waters and landed in Eyemouth) are sourced both locally, as well as throughout the UK. Proud of the fact that it monitors and oversees the handling of every stage of the produce – from sourcing to delivery – D. R. Collin's customers are guaranteed that fresh, sustainable catches are delivered daily to the Company's dedicated plants in Eyemouth for onward delivery, very often using its own expert distribution fleet, to its customers.
Much of the distribution of the seafood is undertaken using its own fleet of more than 50 vehicles directly to the doors of many a loyal customer. Deliveries to the European mainland are also undertaken and include locations such as Boulogne Sur Mer on a daily basis. This gives the business greater control and allows the flexibility to collect from and deliver to our suppliers and international customers. The distribution fleet ranges from small vans (fully refrigerated and capable of carrying 2 pallets / 1000kg) through to medium size fridge vans, rigid fridge trucks and, of course, the refrigerated artics capable of carrying 26 pallets / 22,000 kg. Options are also available for the transport of live produce.
D R Collin's trucks, such as the Scania and fridge trailer on which the model has been based, will already be a familiar sight to many UK truck enthusiasts and collectors and the continental trips undertaken by this operator may also mean any collectors' following extends into mainland Europe, too.
Models, available from Search Impex, are priced at £160 (including UK delivery & VAT). For details of availability of this and other models, collectors can visit the Search Impex website at www.search-impex.co.uk or call on 01332 873555.For details of availability of this and other models, collectors can visit the Search Impex website at www.search-impex.co.uk or call on 01332 873555.