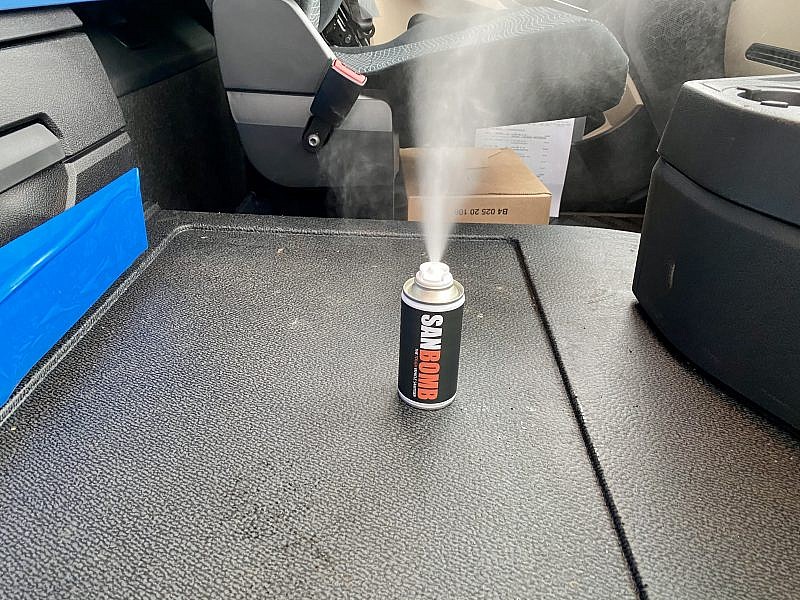 With the announcement of a further nationwide lockdown and coronavirus seemingly a big part of our lives for sometime to come ensuring vehicles are sanitised on customer handovers, before going into workshops and most importantly for fleets with Multi-Driver use vehicles. 

SanBomb was specifically developed to ensure the most efficient and powerful way to sanitise any vehicle (up to 50 cubic meters), it's a truly tough sanitiser, proven effective Coronavirus (SARS-CoV-2) – the cause of COVID 19 and also 99.99% of known bacteria, germs and viruses.
SanBomb Vehicle Sanitiser has been specifically formulated to be as effective as possible when used within any vehicle type. It's market leading coverage technology allows for top level distribution of the sanitiser it releases, with an effective coverage across all contact points within the vehicle. It is effective on all surface types found within a vehicle, such as plastics, upholstery, leather and glass and leaves no residue.
Kills all Germs, Helps Eliminate Viruses, Bacteria, Mould, Yeasts & Fungi.
Use inside any vehicle for all surfaces including upholstery
Destroys persistent smells such as nicotine, pets and food
Eliminates bacteria, viruses and mould hiding in air conditioning systems
Leaves no residue
Kills up to 99.9999% – The Highest industry standard -Remains active for up to 7 days after use
Fully tested to BS EN 1276 & BS EN 1650 & BS EN 14476
Contains an alcohol content of over 90%
Made in the U.K.

Lingering bad smells inside of vehicles can be very off-putting and make them an unpleasant environment to be in. Smoke is especially difficult because it penetrates upholstery, carpet, hard surfaces and infiltrates the air circulation system.

There's also bacteria and germs that multiply within dormant air conditioning units that can cause bad smells.

The SanBomb Vehicle Sanitiser & Deodoriser is a highly effective, disinfecting mist that kills bad smells and destroys bacteria that may be present in your vehicle with minimal effort

With just the push of a button, this bomb will release a fine mist of disinfectant that will fill the cabin of the vehicle, sanitising and deodorising both the air-con system and the interior at the same time, in under an hour!

This is a highly effective, powerful broad-spectrum germicide. The product range is the most powerful airborne and all-surface sanitiser on the market today!

SanBomb is available form our UK stock with Fleet, Trade and reseller pricing structures available. 

Get your today from:

https://www.kudauk.ltd.uk/news/2020/11/sanbomb-the-tough-vehicle-sanitiser