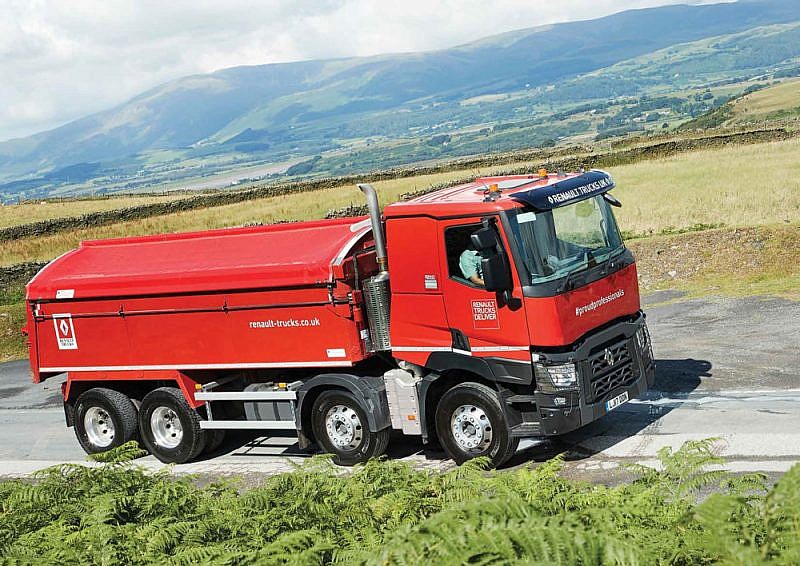 It's a 30-mile round trip taking in some of the UK's most breath-taking scenery across the South Lakes. Yet, for truck drivers who run the gauntlet from Greenodd to Millom, it's a road full of visible and hidden dangers.
Anyone who has hauled freight along the route between Greenodd and Millom, deep in south Cumbria, and will tell you it's a road that requires respect and concentration, because it's a route that can jump up and bite you without warning. Recent tales from drivers include those of runaway trucks, head-on crashes and breaking major components – all in the name of haulage.
The stone hewed from the rock at Aggregate Industries' Ghyll Scaur Quarry, north of Millom, is one of the hardest assortment of minerals available in the UK. Quarried since the late 1800s and laid on roads all across the UK, it is volcanic ash formed 450 million years ago called tuff. More than 440,000 tonnes of tuff is shipped out of Millom by road every year.
For our journey, gathered at Truckhaven Truckstop, outside Carnforth just off M6 J35 are three seasoned haulage professionals who can pinpoint the dangers of this road and tell how you cope with each challenge in turn.
Kevin Bamber ran his own plant and haulage business, KJ Bamber, up to 2015 out of Poulton-le-Fylde, Lancashire and now works for Aggregate Industries.
Ian Quinn has run his own haulage company since 1988 from Caton, Lancashire and been working in aggregate and asphalt since the days of English China Clays.
Finally, Trevor Woodend has been running a tipper for 35 years out of Burton-in-Kendal, Cumbria.
A road well travelled
After driving for his father, Thomas, Woodend bought a 1972-registered Leyland Reiver 6×4 tipper from him for £1,000 in 1983. Some of his early work included taking lime from the quarries around Carnforth to farmers on the Cumbrian west coast at Bootle and Kirksanton.
From Greenodd (heading west) the road narrows through to Spark Bridge. "When someone is coming towards you where it's narrow, you must help make their mind up for them," explains Trevor. "I move to the centre of the road so they have to stop, otherwise they'll think they can squeeze through – and they'll try. I don't know how much a Scania wing mirror costs and I don't want to find out!"
Kevin and Ian agree with Trevor. At the narrowest part is by Crakeside Farm two cars struggle to get past each other. "Walls often get knocked down as vehicles pull to the left to try and squeeze past each other," acknowledges Ian. "It can cause a lot of damage to the truck."
From there, the road bends left up a mile-long climb to Gawthwaite. Trevor continues: "A lot of people get caught out here. Sometimes you've to slow down to allow traffic to pass where its narrow, then the road gets steeper at the top. Even in a Scania 450 you can need fourth gear to go over it."
Undoubtedly the most intimidating section runs through Grizebeck. Heading west it's a 500ft plunge over more than a mile. Kevin says the situation is made more difficult because of the T-junction and side roads brings traffic up from Barrow, where cars often try to get out in front of a truck at any cost.
There were one or two hairy moments coming down loaded into Grizebeck, admits Trevor. "If you used the drums brakes all the way down to hold you back, they'd heat up and you could get brake fade. If someone pulled out in front of you, you wouldn't stop in time. I got talking to this old timer, John Weaver, who ran wagons and he said to me "go down Grizebeck in the same gear you go up".
"I took that advice on board and used a much lower gear than I had before. There was a big change in the longevity of the brake linings and if something did pull out you'd be able to stop."
Tuff with the smooth
In 1985 the asphalt plant was installed at Back Lane quarry, Carnforth, which opened the door to backloads from Ghyll Scaur quarry. Trevor's Leyland Reiver, plated at 24.39 tonnes, could carry 17 tonnes payload. "Those trucks were light and not that strong. That truck had four propshafts; you could easily damage one by stopping and then trying to start again on the hill. You'd forever replace oil seals, and the nuts on the flanges would come loose or crack.
"The transmission and clutch were not really up to starting on such a steep hill," he recalls. "Everything would judder and vibrate putting stresses through the vehicle. It's better to be in the right gear from the outset at 1,700rpm so you could crawl out of Grizebeck slow and steady. When it's your own tackle and you have to repair it at night, you soon learn to look after it."
During the 1980s, quarries began using short-distance radios so drivers could talk to those driving front-load shovels about loading. These CB radios became invaluable out on the road as drivers would caution others about oncoming traffic.
Mousetrap is short section of road that is steep and narrow with several blind corners. Ian explains: "A driver would use channel 37, so you'd know where they were, and it helped. But it could also give the driver a false sense of security and they'd go a bit quicker. Only 30% of the traffic had CBs, there was a lot of other trucks, coaches, caravans and vans that didn't. You'd easily run into one of those on a blind corner."
After Foxfield you reach High Cross, a small peak with a pub on it. It drops down 12% over 200 yards towards Duddon Bridge. "If you approach High Cross from Duddon Bridge there is dog-leg halfway up," says Trevor. "I used to try and build up speed to hit the hill hard and go up it through the middle, if it was clear, to avoid the dogleg. In the Reiver I knew what gear I needed to crawl out the top so I knew when to block change."
"Approaching Duddon Bridge (westbound) you can see what traffic is coming down Buckman Brow towards the Farmyard," Kevin explains. Farmyard is brief but problematic. The chicane dissects a farm that includes a blind corner. Often a vehicle will appear, as if by magic, forcing evasive action. Then its Buckman Brow.
"Because Buckman's narrow it's as much a problem going up as going down," he adds. "On the way up there is a turning to the left that you can use if something is hurtling down the hill, otherwise you have to push on and hope it's clear."
Ian says leaving Ghyll Scaur quarry to go back towards Greenodd is not so easy either. "It is a bad pull from the quarry into a 10% hill climb then you get to the T-junction."
It's angled on a 5% ascent, so you have to start in first gear to get moving from a standing start. "You have to twist the truck left so you can see oncoming traffic from the left," adds Kevin.
Author experience
I spent a month trekking to Millom as a franchise haulier for Aggregate Industries armed with a 2016-registered Scania P450 eight-wheeler.
On my first Millom run with 20 tonnes of asphalt a coach emerged out of nowhere, in what I now know is Mousetrap, using most of the road. I swore heavily. On Buckman, a tipper driver gave me the Vs as we inched past each other, I replied accordingly unsure what I'd done wrong. When I retold events to another driver he said, 'use channel 37'. I'd only used the CB at the quarry or to 'discuss' rates with other franchise hauliers.
It now revealed a new world of places and names with a running commentary. With backloads out of Ghyll Scaur quarry, the fuel economy for a roundtrip was appalling – below 5.0mpg. I'd average 18mph. What makes the road exhausting is the level of concentration you need to continually expect a fate worse than death.
---
Recovering trucks From Grizebeck
As a mechanic working for Steadplan, then an ERF dealership in Clitheroe, Lancashire, Graham Macmillan would be on call for breakdowns and vehicle recovery. Between 1999 and 2005, he would go at least once every six weeks to Grizebeck to recover a truck from haulier and sister-company AJA Smith.
"They took stone out of Millom and went everywhere with it, he recalls. "The wrecker was an 8×4 ERF with a Cummins 14-litre 320hp engine with a Fuller Roadranger nine-speed box and Boniface Interstater Mk2 lifting gear. It was 13 years old when I first used it and weighed 22 tonnes."
All the problems stemmed from one hill; eastbound out of Grizebeck. "You could guarantee the truck was halfway up where the driver tried to grab another gear and failed. Usually it was the half-shaft or propshaft. The driver would use a payphone and call it in."
Fully freighted at 40 tonnes on five axles, recovering the truck was not for the fainthearted. "You had to go down the hill, turn around, get back up past the truck then back down," says Graham. "The first one I recovered the driver had tried to change gear, let the clutch out too quickly that lifted the Hendrickson two-bag air suspension on the drive axle up breaking the shocks and as it came down it sheared off the propshaft.
"You'd put on the diff- and cross-locks put it into super crawler, which was 17:1, and then be gentle with the clutch. If you span a wheel you wouldn't get going. You've got to ride the clutch, which it won't like at 62 tonnes on that hill. Once you started moving you didn't stop."
---
Going native
Using a Renault Trucks C430 8×4 tipper, I started at Greenodd on the A5092 and headed westbound into the southern tip of the Lake District to Millom and back again. Here's how the route breaks down:
Greenodd to Gawthwaite: 3.8 miles
The A5092 starts with several narrow sections and an 11.1% climb before Spark Bridge. The climb to Gawthwaite is the best part of a mile, rises more than 400ft and tops out with a 14.4% climb, steepest part of the route.
Gawthwaite to Grizebeck: 2.4 miles
Passing the left-hand entrance to Burlington Quarry the road falls 500ft into Grizebeck with a 12.5% descent midway down and the final part goes from a 11.7% drop into the dip. Here the road becomes the A595.
Grizebeck to Foxfield: 2.3 miles
After Grizebeck is Mousetrap, named after the 1960s 3D board game, for its narrow twists, turns and blind corners before spilling out onto Wrecks Causeway and around Duddon Mosses Nature Reserve via two 90-degree corners.
Foxfield to Duddon Bridge: 2.3 miles
Foxfield possess 'bad corner' that sweeps blindly around the Prince of Wales pub. The road snakes north to High Cross, where in two-tenths of mile the road drops more than 100ft at 12% onto the flat towards Duddon Bridge.
Duddon Bridge to Hallthwaites: 2.5 miles
Once over the bridge Farmyard is next, a short chicane with a blind corner before you tackle Buckman Brow; cut into the side of a fell, its narrow, rises 300ft with a 10.8% climb at its steepest.
Hallthwaites to Ghyll Scaur Quarry: 1.8 miles
Bear left onto the A5093 towards Millom takes you through The Green and The Hill, with Ghyll Scaur Quarry on the right at the end of 10% descent.