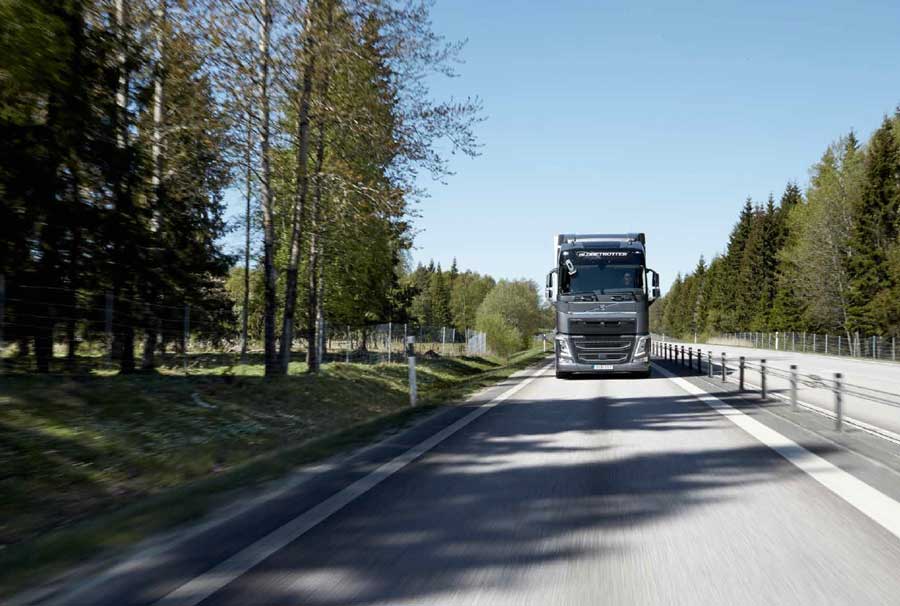 Engine upgrades and innovative solutions help make Volvo's FH more appealing.
Volvo's I-Save package is designed to cut the cost of long-haul operations by tapping into a swathe of new innovations targeting better fuel economy. Part of this solution comes from a couple of new 13-litre engine choices: 460 and 500hp versions of a new D13TC powerplant, aimed squarely at the 'sweet spot' power band favoured by fleet long-haulers in the UK and on the continent.
These two new lumps use a turbo compound system (TC), which gathers excess heat from exhaust gasses via a turbine mounted after the turbo, and then pushes this back into the crankshaft for some extra grunt. The result is an extra 300Nm of torque, with the new 460 and 500hp engines offering a max of 2600Nm and 2800Nm respectively.
Volvo reckons this additional torque enables the truck to use less acceleration and fuel to keep a steady cruising speed by holding onto higher gears at lower revs. Another bonus is the TC engines drink 40% less AdBlue than regular D13 versions. There is a weight trade-off with this new turbo compound tech. D13TC is 101kg heavier than standard D13 eSCR units – but this can be balanced by spec'ing a lighter 12-tonne rear axle for use with GCWs up to 44 tonnes. This axle saves around 100kg, so it's pretty much an even swap.
Fuel savings
Volvo says operators who spec I-Save should see a reduction of up to 7% on overall fuel use over long distances when compared to an equivalent vehicle fitted with a standard D13 engine. Of that figure, 4% is due to the D13TC engine, with the remaining 3% achieved from tweaked gear-shifting patterns, more efficient rear axles and an upgraded I-See cruise control system.The latter uses cloud-based mapping to look at the route ahead and adjust speed and gearing accordingly.
It will learn the topography of new routes as they are travelled and use I-Roll to make maximum use of the truck's momentum.I-Save vehicles can also be fully air-suspended and use a system that can automatically lower the chassis at cruising speeds (ie, over 60km/h) to reduce drag. CV Driver was recently given the opportunity to test drive I-Save and the new turbo compound engines on a mixed route, which kicked off in Volvo's home city of Gothenburg, Sweden.
In order to get a decent comparison of the TC engines verses regular D13Ks, we would use a different engine for each of leg of the journey. First, we set off in a standard FH500 4×2 tractor unit with D13K 500 bhp engine and without I-Save – though it was fitted with Volvo's I-Shift Dual Clutch automated transmission and Dynamic Steering. The first leg was on regular Swedish motorway, and as usual the FH500 gave a smooth and comfortable cruise.
On the road
At a press briefing before we left Gothenburg, we were told the new D13TC engines are noticeably quieter than the D13K – but, to be honest, the standard motor is a quiet runner anyway and the Globetrotter XL cab makes for a peaceful place to be.
Loaded to 44 tonnes, the 500 bhp D13K made light work of the few (admittedly shallow) hills we encountered and the Dual Clutch transmission delivered extra-smooth shifting as advertised. After an hour's cruising, we pulled into a truck stop to switch over to a FH500 4×2 sporting I-Save and the new D13TC engine.
Firing it up, it was indeed noticeably quieter than the D13K – and this became more obvious as we negotiated the truck park and made our way back onto the highway. The second stage of our route was more rural, and we followed the regional road as it took us past lakes and forests on the way to Eksjo Vardshus.
We were soon climbing on a narrow stretch that snaked up a sizeable hill, and the big FH was able to hold onto higher gears for longer right at the bottom of the green band thanks to its extra torque – and when I-Shift finally felt a change was necessary, the fast-shifting Dual Clutch kept up our momentum nicely. Once we were up and over, it was time to try out the new I-See cruise control. Once engaged, we had a series of up- and down-gradients to complete – and the new cloud mapping tech knew precisely which gear to use for each stage. It also knew when to ease off the power.
In fact, we were surprised at how early the new I-See changes to neutral at the crest of a hill. Taking power off as early as possible is undoubtably efficient, but it meant our speed dropped markedly as the vehicle's momentum carried us up and over.
We can't fault I-See's calculations – we always crested and began the downward roll without a problem – but it can't have been much fun for the traffic behind us. But at the end of the day, they're not paying the fuel bills – and the issue can be easily fixed by manually adjusting I-Roll's over- and under-speed settings if desired.
Volvo FH Lower powered option
We climbed into an FH460 with Globetrotter cab for the last leg of our trip. This vehicle was packing the smaller 460 bhp D13TC engine, and running at 44 tonnes meant we had just north of 10hp per tonne to play with. Continuing our rural expedition, there were plenty more hills to contend with – but they were no problem for the smaller TC lump with extra torque. Gears were downshifted a little earlier than with the 500 bhp motor and were a smidge slower as there was no Dual Clutch in this truck, but overall performance was still smooth and easy.
From our drives, it's pretty clear long-haul operators will find much to like with Volvo's  I-Save. Though heavier, the new TC engines provide increased efficiency – and drivers will find the extra torque further smoothes out FH's already top-notch cruising characteristics.
Whether it justifies the extra investment remains to be seen, but Volvo reckons long-haulers will find the new tech will have paid for itself after about 120,000km.