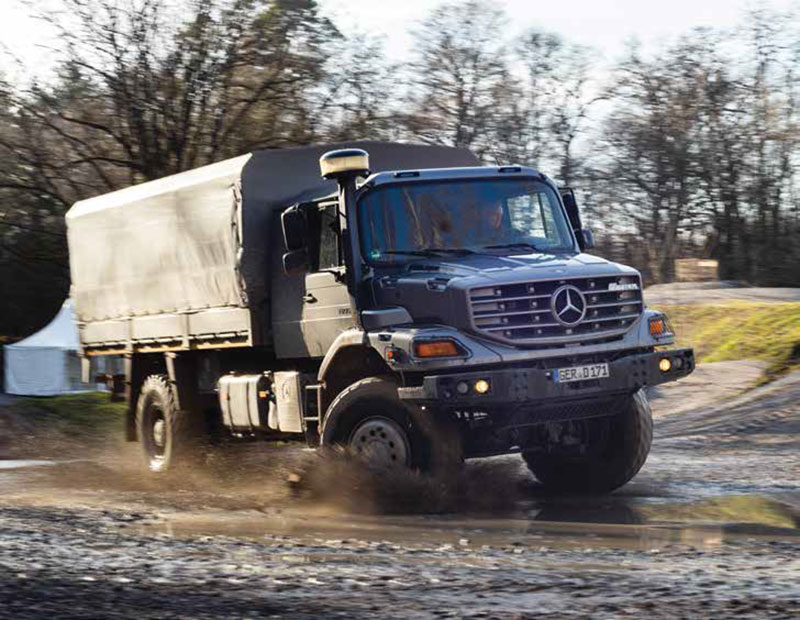 They may not be a common sight on many operator fleets, but the Mercedes-Benz Unimog and Zetros models play an important role. Pip Dunn finds out just how capable they really are
Unimogs and Zetroses are bespoke off-road trucks and hence don't sell in massive volumes, but for those who need such a vehicle they are machines definitely worth considering.
Presently, the Zetros is only available with a Euro 5 engine, so you can't buy a new one in the UK. Mercedes says it sold 'about 20' before lower emissions standards came in – and these were available as right hand drive.
In contrast, the Unimog is available in the UK and sells up to 400 units a year.
Unimog unrivalled
The Unimog has been in production for over seven decades now as a go-anywhere, all-wheel drive utility vehicle. It can carry a moderate payload but is ideal for getting to places that a normal road-going truck can't. It's particularly popular with the military and for plenty of civilian uses, namely in the utilities, rail shunting, agricultural and county council sectors.
Unimogs are also multi-purpose; a council might use it as a snowplough or gritter in winter but in the summer it can be used as a cherry picker for maintaining street lights. In agriculture it can do many of the tasks a conventional farm tractor can, but then can move between sites at 56mph as opposed to 30mph!
Cab choices
There are three cab types, although only two are available on UK vehicles. They are the UHE (Ultra High Mobility/Off-road) version, the UGE (Implement Carrier) cab – which is the more modern – and the U20 without a bonnet. This latter model is the one not available in the UK.
Some Unimogs can be specified as left- or right-hand-drive, but there is also the novel VarioPilot option that actually moves the steering system from the left to the right of the vehicle in just 30 seconds. The system works by the driver removing part of the dash cover, unlocking the steering column and then, in one move, sliding the pedals, dash and steering wheel across to the other side before clicking the column back into place.
This feature is popular for farmers where they want left-hand-drive for the field work and right hand drive for the road. But it is also useful for utilities and councils where left-hand-drive is better for road sweeping, hedge cutting and verge mowing but right hand drive is best for gritting or general road driving. VarioPilot also enhances the resale value especially opening up its appeal to European buyers.
Two powerplants are available: the 5.1-litre four- and the 7.7 six-cylinder engines borrowed from the Actros and Antos. The former comes in 156 and 177hp outputs and the latter in 231, 272 and 299hp outputs. Torque ranges from 650Nm in the lowest output right through to 1,200Nm for the 299hp engine.
The Unimog can drive with an angle of approach of 43° and of departure of 41° and has a turning circle of 16.4m. Its standard depth of water that it can drive through is 0.8m, but it can be specified for working at depths of up to 1.2m.
Driving the Unimog
Mercedes had laid on a series of vehicles over a test track in an old quarry and it was certainly tough and varied terrain which is what you'd expect for a company keen to show off the extreme driveability of these impressive trucks. The test track was full of steep inclines, tight curves, mud, gravel, very deep water and woods. In fact, you could argue there were examples of terrain you'd probably never drive over in real life.
But it's nice utility companies to know that even in the remote highlands of Scotland, there is a truck that can get a crew, plus a sizable amount of tools and equipment to attend an incident even in the most rugged of terrain.
We drove a U5023 with the UHE cab and while it is most definitely quite basic inside, it still had room to seat three people. With three adults, it's certainly cosy and there's not a lot of room for bags, but crew cabs are an option for more room for personnel.
Unimogs can have automatic or manual gearboxes but, with the former, you can still switch it into manual mode if you need to. Starting off in second gear, shifting up and down manually was necessary to keep going comfortably, but thankfully there were no awkward shifts. You use a paddle on a stalk allowing better control.
The Unimog did absolutely everything we asked of it and its off-road credentials are superb. For those who need an off-road vehicle where payload is not a critical factor, then it is a vehicle well worth looking at.
Big Zetros
The Zetros is more of a proper truck, compared with the Unimog. It looks more like a truck and is more of a military and humanitarian aid vehicle. The range of Zetroses is not extensive and, in fairness, it does not need to be, but the two basic offerings are the 4×4 and 6×6 models. The 1833 and the 2733 both use the same OM926LA engine – a Euro 5 straight six 326hp with a torque output of 1,300Nm at 1,200-1,600rpm. The gearbox can be a 9-speed –eight plus a crawler –manual or
The Zetros has amazing off-road capability and, while not quite as versatile as the Unimog, it still possesses the ability to tackle steep gradients, uneven terrain and deep water, ideal for the likes of Africa, Asia or South America.
Where it scores over the Unimog is the ability to carry a higher payload. Inside the Zetros is another no-frills cab with three seats and a pull-down bunk in case you get caught out and need to bed down for the night.
Driving it is fun, for sure, and it's incredibly versatile. It did all that was asked for it over the same route as we took the Unimog over.
Conclusions
The bad news is that you can't order a Zetros. Mercedes has hinted a Euro 6 might be possible soon, but it's all down to market forces; just selling a few across Europe is possibly not worth the cost.
The Unimog is bulletproof. It will do pretty much anything you could realistically ask of it and you can see why Mercedes is trying to promote the product more and maybe open the eyes of farmers and utility companies more to its obvious and wide ranging strengths.
If you get the chance to drive one – especially off-road – take it!