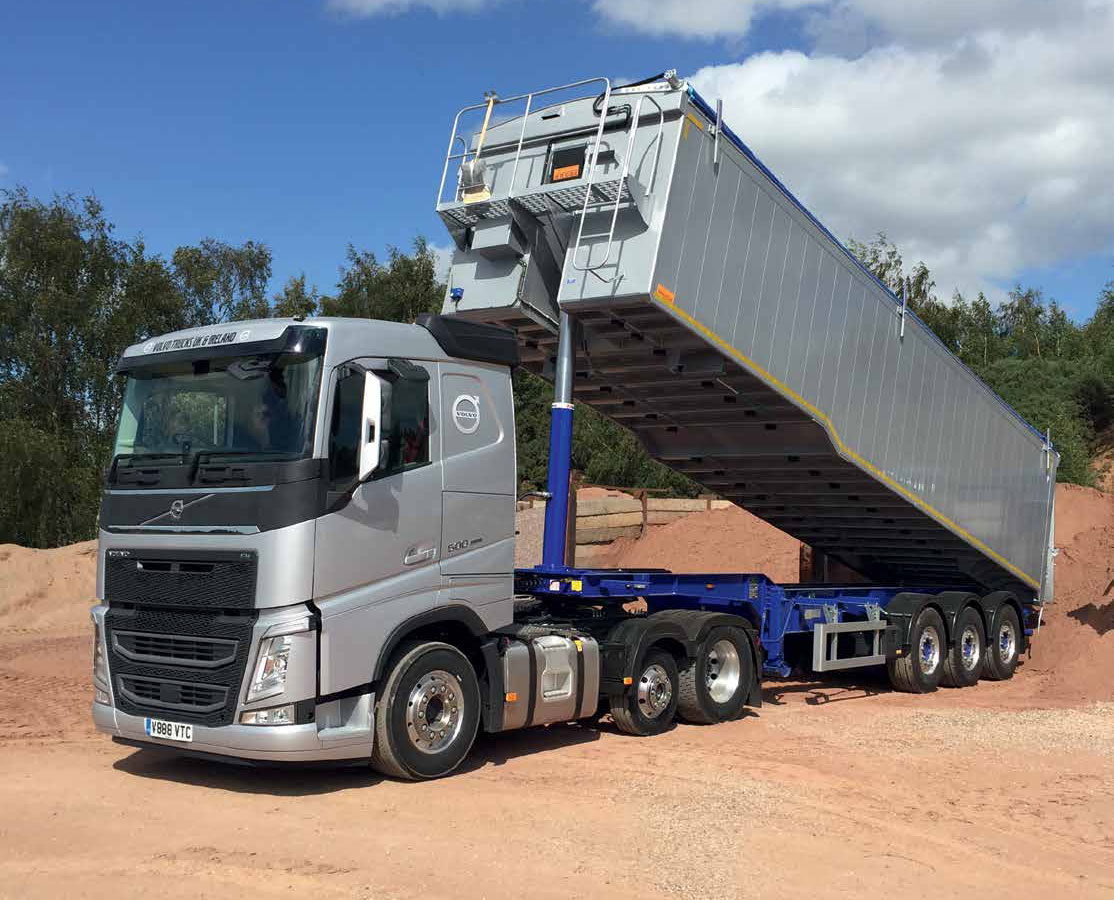 The term 'lightweight' isn't usually much of a compliment, but if you get paid for every kilo you shift, like the sand and gravel men, it takes on a new meaning. Ian Norwell reports from Volvo's Warwick HQ, on an 'FH Lite' that could boost your earning power
Volvo has a long and distinguished history in the UK's construction sector. Those of you as ancient as me will remember the six and eight wheel rigid chassis that used to be built at Volvo's Irvine factory, on the Scottish west coast.
The F86, and then F7, multi-wheelers built up a loyal following that carries on through to the FMX today. With that strong pedigree, it's no surprise that the sand and aggregate hauliers who use tractors and tipping trailers to push the gross up another 12 tonnes above an eight-wheeler, are inclined to go for Volvos.
The FH Globetrotter XL cab is the stately home to the FMX's gamekeeper's cottage, and the extra space is always welcome. But do you really need it all on tipper work?
Would just an FH sleeper cab do the trick? Of course, a 6×2 FH Globetrotter tractor has a hungry used market licking its lips just
waiting for it, no matter what work it's been doing, but let's take a look for a minute at how you can boost that tractor's earning power.
Ringing the changes
Martin Tomlinson, Volvo's UK press test supremo, explains the idea behind the FH Lite. He says: "We noticed that there were a lot of FH tractors with wet kits that were busy on bulk work, especially sand and gravel, and our engineering team thought that the FH could benefit from a bit of tailoring, especially for these guys."
The standard truck is no porker, but at an 8,684kg kerb weight, they clearly felt there was room for manoeuvre. Now it would have been easy here to let the idea of shaving weight off run away with itself and you'd soon end up with a stripped-out, pared-down truck that did the FH's reputation no favours.
This is a truck that will be running at dead on 44 tonnes, so it doesn't need to be short of puff
So Captain Sensible stepped in and set to work. The first decision was to keep the 13-litre engine for its beefy torque and not drop to the 11-litre unit to save a few kilos. After all, this is a truck that will be running at dead on 44 tonnes, so it doesn't need to be short of puff. Next, that cab. You don't see many regular FH sleeper cabs, simply because the Globetrotter XL is so popular.
But fitted to the FH lite, the lower roof really doesn't seem to be a problem. I'm over six foot, and yes, I can't stand up straight in the same way as I can in a Globetrotter, but there still seemed to be plenty of space.
Oddly, I spent all the time driving sitting down! Why not go to a day cab? After all, most tipping trailer activity is day work. Simple answer is residual value – it would give that pared-down effect that you don't want.
The power options are all respectable too, with the choice of 420, 460, 500 and 520hp. We took out the FH 6×2 (pusher axle) with the D13K500 euro 6 (step C) engine and with 2,500Nm up for grabs, it was a lovely drive at top weight. The 12-speed I Shift is still there too, so where has the extra pork been taken from?
Under the skin
The detail is in the chassis. Apart from a lighter, lower cab – the 608mm difference helps airflow over the trailer by the way, saving fuel – the savings start with a single, monoleaf front spring.
Two are normal (three for the Irish market!), alloy air tanks, an alloy suzie arch and other smaller parts. The rear bogie has been
completely re-worked. A lightweight pusher axle with 19.5 inch wheels sits in front of a lightweight drive axle that is a hollow tube and not a solid design.
Lightweight bracket work surrounds the bogie. The wheelbase is trimmed by just 100mm, to 3.8 metres. This FH lite is not strictly speaking new – it's been available as a special order from week 37 last year – but reaction from operators has pushed it on to the mainstream chassis list and it can now ordered as standard.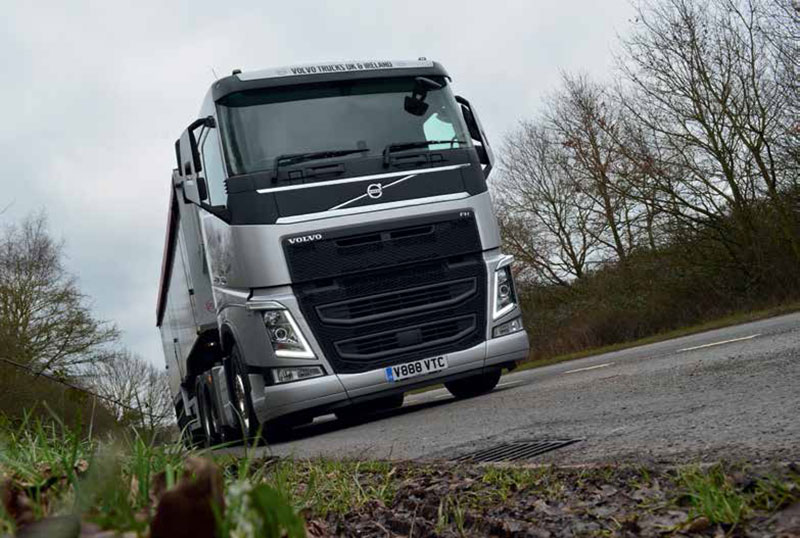 Martin says that is should be 'cost-neutral' compared to a 'regular' FH 6×2 Globetrotter, but the story doesn't end there. The flexibility of modern truck production lines means that the "Yes, but can I have it with…?" question might even get a positive response.
One operator who liked the idea – he's taken 30 – still wanted the XL cab, so that's what he got. He's reaped the benefit of all the chassis weight savings and given up a bit for
the bigger cab. The lite concept can also be based on an FM, where you can also have the 11-litre motor if you so desire. Flexibility, it seems, is the watchword here.
The numbers game
If you are on aggregates work, you'll be paid for what you tip, so any chassis weight savings goes straight into your wallet in the form of extra tonnes moved. Making a healthy saving on every trip all adds up.
Roll a regular 6×2 FH with the XL cab over a weigh bridge and you'll see around 8,684kg flash up on the display – that's not taking wet kit and hydraulics into account. Drive an FH
lite onto the bridge and get ready to blink.
Give or take a few kilos for manufacturing tolerance and you should see around 7,867kg.
My fag packet says that's a whopping 817 kg of extra payload on every trip. Every trip!
With earning power like that and the power of word of mouth, we would expect strong residuals for this model and a ready market for used specimens. We can see only one glitch here. Don't let the missus or the girlfriend read this (as if!) – they'll be tottering off down the shops to squander your bonanza.