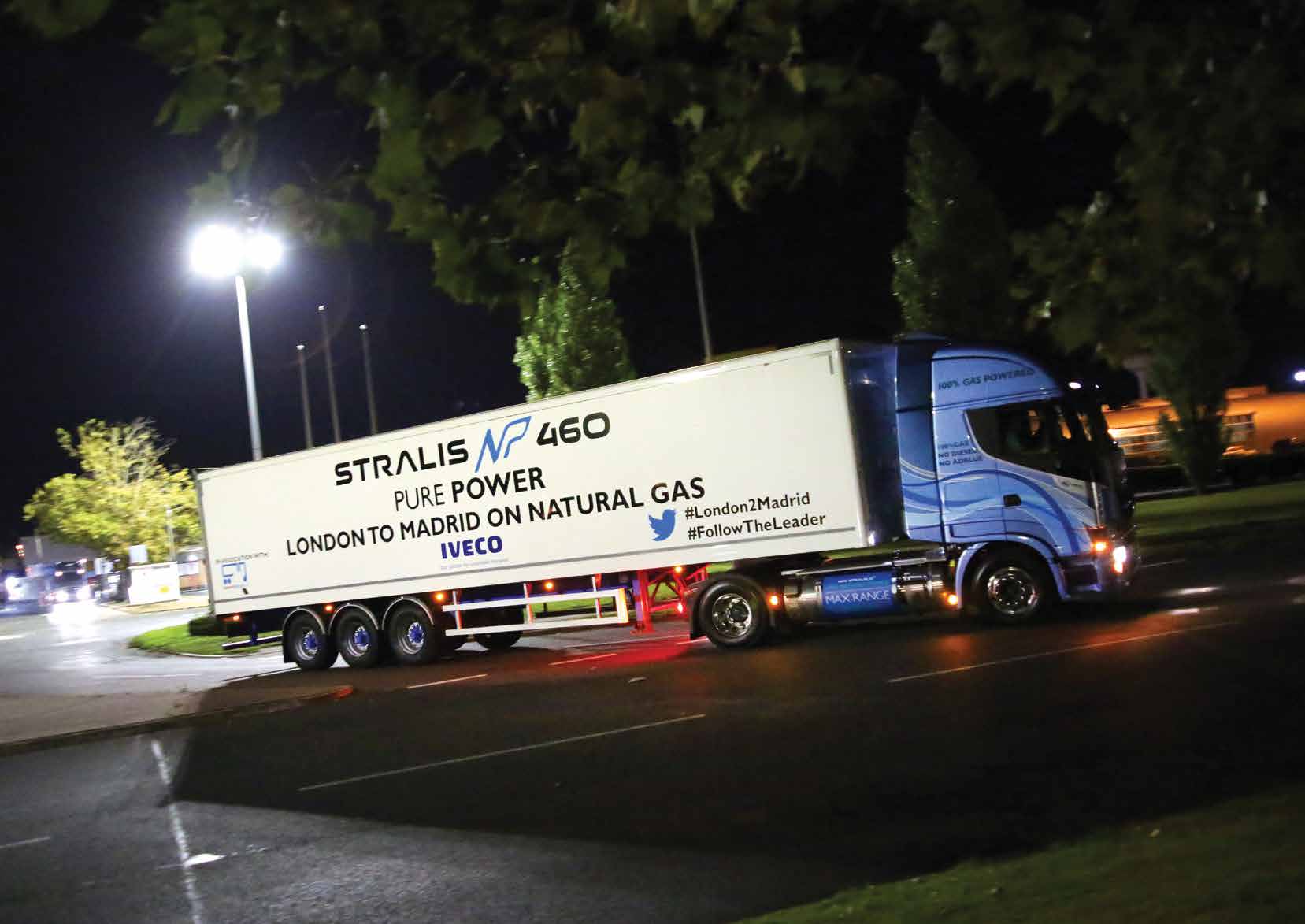 A Natural Choice
A pan-European excursion is the perfect opportunity to find out how alternative fuels stack up against the conventional option of diesel. Dean Barrett is your tour guide. With 'dirty diesel' a hot topic and restrictions being targeted towards keeping older trucks out of a growing number of city centres, operators are beginning to taking a serious look at alternative fuels.
For short-haul and urban distribution, electrification is a viable option. But when a haulier is looking to clock up serious miles, battery power can't yet cut it due to the cells being too heavy for decent payload and their relatively short operating range between charges. This is the point where Iveco can help. Back in 2016, the Italian manufacturer launched Stralis NP alongside its XP diesel tractor unit – and claimed NP (Natural Power) was the first-ever gas-fuelled truck capable of undertaking long-distance missions.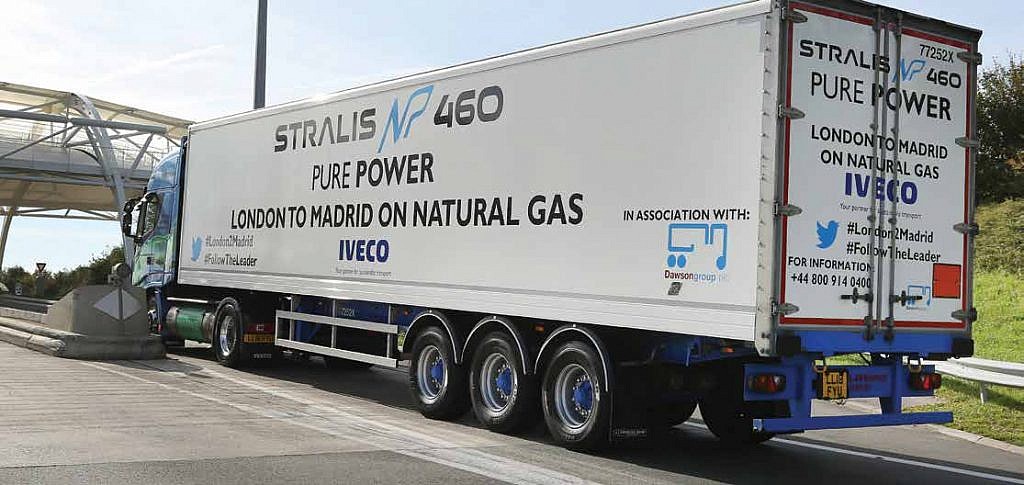 Besides cleaner and greener running, NP was billed as having driving and performance characteristics which compared favourably with an equivalent diesel vehicle.
NP arrived with a 400bhp Cursor 9 engine, Eurotronic automated transmission and a quoted operating range of 1,500km on a single fill when running in 4×2 configuration. A redesigned exhaust and repositioned battery enables NP to carry a large LNG (liquified natural gas) tank on either side of the chassis; though it can also run on CNG (compressed natural gas), albeit with reduced autonomy.
On the face of it, the benefits for operators are quite compelling. First off, natural gas costs less than diesel in most European countries, so bottom-line fuel bills will be lower. In addition, NP does not require AdBlue, has no complicated aftertreatment system, no particulate filter, and the maintenance interval is an industry-leading 90,000km. Emissions are also ultra-low: Iveco reckons NP produces 60 per cent less NOx, 99 per cent less PM and 95 per cent less CO2 (when using biomethane) than a Euro 6 diesel truck.
The numbers are impressive – but Iveco is still trying to get the message across to hauliers. In April 2017, it ran a 400bhp Stralis NP across the country from John O'Groats to Land's End (1,347km) on a single fill. Quite a feat – and testament to the truck's long-haul credentials. But with the new 460 lump upping NP's max range to 1,600km, the manufacturer felt another real-world test was due which would stretch the truck to its limits.
So the challenge was set to run a 4×2 Stralis NP460 from London to Madrid on a single fill of LNG. Routing software reckoned the journey would take three days. The first leg would cross the Channel and then run south on the A16/A28 around Rouen, past Le Mans to an overnight stop at Tours. Leg two would follow the A10 down to Bordeaux, then pick up the A63 bound for the French/ Spanish border at Irun. Crossing the edge of the Pyrenees through San Sebastián, day two would end at Vitoria-Gasteiz. The final leg would then be a straight run South on the E-80/E-5 to Madrid.
The trip would total 1,670 km – it would be close, but if successful the trek would further cement NP's suitability for long-haul ops.
Day 1
The journey kicked off from Iveco's Basildon offices on a cool Monday morning in October. The truck had been loaded to 30 tonnes with sand bags, while 410kg of LNG had been carefully squeezed into its two oversize gas tanks. At 0545, we set off. After leaving the Iveco yard, we headed straight for the M25 towards the Dartford Crossing. Traffic was heavy; but once past the bridge, the run South East down to Dover was clearer and we made it in time to catch the 0835 ferry to Calais.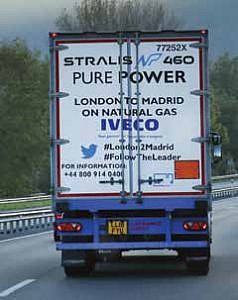 Arriving in France, we made our first mistake. Rolling off the boat, we missed the main road exit and managed to end up driving through the middle of town. Burning gas in stop/start traffic wasn't ideal, so we were relieved to finally get on the A16 toll road, follow the coast to Abbeville, and then pick up the A28.
Travelling through the flat and mostly featureless northern French countryside, we set Stralis' predictive cruise control (PECC) to 84km/h to maximise fuel economy. Just past Rouen, a glance at the onboard computer showed NP was burning gas at a rate of 23.3kg/100km. Iveco was banking on the truck using an average of 25kg/100km in order to be able to reach Madrid, so we were well on track. Arriving in Tours at the end of a pleasant day's driving, the tanks were still three-quarters full as we parked up at the local Iveco dealership.
Day 2
Leaving the dealership at 9am Tuesday morning, we made our second mistake and missed a turning which would have taken us directly back to the A28 for our run to the Spanish border. Instead, we got snarled up in the morning traffic and spent a good 30 minutes fighting through town – again burning more gas that hadn't been accounted for. But thankfully, the toll road was then clear all down to Bordeaux. Pulling in for lunch, the needle was registering just under half a tank. According to the map, we were half way to Madrid.
We spent the afternoon cruising down to the Spanish border at Irun. Once past the booths, the mountains were on the horizon and the road began to climb – and after another hour, we were crossing the Pyrenees. The mountain scenery was spectacular, but what really had our pulse quickening was NP's gas consumption – which was measuring 92kg/100km during some of the steepest ascents. But the hills caused no problem for NP at 30 tonnes; the 460bhp engine pulled well and the powerful five-stage ZF Intarder dug in to hold the truck back on the descents without us having to use the service breaks at all. Pulling up at Vitoria for our second overnight stop, the tanks had depleted to just over a quarter full. The mountains had certainly taken their toll, and we were hoping for a smooth – and flat – run down to Madrid the next morning.
Day 3
The weather had taken a turn for the worse as we set off early Wednesday and headed South West to Burgos on the E-80. The wind had picked up and the rain had set in – not ideal conditions for a fuel-focussed record attempt. At Burgos, we picked up the E-5 running due South to Madrid – and though we'd crossed our fingers for a gentle run, we were still well up high in the mountains and the road was throwing hills at us with regularity.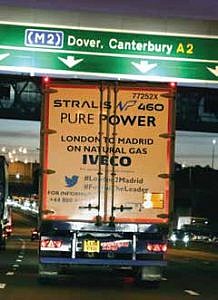 Pulling into a rest stop at Grajera, the fuel warning light came on. Checking the map, we still had 130km to go – and if the road continued to undulate, our chances of success were doubtful. Pressing on, our eyes were on the needle. As we reached the outskirts of the city, the ECM warning light came on and the truck started to labour. With warning flashers on, we battled onwards towards our final destination: a BP/Molgas filling station located near to the airport. Crawling onto the R-2 the snaked around the edge of the city, we were faced with a long, steep climb towards the exit. At this point, the needle was showing the tanks were empty and NP was running on fumes – but it gamely laboured on, hauling its load to the exit, around two (thankfully clear) roundabouts and up onto the filling station forecourt and across the finish line. A close call indeed!
The dashboard computer showed final distance travelled on our record-breaking run was 1,728.2km without refuelling. The gas truck had done it – and Iveco had proven once again that for long-distance running, Stralis NP is up to the job.
Fill-up finery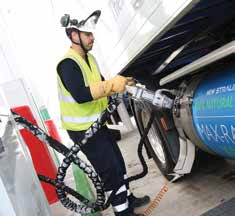 LNG offers better range than CNG, but more care must be taken when filling the tank. Natural gas becomes liquid at -162°C, so it presents a serious burn risk. When filling, PPE must be worn (gloves and face mask), and drivers must ensure there's no exposed skin (sleeves down etc). And trousers should not be tucked into boots – if some of the liquid spills, it could run down into footwear, resulting in a nasty injury.
More recently, the NP range was expanded with a Cursor 13, 460 bhp engine and new Hi-Tronix (ie, ZF TraXon) gearbox, which, at 4×2, offers additional fuel economy to boost the truck's maximum range to 1,600km on a single fill of LNG.
LNG vs CNG
As far as engines are concerned, there's no difference between LNG and CNG. The variations come in the way they are stored. CNG is squeezed to 200 bar in the tank and has to be pressure-reduced before it reaches the engine. LNG is stored at around 14 bar in the tank, but has a longer range than CNG. Aside from safety issues when filling, the major problem with LNG at the moment is its availability at the pumps. So until there are more places to fill, operators will have to plan their routes carefully or look to install their own gas supply.