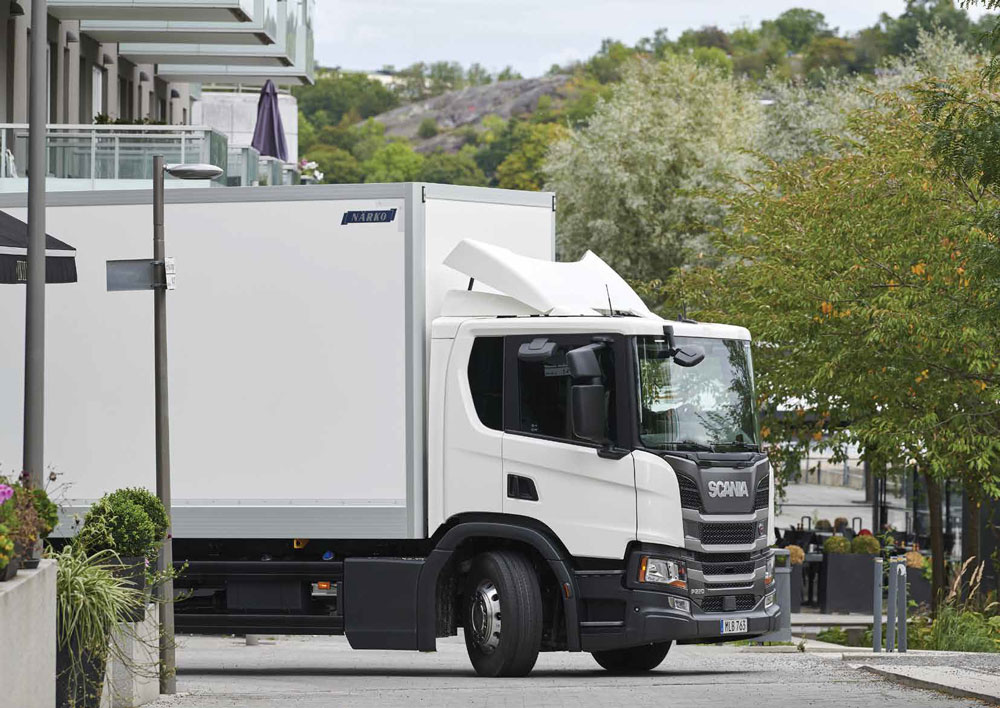 Scania has unveiled its urban truck range of vehicles, with the focus firmly on improving safety for vulnerable road users and moving towards greener fuels.
At the end of 2017 Scania introduced its new L-Series low entry cab designed for the urban environment further demonstrating that today issues like direct vision and safety is now on an equal footing with air-quality. It's a market long dominated by Dennis Eagle and Mercedes-Benz. Now the urban low-entry cab sector now has Volvo Trucks with its FE low entry cab – launched in 2014 and updated this year – and Scania looking to compete. This increased competition has been shaped by Government policy, including the introduction of the Direct Vision Standard (DVS) by Transport for London (TfL).
From Scania's test track in Södertälje, Sweden, CV Driver got its first chance to drive the L-series. It's available with Opticruise and Allison's well-established six-speed automated transmissions. Both gearboxes were fitted to a pair of L320 6×2 rear-steer rigids powered by the 9.0-litre DC09 engine, which used hydrotreated vegetable oil (HVO) as a diesel substitute.
Out on the road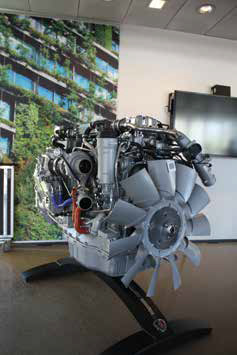 With Opticruise, the L320 skip wagon drove effortlessly. Smooth and quiet, especially as the engine is behind the driver rather than underneath. A strong performance but you'd expect nothing less from Scania. "It's like driving a bus," explained my Scania-employed co-pilot. With little experience of hauling kids to school, I found myself initially compensating a little for corners.
The same L320 specification was used for a refuse vehicle that employed the Allison six-speed transmission, which is more rudimentary as the truck jerks more between gears but offers greater PTO use for compactor bodies. From a lower driving position, you have a greater awareness of vulnerable road users because you make level eye contact with them when you are in areas, like junctions and road crossing, where you mix traffic with people and cyclists.
The cab has been moved forward 550mm, lowered by 220mm with the driving position also moved forward 65mm and 25mm closer to the driver's door. If a cab-forward lowentry cab isn't bus-like enough then you'll be pleased to know that it also kneels when you activate the handbrake, open the door or unclick the seat belt. The height of the singlestep entry cab is at 438mm. On a two-step cab its even lower, just 150mm to the top of the first step with a truck using 355/50 tyres and the chassis height at 885mm.
The cab can be made into a small crew-cab with two seats fitted centrally on the back wall or with lockers for additional storage. For the construction and recycling industries Scania can really exploit the extra space behind the seats for storing equipment, PPE and even welfare facilities like a washbasin.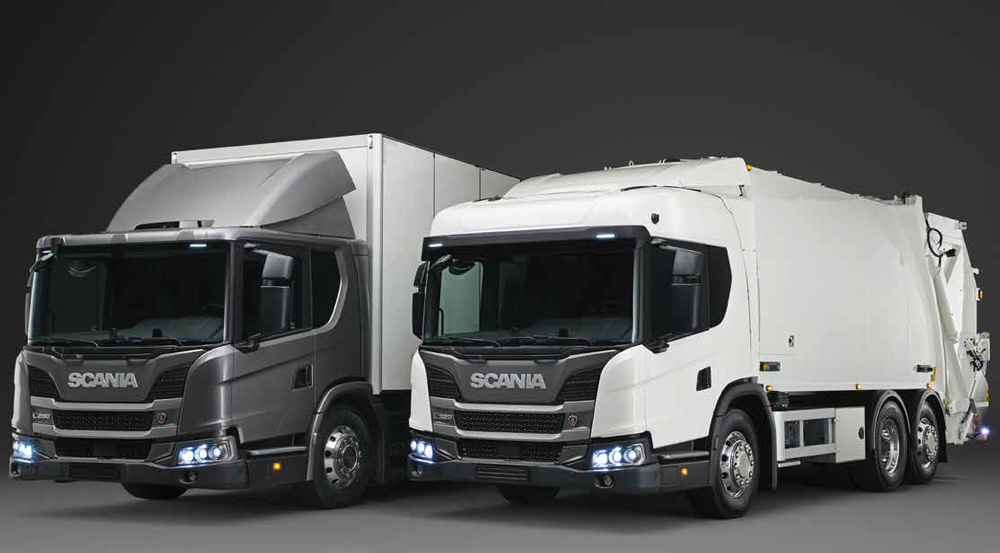 Stand out from the crowd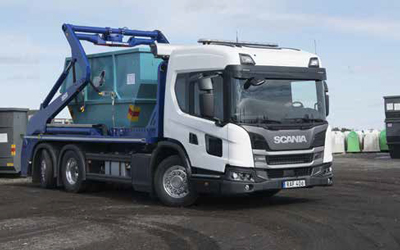 Unlike the M-B Econic, Scania's doors are the same as the rest of the range, in that they are hinged and not concertinaed. There are some safety elements for opening doors into traffic and oncoming vulnerable road users that Scania might have to consider in the future if the L-series is working in heavily populated areas. That said, visibility is not completely inhibited with a solid passenger door as it has the City Safe Window. It doesn't take much to block it, though, and what you see through the window is limited but it is better to have the window than not have.
"Being more on a level with your surroundings, while also having a well-designed boarding step, is appreciated by drivers," said Henrik Eng, Scania's product director for urban vehicles. "There is a clear trend towards low-entry cabs for trucks operating in the city and they are now in demand not only for refuse trucks but also for applications in construction and distribution."
For the moment, operators can only get the 9-litre engine, although options for compressed natural gas (CNG) and liquid natural gas (LNG) will become available in due course. At some point, the new DC07 6.7-litre Cummins-built driveline – unveiled by Scania before Christmas for its distribution range – will also make its way to the L-cab, offering a lighter powertrain to operators.
Deviation from diesel
Alternative fuels also featured heavily as Scania inches its way toward electrification via battery-powered engines as well as overhead electrified powerlines.
At the beginning of the year, Scania and Northvolt – a Swedish company with plans to build a factory to produce lithium-ion batteries for electric vehicles – entered into a joint venture to develop and commercialise battery cell technology for trucks with Scania investing £8.8million into the partnership.
For the moment though the alternative options are bioethanol or gas. "The bioethanol 13-litre engine is ideal for several different applications; construction tippers and long-distance tractors," Eng explained.
"Scania's bioethanol engines use compression ignition (similar to conventional diesels), which limits the need for actual hardware modifications."
Diesel engines require ED95, which is a blend of 95% ethanol and 5% 'ignition improver' to hasten the combustion process. ED95 can be stored and pumped like diesel and has good low-temperature qualities but with only France and Scandinavia producing it and providing an infrastructure for refuelling, UK operators will find getting the fuel imported expensive and it'll limit range.
Go with gas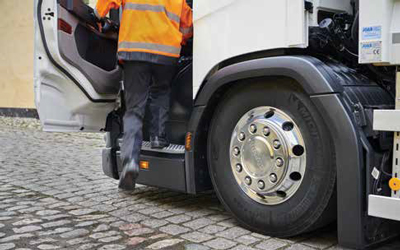 Scania's gas engines are a more likely option, reckons Folke Fritzson, senior engineer at Scania R&D – and part of the team developing Scania's gas engines. Scania's launch of a Euro-6 13-litre gas engine with a performance comparable to that of a diesel engine, is more viable for both heavy long-haul transport and construction-site movements.
Here the performance and characteristics should correspond to that of a modern diesel engine, as well as range, said Fritzson. "With LNG, it's up to 700 miles for a typical semitrailer on a flat road. CNG usually provides a range of 300 miles.
"The latter is more than sufficient for many customers, for example for regional transport operations where there is a return to the home base and refuelling every day," he added. "The mileage that can be achieved before refuelling is required also depends on the type of driving and usage, and how hilly the route is. Interest in running on all forms of gas has hit a peak, particularly now that the refuelling infrastructure is increasingly being expanded."
With a 13-litre engine, a range of applications can be run on gas – either CNG or LNG depending on the range required and available infrastructure. "Hauliers see that they can achieve better overall operating economy while also making environmental gains without any obvious drawbacks,' Says Fritzson. The new engine provides 410hp and gives 2,000Nm torque from 1,100 up to 1,400rpm, which compare well with similar sized diesel engines.