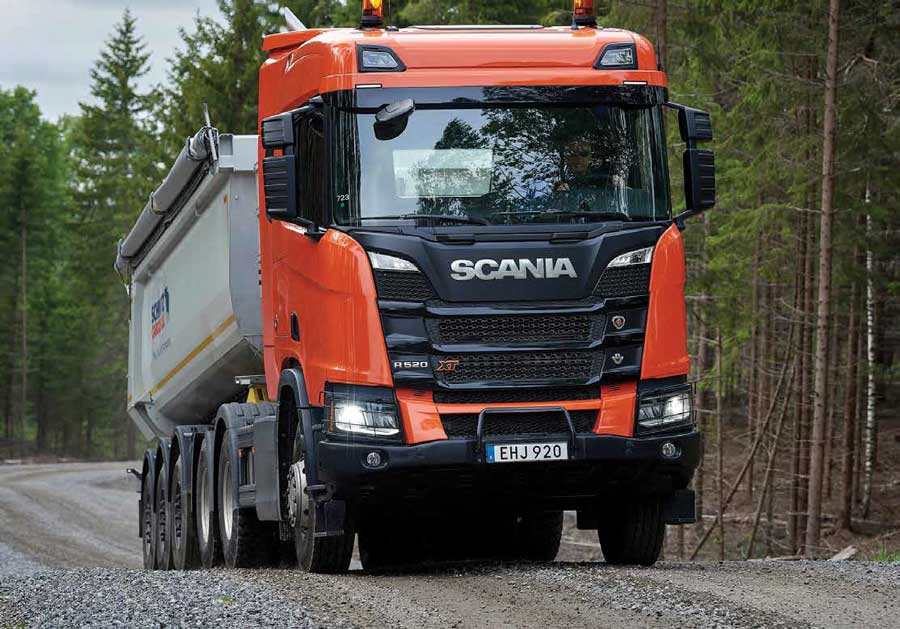 Ian Norwell reports
Scania launched its new heavy tractor range last year, and made a good job of it too. You'll be seeing them on the road by now. Now comes their narrower P cab, and the beefy XT construction range. We've been to Scania's test track, again, and given them an airing.
When a heavy truck range gets launched, the lighter trucks with the narrower cabs, especially those at the bottom of the weight range, can sometimes get a bit of a raw deal. Not so with the P cab Scania.
A popular truck with the distribution sector, it is a big beneficiary of the massive pile of r&d cash spent further on up the line.
The new P cab looks good outside, and in. All the top-quality switches and fittings from the R and S series appear there too. Like the G range, now also completed, there are six cab variants from the low-roof short cab, all the way up to a sleeper highline.
And like the other models, it also gets more glass for better direct vision – likely to appeal to city operations – slimmer A-pillars, and a lower and reshaped dashboard, all aiding visibility.
New internal and external lockers boost the storage, and compared to all the other cabs, the three-step entry almost feels like a walk-in affair.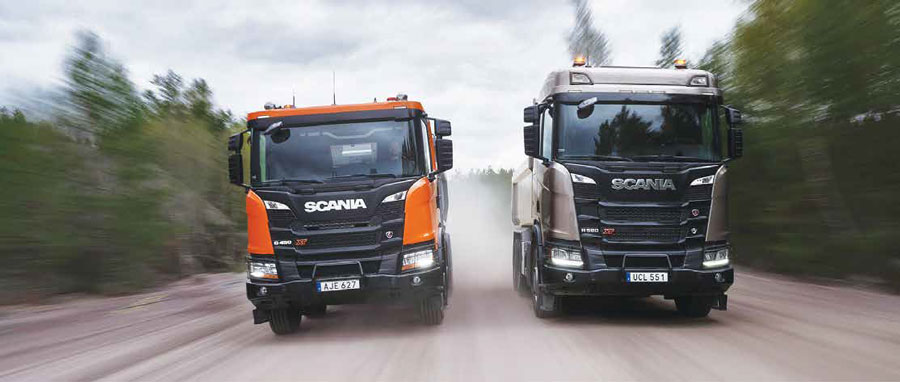 Take one for a spin
We would get to the bigger chunky XT models later, but first we took a P410 8×4 XT tipper around the forest route.
The vision is certainly good, and for day work it would be a nice environment to
work in. Stability was good, partly thanks to redesigned steering rods and lowered shock-absorbers on the four axle chassis, but it had a big-truck-small-feel atmosphere about it, with a cab that would be easy to get about town, but not be too cramped.
The G cab line-up is also now complete and a run around the Tarmac test track in a G 370 skip-loader was a good demo of its stability. The only manual gearbox out of the 24 trucks available for test, was in an 8×4 mixer.
We've seen the four axle mixers take over from the old 6×4 which used to be the standard machine for concrete deliveries, until someone twigged that you could get another two cubic yards on an eight-legger. Now they are almost the norm.
It was a good reminder of how high the centre of gravity is on this type of truck. With all that weight up in the sky, we took a cautious line, but the chassis coped well and inspired confidence.
All the XT models have loads of robust adaptations to mark them out, like a body side step in the cab wall to help you peer into a tipper body safely, an extra reinforced and better positioned front bumper, and reinforced rear view mirrors with stronger ribbed casings. They certainly look the part.
Range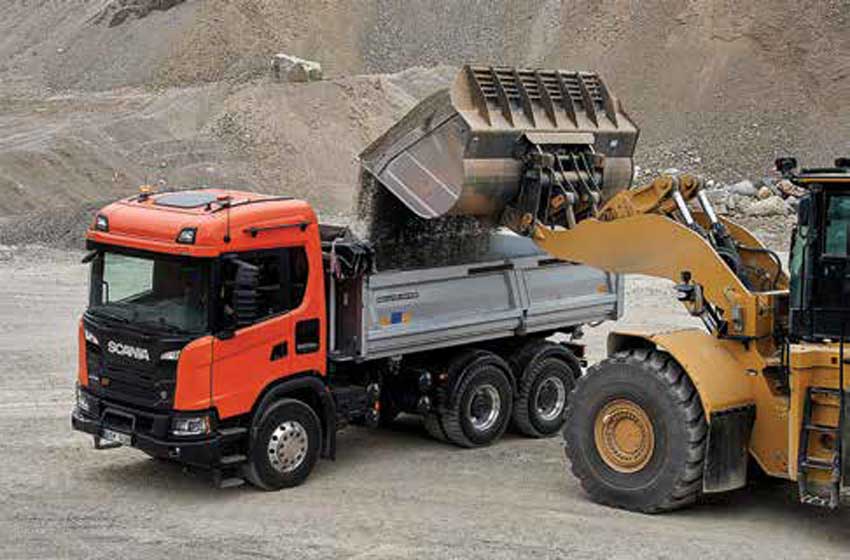 The XT(extra tough?) range comes in a bewildering number of executions. All the 9, 13 and 16 litre engines, with 11 outputs from 280hp to 730hp, can appear almost anywhere across the 19 cab variants of S, R, G and P models.
This gives operators the chance to go for broke and spec some really nice kit. One of the nicest-looking was an R580 XT, 6×4. An R-series sleeper cab, 4 point pneumatic cab suspension, 16 litre V8, 580hp, 12 speed Opticruise with clutch-on-demand, and a Scania R4100 retarder. Nice.
What's clutch-on-demand, I hear you cry. It's the latest development of Scania's Opticruise automated transmission, and it provides the driver with the option of manual clutch operation in conditions where it is useful to 'feel' the traction being laid down, for example, when manoeuvring on loose surfaces in demanding off road situations.
We think that the few operators who still prefer a manual box, maybe the heavy haulage men, will love this additional device. It really answers the last criticism that can be held against automated manual boxes. We reckon that this will be the conversion tool to win them over. It works exceptionally well, and so simply.
Other new items popping up here are a smarter handbrake and better hill hold. A new option, Scania's electronic parking brake is pressure sensitive, which means it can be applied gradually.
As the parking brake is electrically controlled, it can also be equipped with new functionality. One example is a smart safety feature which sees the brake applied if the speed is low and the driver releases their seat belt, or the door is opened. The hill hold functionality has also been improved so that when the electronic parking brake's autohold position is activated, there is no time limit on how long it will hold the truck. It is also automatically reapplied when the truck stops again, such as in those traffic queues we spend so much time in. If the vehicle is stationary for slightly longer, it automatically switches from autohold to the parking brake. These are all nice little additions which make the truck easier to drive.
Big stuff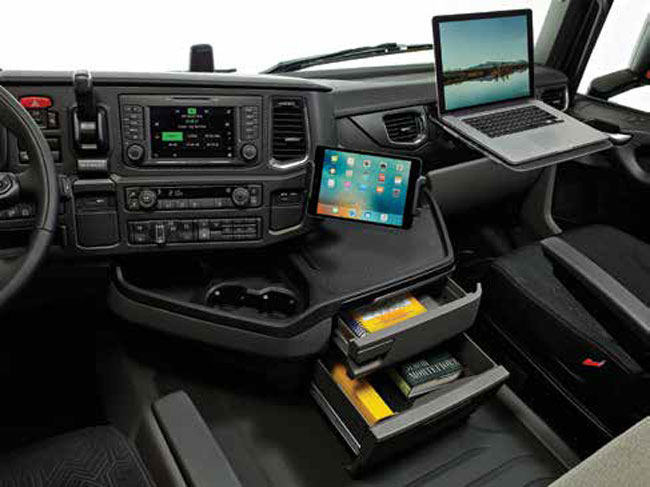 You can't go to a Scania test track without having a go at the biggest truck they have there. Call us childish, but there we go, it's the dog's danglies spec for us. Our choice was an S730 8×4 tractor with an eight axle, all-steering trailer. Decorated with an excavator, it weighed in at 104 tonnes, and 28.5 metres. The tarmac test track has plenty of reasonable hills and some pretty tight bends. It says a lot for the truck, the trailer and the demo driver who rode shotgun, that a complete circuit was uneventful. No service brakes were harmed in the making of the journey, as the five stage retarder had enough beef to hold back even this fat boy.
Scania's XT range looks pretty good, no surprises there. It'll give Volvo's FMX a run for its money, and probably teach Merc's Arocs and Actros heavy artillery a thing or two about breadth of range. Game on.