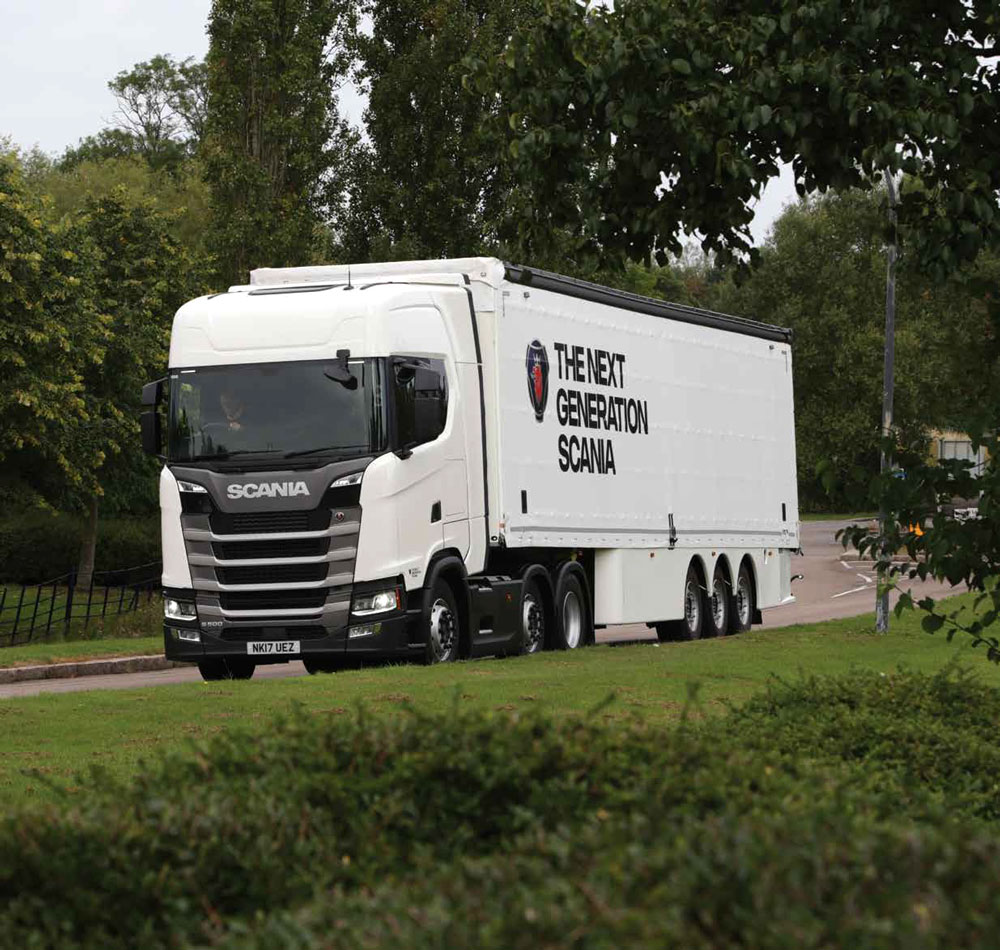 Scania drivers do have a reputation of being fiercely loyal to the brand, brooking no criticism. Their new generation's S series can only reinforce that. Our first on-highway drive in the UK shows the place where the benchmark on truck design and functionality has now moved to.
Ian Norwell drove for us.
Scania's new generation (NG) truck series first saw the light of day over a year ago at a glitzy Paris launch last August. It's been a rolling change with the outgoing model, for sure, as we spot very few on the roads even now. The drivetrains have been left mostly unchanged, apart from a much-revised 500hp 13-litre unit, and many software tweaks. The power delivery is as you'd expect from 2,550Nm, but what makes this truck better than the one it replaces?
Detail construction
The quick answer is probably build quality and design ideas. Scania's outgoing model was no slouch on those fronts, but the bar has certainly been raised and there are no common cab parts – it's all new. If you can resist leaping up the steps, it's worth a stroll around outside. New exterior lockers, redesigned cantilevered quarter panels and better aerodynamics are all over the place. Phil Rootham, Scania GB's technical guru, told us: "Included in the aerodynamicist's efforts to make this a slippery shape that saves fuel, is the deletion of the exterior sun visor as a standard item." He adds: "It created a lot of extra drag and it's noisy too." It's now on the options list, but it's hoped buyers get the message. Bling-lovers out there take note – stacks of spotlights on chrome bars are doing just the same thing!
The long climb
The five steps up and into the S cab can be tackled without oxygen or porters and the view is fantastic when you get up there. Scania is the last mainstream truck maker to produce
a flat-floor high cab, but they've done a cracking job with it.
The fit-and-finish is up there with top-end cars and the door closure alone leaves you in no doubt that time and money has been spent here. Standing room of 6ft 8in in the centre of the cab gives a cavernous feel and the high quality lockers, with nice design details are there aplenty. For overnighting, all the necessary controls are duplicated at both ends of the bunk and the air-conditioning can be left on all night, running on a pair of leisure batteries.
This is a nice touch for operating in hot weather – trying to get to sleep while the engine's residual heat continues to rise up through the cab floor for several hours after you've parked up is not much fun. On the flip side, the night heater is now Scania's own design and manufacture and it blends well with the sophisticated ventilation system. Nice design details are everywhere, including a cantilevered clasp at the rear of the door which envelopes the climb-in grab handle, so providing an extra physical lock for night security.
On the road
Opticruise is a well-known and trusted transmission, but shifting times have been cut by a massive 45% and it is noticeable. Instead of using synchro rings to mate the different speeds of the countershaft and main shaft in the gearbox, Scania now uses a lay shaft brake when upshifting.
This means that the shafts synchronise with each other faster and that the next gear can engage almost immediately. Shift times of 0.38 seconds are claimed and we loved it. The new 500hp engine has many mods, including a reworked combustion chamber and new injectors.
Scania's Phil Rootham says: "Our inline 13-litre engines perform fantastically well with only SCR, and a robust turbocharger featuring fixed geometry."
The complexity of variable turbine geometry for the blower has been binned on this engine. The parasitic losses that come from peripheral devices like compressors that are already on part-time working, are now cut further as it will now also wait for a downhill stretch before it fires up.
The main cooling fan is now electrical, saving weight and all the fandango of heavy drive belts. It's called incremental gains, and they are pinched from everywhere. Each one making a contribution to fuel economy. Scania claim a full 3% fuel gain from powertrain innovations alone, and a 5% overall with their NG trucks.
Control
Fans of cruise control, its smarter brother adaptive cruise and the complete boff of the family that is predictive cruise, will know that they are great for de-stressing a journey. Scania's version of predictive cruise is 'active prediction', (CCAP) and it really saves fuel on those long motorway hauls.
All the controls for these devices are at the bottom of the nicely-shaped steering wheel, just where you need them.
Once you have them mastered, a lot of the driving is done with just your thumbs. Steering and handling are exceptional for the large, highline S cab, with none of the wallowing on corners that might have been expected. Once all the cab model variants are in place – CV Driver magazine will be testing the construction multi-wheelers soon – there will be 24 in the range.
Although sales only started in earnest at the beginning of the year, Scania reports that it was surprised to find that almost half of the orders are for the S series, with this impressive new flat-floor cab.
This shows which way the tide is running. Fleets are finding that drivers are in short supply, and good drivers are even more scarce. Putting a few trucks like this on the fleet will not only save managers money, it's a good way of attracting, rewarding, and retaining their driving staff.
Keep your eyes peeled for local firms who go for them. Scania's NG truck range is the result of 10 years of development work, and 20 billion Krona. That's a lot of moose-burgers, but we'd say in the S series, they've got their money's worth.