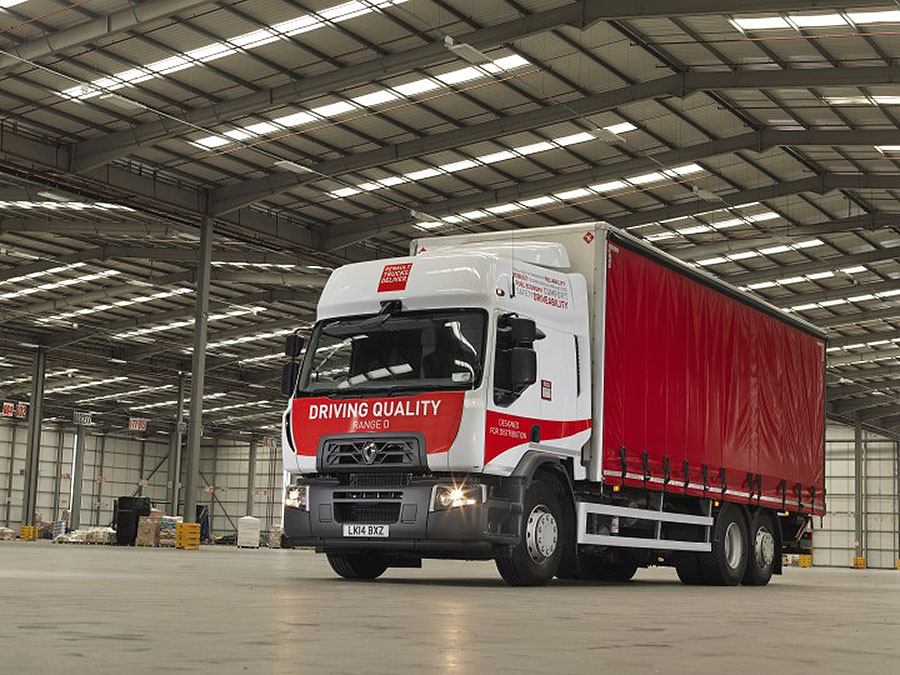 Renault claims its Range D chassis has been extensively tested under extreme load conditions to ensure its toughness and longevity. The cab is reinforced using components and materials known for their strength to ensure maximum reliability and durability.
The Range D chassis is available with numerous mechanical and electrical pre-equipment options to help simplify bodybuilding operations and allow installation of any equipment needed for distribution work. For example a multitude of chassis options and wheelbases are available. There are brackets on side members for easier body mounting, chassis side members are also pre-drilled and come with a nut and bolt 'kit'.
There are also a large number of axle configuration and suspension choices, with rear air suspension offering increased stability and better protection of the goods being carried – which is particularly beneficial for cargos of IT equipment, drugs, foods and other delicate goods which might be easily damaged. A three-piece bumper on the front has steel corners for increased impact resistance, which is not only tough enough to take the odd ding, but should the worst happen and one part of it gets severely bashed, just the damaged section can be replaced.
Renault Range D ticks all the right boxes
A compact, narrower width cab combined with short front and rear overhangs and a reduced turning circle make the truck the ideal candidate for the distribution business. CV Driver was offered a chance to get behind the wheel of this particular Renault Range D, which is designed to meet the needs of the pallets networks. It's a kind of 'sweeper' truck which will typically travel out and collect pallet loads from various locations and transport them to a central hub for onward distribution. It was fitted with a Transport Enterprises curtainsider body and 1500 kg tuck-away tail lift with external controls and wander lead. Generally working during the day to enable collection of goods during working hours from companies dotted around the country, a truck in this business needs to be a bit of a jack-ofall- trades (but certainly not a master of none!). It must offer a comfortable cab with ample room, storage and a decent bed for nights away, with a motor capable of keeping on top of tight schedules and a transmission which takes the strain off the driver, who will be kept busy finding collection addresses. Suitable final-drive and gearing are also critical for a truck used in this business. It has to enable the truck to be able to cover both long stretches of motorway and dual-carriageway work as well as flitting about in towns and cities, and working out in the countryside, perhaps in some cases even negotiating farm tracks to access many of the enterprises which have sprung up in rural areas, where farming practices have changed and small businesses now share space with the farming community.
A manufacturer capable of coming up with a truck to meet these testing requirements will have done well, and we think this Renault Range D – or to give it its proper name, Renault Range D 26 Wide 6×2 R320 E6 – ticks all the right boxes. We rate it as a very capable workhorse.
Entry/exit to the cab is via two steps and the doors open nice and wide, so the driver can climb in and out easily, even when carrying items into or out of the cab. The cab is mounted high enough to give the driver good all-round visibility, but low enough to ensure he can enter/ exit safely multiple times during the working day.
Inside Range D, Renault claims it is up to 35 per cent quieter than in previous cab versions, while new seats offer high levels of comfort and are fully-adjustable to suit virtually any shape and size of driver. They also have adjustable lumbar supports, while the cab has four-point air suspension with ride height control.
The truck is fitted with 12 volt and 24 volt sockets, and there are storage spaces dotted about the inside, with voluminous overhead lockers, where drivers can store all the gear and knickknacks needed for a stint up the road.
The Optidriver automated manual transmission is superb and is up there among the best in the business
The 320 bhp motor offers enough horsepower to make the truck an ideal candidate for mixed route work. The Optidriver automated manual transmission is superb and is up there among the best in the business with its ease of use and responsiveness. Driving the truck couldn't be simpler. Select Drive, release the parking brake and hit the accelerator – and that's just about as complicated as it gets! While the DTI 8 engine – in this case rated at 315 bhp – isn't going to break any records, it gives a good enough account of itself in this truck. Driven over a mixed route, the Renault performed very well. The truck was fitted with a single reduction final drive axle. The rear axle was plated at 19 tonnes, with a ratio of 3.36:1, giving an engine speed of 1536 rpm at 90 kmh. On the hills the Optidriver automated transmission, which had its gear shifting strategy optimised for distribution, handled that side of things as well as any driver could. There was no need to select manual mode to hang onto gears and prevent the truck changing up or down a gear unnecessarily at any point, although that might change should the terrain become more challenging.
As is the norm with the latest vehicles, Renault D has a CD player, MP3 Bluetooth equipment and jack connection, and a number of steering wheel-mounted controls. These enable the driver to operate certain functions instinctively by pressing the appropriate button on the steering wheel while keeping his eyes on the road.
The brakes work a treat, with great feel and response, while the Renault Optibrake which uses a combination of exhaust brake and valve compression braking proved a handy tool on many of the longer hills. We also used it to slow the truck on the approach to roundabouts and junctions. It will extend the life of the brake pads (disc brakes are fitted all-round) and save on maintenance downtime and costs.
One criticism is the axle layout – the rear axle lifts but is not a steer axle – which we found a bit strange for a truck which would have to negotiate its way along narrow roads and lanes and into and out of small yards. On tighter turns you could feel the rear axle drag. The added manoeuvrability and reduced tyre wear of a steered rear axle would pay dividends in the long-term.
Another criticism is cross-cab access, which is limited. A large engine hump and narrow gap between it and the dash area means drivers would struggle to get across the cab and out of the passenger door in restricted areas.