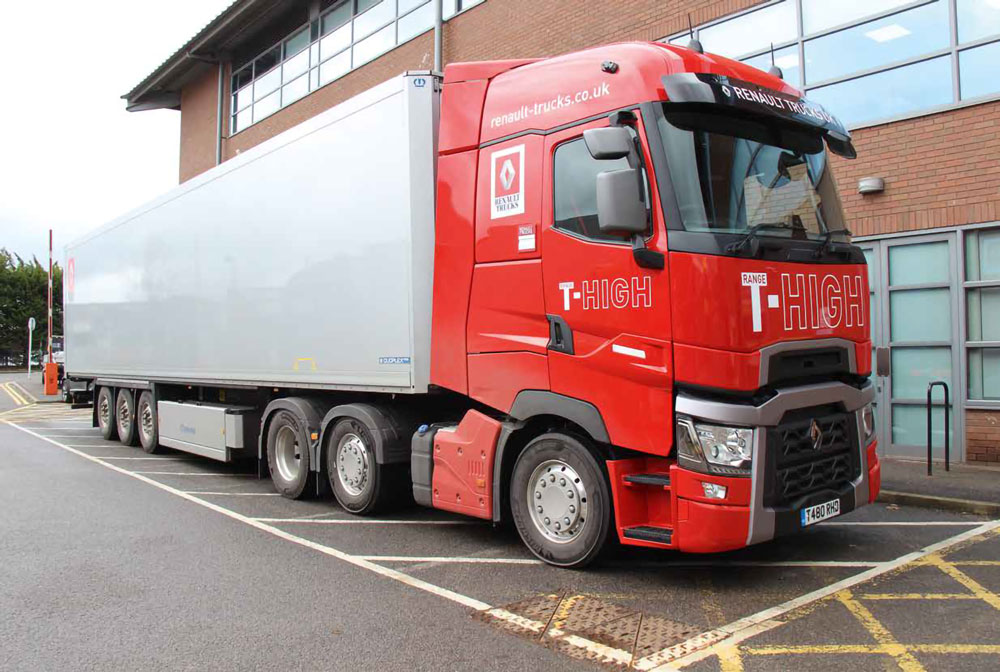 Behind the wheel of the French manufacturer's Range T High. The new model promises much, but is it a 'oui' or 'non' from Pip Dunn?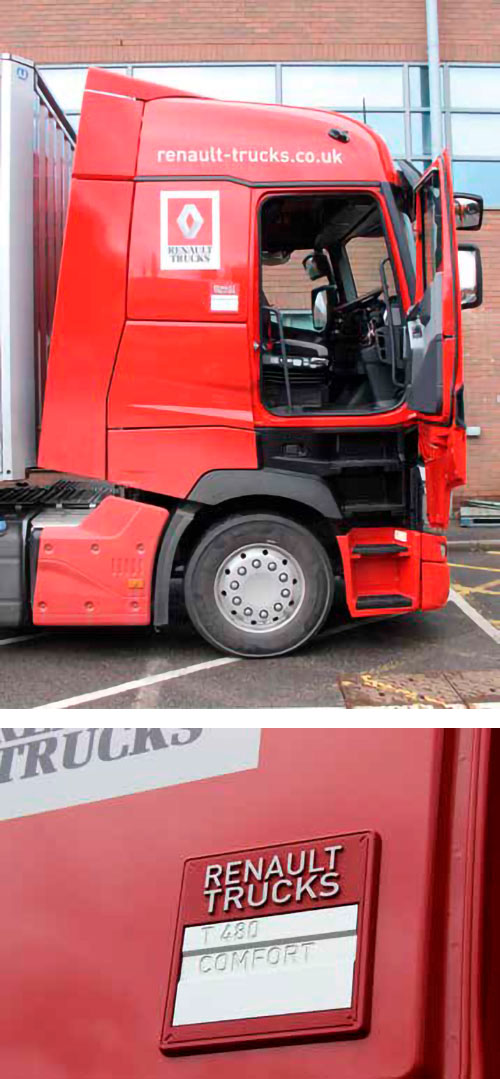 You have to wonder if Renault's board members are kicking themselves for not offering the right-hand drive version of its Range T High sooner. The response to the truck since it was launched for the UK market late last year has been promising. And after a drive of this truck, it's easy to see why.
The Range T was unveiled in 2013, as a replacement for the Premium. But at the same time, a flat floor, big cab version – to replace the dated Magnum – was also shown off to the media. The problem was, it was only available in left hand drive versions only, which left many interested parties asking why. There is an argument to say the reason was the potential for detracting from sales of sister group Volvo's FH. UK Renault operators were left with a choice – Go for a LHD Range T High – that was available in the UK – or opt for the standard Range T. Only the latter was not really a flagship.
So they had to look yearningly at the Range T Highs that came to the UK from Spain, France, Germany and indeed all over Europe. Then, in 2017, Renault relented – or more likely, Volvo relented. The UK was finally going to get the Range T High. Good news, because it's a bloody good truck. It really does cross that bridge between being a prestige flagship truck, but one with a price to appeal.
Range T High First impressions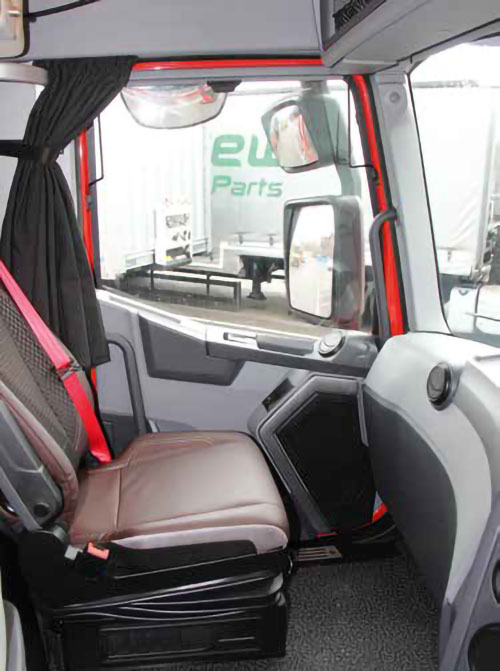 We recently spent time in a T480 with the big cab in typical 6×2 format with a centre mid-lift pusher axle. This version is the middle of the three engine outputs available – 440, 480 or 520hp; all variants of the same 12.8-litre straight six Euro 6 DTi engine. Renault's 10.8-litre engine is not an option for a Range T High and, in fairness, the bigger engine has all bases covered.
The 480hp unit gives an impressive and very usable 2,400Nm of torque – for comparison the 440hp offers 2,200Nm and the 520hp version offers 2,550Nm. Of course, 480hp is more than adequate for virtually all 44-tonne work in the UK and Europe but it is probable that the 520hp version could be the best seller, but only time will tell on that.
The engine is coupled to a 12-speed automatic gearbox and there is no manual option, not that there would likely be much demand for it. The rear drive axle is 1:2.64.
Our demo truck was the spec most aimed at UK hauliers, but you can specify it as a 4×2, 6×2 rear tag axle or a 6×4 tractor – the latter most likely only to be taken up by heavy haulage and landfill operators. There are also 4×2 and 6×2 rigid versions available for drawbar use.
Wheelbase options on the tractors are 3,700 and 3,800mm for 4×2, 3,900 and 4,100 for the midlift and 3,200, 3,400 and 3,700 for tag axle options. The front suspension is a choice of leaf or air with front axles of 7.1, 7.5 and 8 tonnes. Front and rear disc brakes are standard.
The unladen weight came in at 8,800kg; very good for this class of tractor unit – a top of the range 6×2 with the largest cab, and it is certainly lighter than some rival makes… although weight is never the biggest deciding factor when buying a big cabbed tractor. Nevertheless, it does help if your truck is a quarter of a tonne – or even more – than some of its competitors.
Inside the cab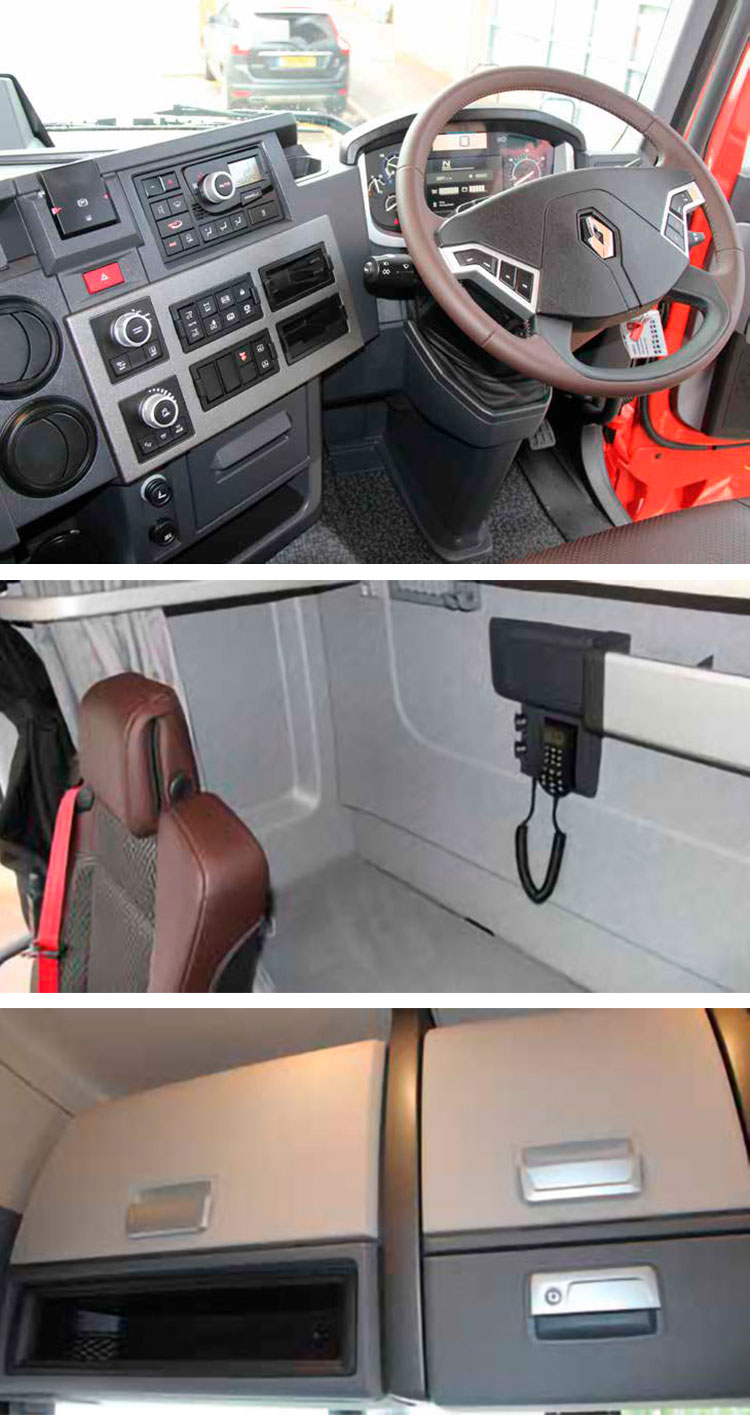 With a shortage of drivers, wooing new blood – as well as retaining your best drivers – can often be helped by offering trucks with the biggest cabs; and the Range T High has lots to offer. The demo truck had all the option boxes ticked, which meant heated, leather seats and a host of other gadgets all aimed to make the living space the best it can be for the driver. It has twin bunks, but the top fold down bunk can be omitted and more storage cupboards fitted to the ceiling instead. There are four steps for the driver to negotiate to gain entry to the big cab, so the same as the Mercedes Actros GigaSpace and Scania S-series. This does represent a small challenge when to comes to getting your stuff into the cab for a week at the wheel, but obviously these types of trucks will most likely be loaded up with equipment and provisions once a week, and probably not emptied until a good few days later, so it's not that much of an issue.
The inside of the cab is top notch – the design is well thought out and very well appointed; it's a lovely place to be for driving, and indeed relaxing. And remember, even if you don't specify all the extras, this will still be a great place to work. There is ample storage for your week's gear, with plenty of cupboards.
On the road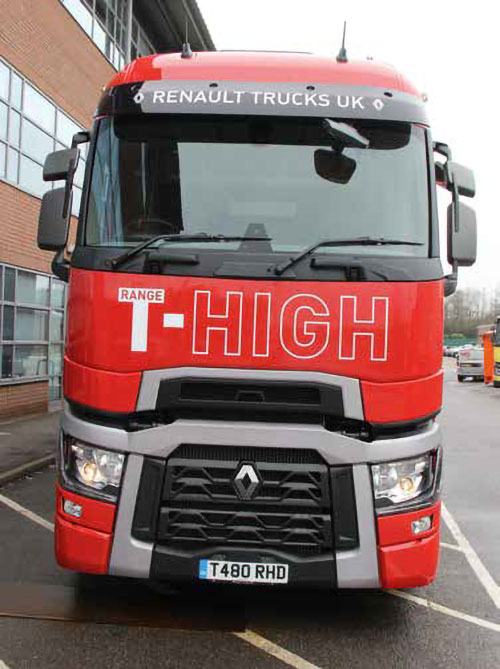 I could sum this up in one sentence – the Range T High is a lovely truck to drive – but I guess I have to explain why! It has a great feeling of quality. It's well assembled, the dash is well thought out – though make sure you have a chat with your dealer at handover, so you know where everything is, as some of the buttons for the cruise control are not where you might expect them (spoiler alert: they are under the steering wheel arm, which is actually really a sensible solution).
But once you have familiarised yourself with the layout, the placement of buttons makes a lot of sense. The main knob for the cruise control and adaptive cruise control is on the facia to the driver's left. But once set, then the rest of the controls – and those you actually need when driving – are on the steering wheel.
Likewise, while the three-stage exhaust brake stalk might look a bit flimsy, it's actually very easy to use and you soon appreciate its design and positioning. All other controls are close to hand.
Loaded to 44 tonnes, our two-hour drive featured a good mix of roads with A roads, motorways, some country lanes and even a few hills. I was pleasantly surprised how well the truck pulled, and despite 'only' having 480hp on tap, it handled as well if not better than trucks with more power from other manufacturers.
On the hillier sections of the motorway, the T480 positively romped up the inclines with no issues. The steering was spot on and it handled superbly, whilst the forward vision was amazing and as rear mirrors are also excellent, the driver is afforded superb visibility. It was really fun to drive.
Conclusions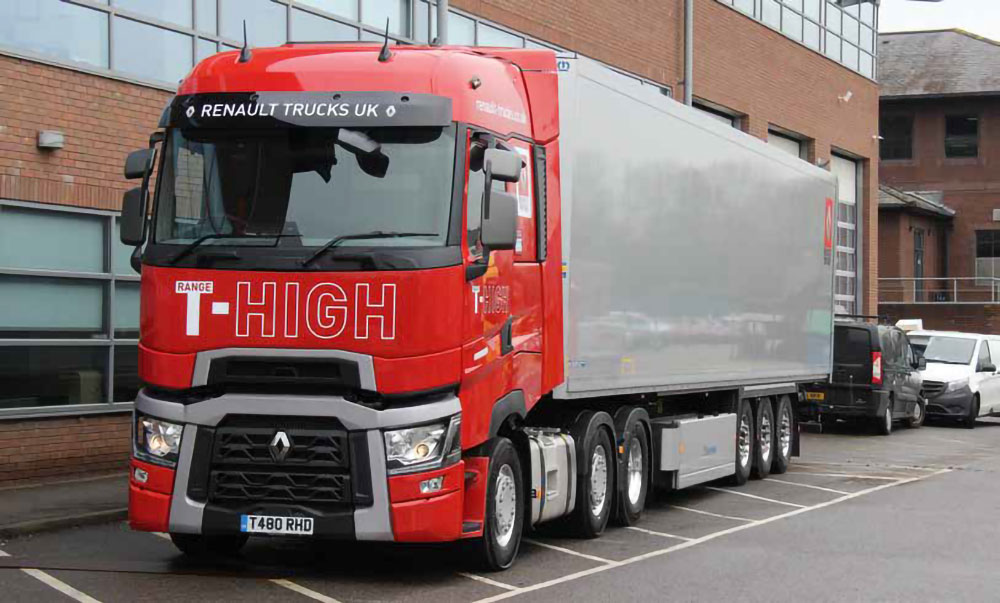 I was pleasantly surprised by the Range T High; it is well-built, it handles and performs very well indeed and offers a superb living area. Any driver on long-haul work should like this truck and truly appreciate the internal space. The cab is also a superb canvas for which to advertise your company!
It might be up against some excellent competing vehicles in a very congested market, but if you are about to rush out and buy a flagship vehicle then you'd be a fool not to take a Range T High on demo, because I think you will be pleasantly surprised.
In short this is really a very, very nice truck and you get a lot of truck for your money so I expect to see a fair few on the road. Perhaps it could entice some operators – and owner drivers – to look beyond Sweden and the Netherlands for the next truck? •