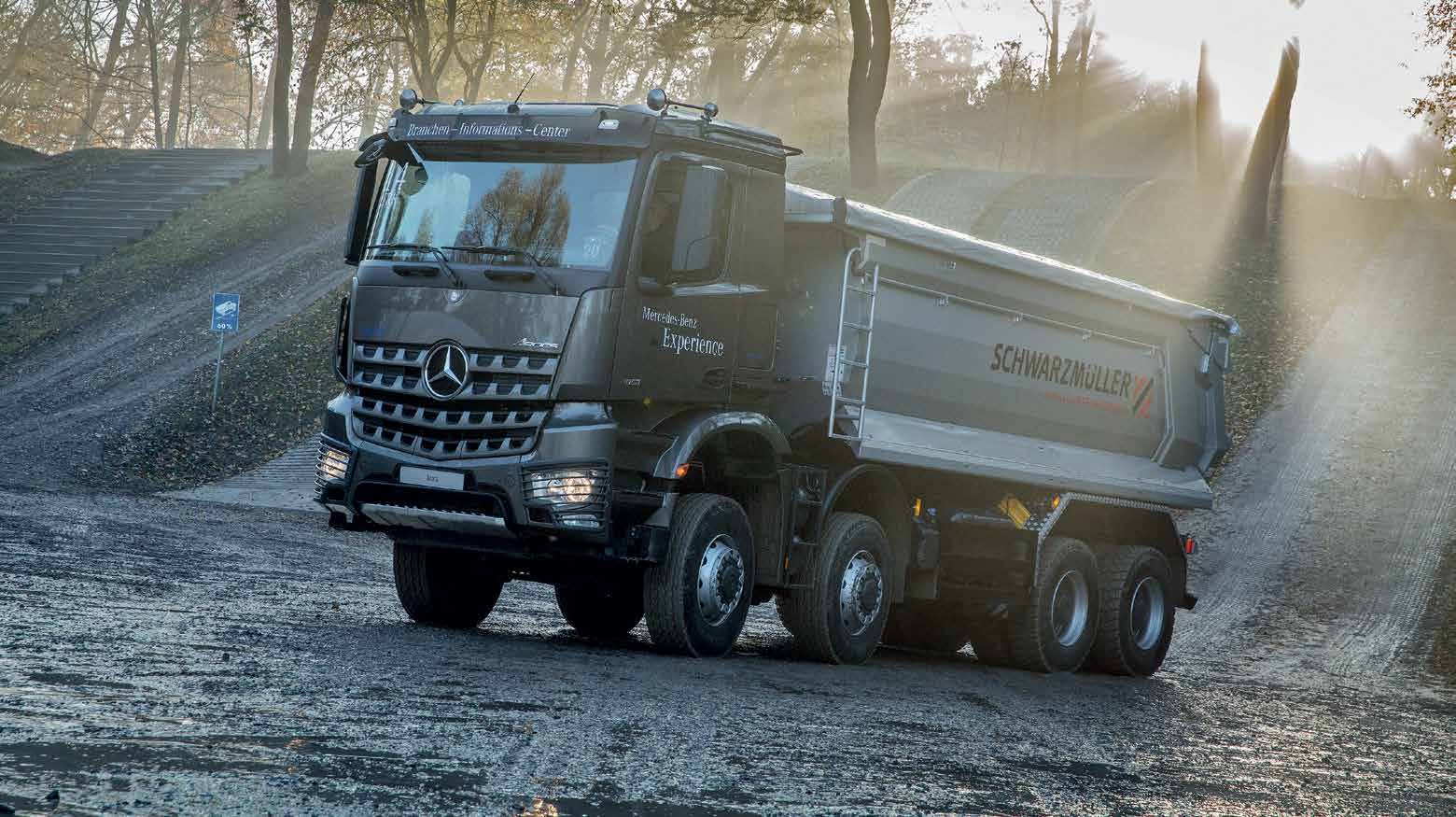 Mercedes-Benz Arocs
Mercedes has been in the tipper truck business since 1897 when it turned out its first five-tonner. Tucked away in a museum now, that horse-drawn cart with a rear-mounted four horsepower two-cylinder, 1,060cc engine was where it all started for Gottleib Daimler. Fast forward 120 years, and the ball-busting Arocs 4151 AK 8×8/4 in front of us at the Gaggenheim test track has upped the game somewhat. A 41-tonne GVW chassis, all-wheel drive on an eight-legger, reinforced chassis frame, 510bhp, Merc's PowerShift gearbox, and, the icing on the cake, the amazing turbo retarder clutch. It had the feeling that it could climb up the side of a block of flats with velcro on the tyres.
Choices, choices
The Arocs range is certainly not second fiddle to the Actros. In heavy haulage land, it can climb up to 250 tonnes gross, and the chassis layout options for Arocs are more comprehensive. Back in normal operations, there are three engine ranges giving thirteen power ratings from 326bhp to 625bhp. Two are new, allowing the tipper and mixer men to sneak up an extra notch without going to the bigger, and heavier engine. Merc has squeezed 456bhp out of its 11-litre motor, and the 13-litre unit now tops out at 530bhp. If you want to give it both barrels on full choke, the big 16-litre lump belts out 625bhp, and 3,000 of Mr Newton's metres, when it's on full chat.
Following time spent in the Scania XT and Iveco X-Way, we get behind the wheel of the Mercedes-Benz Arocs. Were we impressed? Ian Norwell dons his rigger boots and sloshes off through the mud in the construction industry contender
There's more. Gross weights on tipper chassis range from 18 to 41 tonnes, and chassis layouts of 4×2, 4×4, 6×4, 6×6, 8×4/4, tridem, 8×6/4 and 8×8/4 have all bases covered. There are six special chassis for the mixer men too. Both tipper and mixer variants come in a low-tare 'loader' spec (where even the passenger seat can be dumped in the search for payload), and a 'grounder' spec – where a beefed up frame, axles, suspension and tyres are aimed at the rough-and-tumble of muck-away work, Mercedes-Benz Arocs Construction Mercedes-Benz Arocs Construction TOUGH AS NAILS Following time spent in the Scania XT and Iveco X-Way, we get behind the wheel of the Mercedes-Benz Arocs. Were we impressed? Ian Norwell dons his rigger boots and sloshes off through the mud in the construction industry contender and worse. There are 14 different cabs: two widths, three lengths, two engine tunnel heights and even a flat floor version. We wouldn't recommend that one for tipper and mixer work, as all the dust and crap you inevitably bring into the cab on your boots will drift all over the place. Better to have it contained in a proper footwell.
Torture testing
Merc has designed a test track where they show off the crazy angles and steep slopes that these trucks can tackle. It's in Gaggenau, home of their Swiss-army-knife-of-a-truck – the Unimog. The 8×8/4 Arocs 4151 AK tipper showed off its muscles here, tackling every slope with distain, even reversing up them. This chassis was fitted with their Turbo Retarder Clutch (TRC). A cracking bit of kit, it's a very clever combination of a torque converter (TC) automatic slush-box, and a proper dry clutch.
How does it work then? When your boot hits the the gas pedal, compressed air pumps fluid into the TRC, in the same way as a conventional TC automatic. This gives you fast and wearfree transmission, with high slip at full engine torque of up to 3,000Nm. As soon as the truck is moving at a speed that matches first or second gear, the transmission fluid is pumped out of the housing by centrifugal force. It's done its job of getting the truck on the move, without using friction surfaces.
Now the conventional friction clutch can close and take over the drive. The surfaces close at the same speed, so wear is negligible. Bingo! We'd like to see this clever bit of kit on more trucks, but we're told that the software and controls are very complex and expensive. They must be, because if you want a TRC in your beefy tipper, you'll be stiffed for nearly £9,000 on top of the chassis price. The TRC was a joint project with transmissions boffins Voith, and it was created for Merc's SLT, the bespoke heavy haulage chassis. It's now creeping out into the heavy-duty tippers, and in rhd too. We've yet to see the first one in a UK tipper. Let us know if it's you!
Holding back the tears
Over 90% of trucks have engine brakes or retarders these days. Heavy tippers need them for two reasons. Safety and economy. Old timers (is that you?) might recall running out of service brakes on a long hill, when all you had to check your speed was a pathetic exhaust brake. It will have been a buttockclenching experience you didn't repeat. How much easier it all is now with truck like the Arocs. As you tip over the edge of a steep decline on site, on with the engine brakes and all is well under control.
The TRC has another shot in its locker here. For retardation, the system goes into reverse. The turbine wheel is fixed in position and fluid is pumped into the housing once again, but in this case the TRC acts as an effective engine-speed retarder, giving an additional 350kW (476bhp) of stopping power. The effect of both the engine brake, and the TRC in retarder mode working together, is startling. The steepest hills on the test site were no sweat, and needed no brake pedal.
A winner
Merc has done it again with the Arocs. It feels unbreakable on site, and the on-road manners are superb, no compromises. There are some extreme chassis here, but even the 'cooking' versions of their 6×4 and 8×4 are very robust. The range of spec is enormous, and the extra protection from bumps and scrapes is everywhere. A truck for all reasons, we loved it.
read the full article in our February Magazine