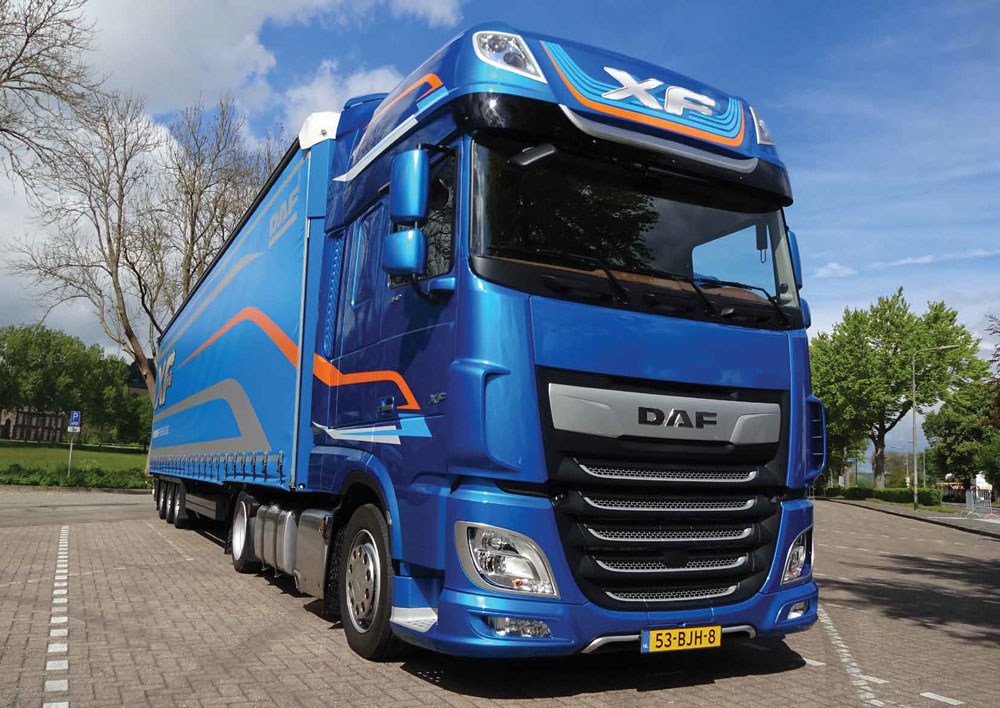 DAF unveiled the new range of CF and XF trucks at the CV Show in April. They may look similar cosmetically to the current Euro 6 range, but the new models are completely different under the skin.
Engines have been heavily revised, there's a new gearbox, a new rear axle, new interior options and more. This is no nip and tuck job, it's an extensive upgrade. CV Driver was invited to a special test event in Southern Holland to drive some of these impressive new trucks and find out the details about what's been changed.
ENGINES
Both the MX11 and MX13 engines have been comprehensively re-engineered. The BHP outputs of each engine have been raised, which is the figure most likely to grab the headlines.
But it's the torque output and the way it's delivered that deserves the most attention. The engines have been redesigned to deliver more torque at lower speeds, matched to a new set of gear ratios. The drivetrain is now set to operate at lower revs than before – much lower revs! The new range-topping 530bhp MX13 kicks out a whopping 2,600nm torque at just 1,000rpm. DAF states that the 480bhp version is their "sweet spot" for maximum fuel efficiency on the MX-13.
Increased compression ratio from 17.5 to 18.5
New pistons and injector nozzles
New piston ring and liner combination
More efficient EGR system, operating from one manifold branch only
40% smaller exhaust, 50kg weight saving
Variable ratio PAS, A/C, coolant and oil pumps
MX-13 has a new turbocharger and new camshaft
MX-13 has new, more powerful single valve engine brake
INTERIOR
The interior of both the CF and XF continue to retain the same familiar design but there's improvements over the earlier Euro 6 models. The quality of plastics and trim is excellent; there's a new Exclusive-line trim level, "cognac" dash and leather (we love it, but it might divide opinion).
The switchgear, instrument panel and heater controls have all been improved.
The night-heater is now fully integrated into the HVAC (heating, ventilation and air conditioning) system. Cruise control functions can now all be operated from the steering wheel and there's an improved driver information display on the dash.
TRANSMISSIONS
With the new engines capable of producing peak torque at lower revs, the next step was to come up with a transmission matched to these low-rev characteristics. ZF's TraXon gearbox is now fitted as standard. DAF had stuck with the ASTronic initially due to concerns over the TraXon's extra weight, but the latest versions match the old ones. A 16-speed manual is still available as an option – the 12-speed manual is no longer available. The TraXon offers 12-speeds as standard, with 16 as an option, along with direct-drive or over-drive ratios. The rear differential is of a completely new design, using new gears, bearings, lower viscosity oil and less of it.
The new ratios mean that cruising at 85kmh in top gear, the engine will be revving at just 1,000-1,040rpm – much lower than the outgoing model. DAF is confident that the work they've done with the engines, with that torque available at such low revs, there's simply no need to have an engine rev as hard – fewer revs = less fuel burned.
There's a range of new software maps for the gearbox, depending on what work a truck will be doing such as liquid transport, heavy haulage and refuse collection. Eco-mode is retained – press the stalk button once and the gearbox will change to Eco-performance, a more lively shift strategy.
Press it twice and you get manual mode, with the system returning to Eco-mode when it deems conditions suitable. The good news for those pulling heavy loads is that the old system of reducing torque in Eco-mode is no more.
AERODYNAMICS
In the past, engineers perhaps wouldn't have pursued tweaks which offer only small fuel savings, but today, even the smallest fraction of a percentage is considered important. While they may look very similar to the old Euro 6 models, there's actually been quite a few changes – a new sunvisor, part-sealed grille, radiator wind deflectors and extended wheel arches all play their part. Plus there's a splash of aluminium trim on the front, just because it looks good!
SOFTWARE
Electronics have been completely redesigned, with a new vehicle ECU which is described as "the director of the orchestra". DAF made clear the importance of software in getting the best from the powertrain. The Eco-roll function has been improved and the truck can roll more often and can even activate while going uphill, there's a tyre-pressure monitoring system too. Predictive cruise control has been tweaked so it can see further ahead.
BEHIND THE WHEEL
We took a test drive of four different tractor units: a XF 450, a CF 450, XF 480 and XF 530. It's quite unusual to find a MX11 powered XF in the UK these days, with our operators preferring to go for the bigger engine. The 11-litre XF we drove wasn't as heavily freighted as the CF, which had a container trailer. At middle-weight work, the 450 will do well – it's much loved by the big fleets and we can report that DAF really has done an impressive job with increasing the low-down torque output. The engine is capable of lugging down at 1,000rpm and maintaining speed on gradients.
The new gearbox is incredibly long-legged compared to the old one, and it might take a while for drivers to get used to it. In normal Eco-mode it will tend to want to avoid to change down gear, but hit the button on the stalk and the box will move into Eco performance mode, which is a lot more lively and just the job for accelerating up motorway slip roads and so on.
We feel the need to mention the CF interior; the Exclusive-line trim is excellent and although the CF is primarily a fleet truck, the trim in this one was as good as anything we've seen. It's good that there's a variety of trim options; traditional walnut is still available, as is the more modern silver. Any DAF driver will be instantly at home in either the XF or CF, and even if you've never sat in a DAF before you'll soon be comfortable.
The new 480bhp 13-litre is likely to be the biggest seller in the tractor unit market. And with full-torque available across the rev-range now in Eco-mode we suspect it may actually outperform the previous 510 version!
The reworked engine brake is fantastic; it's really powerful and on the top setting it'll pull you to a halt without touching the brakes. It's going to be really interesting to see what sort of fuel returns these engines give. However with the low-rev characteristics of the engine/gearbox combo, drivers are ideally going to need training to get the best from them.
Last up was the 530bhp XF, which had a touch more grunty noise about it than the 480. Again, the gearbox will seek to change up gear at 1,200rpm, but with all the torque available down there, and those reworked gear ratios to suit, it works. It's going to take a bit of getting used to though.
Overall, these latest revisions are a huge leap forward – almost as big as the move from Euro 5 to Euro 6. More power, more torque, a better gearbox, improved interior and better fuel economy. We're looking forward to taking a proper test drive in a UK truck soon.