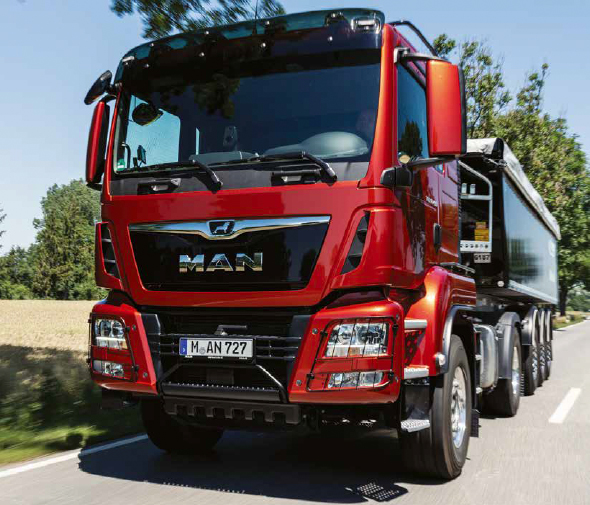 New engines on offer plus a string of new aids to make the driver's job a little bit easier.
MAN has updated its range of power plants as the industry moves into Euro 6D emissions regulations. The German truck maker has taken the decision to ditch its 10.5-litre D20 engine and replace it with a smaller 9-litre D15 lump that shaves 230 kg off the scales, thanks to its smaller displacement and the use of new build materials.
D15 is available in 330, 360 and 400 bhp power outputs producing 1,600, 1,700 and 1,800 Nm of torque respectively. Offering better fuel economy than the outgoing D20, the new engines also feature single-stage turbochargers with variable turbine geometry for the 400 bhp version, or waste gate on 330 and 360 bhp versions.
D15 is available for both TGS and TGX chassis. Being both lighter and more agile, the new engine is aimed squarely at the middle-weight sector where payload is king. Typical applications here are concrete mixers, tankers, high-volume distribution, eight-wheeler tippers and refuse collectors – and MAN hopes the three power bands will be enough to cater for the needs of the majority of these operations.
But MAN hasn't just been tinkering with its engines, as this year it has also introduced a string of new aids to make the driver's job a little bit easier. First is ComfortSteering, which uses motors to add torque to the steering wheel, making it respond to a lighter touch at lower speeds while tightening up for more precision when cruising. Piggybacking off the back of this is Lane Return Assist (LRA), which uses the new motors in the wheel to correct the course of the truck if sensors detect it is drifting out of lane.
They add a gentle tug to bring the vehicle back between the white lines, but the driver is free to override it if required. MAN also said the system is smart enough to allow a driver to move over a bit to safely pass a stopped vehicle on the inside lane/hard shoulder without triggering any corrective steering. The next new feature is a Stop-and-Go function added to Adaptive Cruise Control, which automates the process of slowing, stopping and then moving away in stop/start traffic.
This system has previously been available for spec'ing on other models, but MAN is now offering it for chassis fitted with Traxon-based TipMatic 12-speed automated transmissions. Finally, the gear selector now carries a new DP performance mode, which enables drivers to make use of a later-shifting, higher-revving gear selection programme for times when a bit more grunt is required. In this mode, gear changes occur faster and at around 1,800 rpm instead of the standard 1,500 rpm in the more economic D setting.
Downshifting is also quicker during kickdown. On the road CV Driver recently took three TGS chassis with D15s and a mixture of the new driver aids for a series of test drives in Munich. Starting out from a base close to the airport, our first 60 km drive was in a 28-tonne TGS 18.400 distribution tractor unit pulling a curtainsider trailer. At this weight, the truck pulled well as we made our way through the busy airport access roads and out onto the main highway. The M-cab gave us a comfortable, if unusually quiet ride – and it took us a few minutes to realise there was no sound coming from the indicators. Apparently,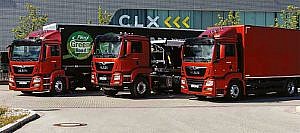 MAN reckons drivers have reported the constant clicking of indicators is irritating, so it is now silencing them by default. Some drivers might love it, but personally, we prefer to be able to tell what the blinkers are doing without having to look at the dash. ACC kept us cruising along the motorway at a steady 85 kmh, and the Lane Keeping Assist kept us nicely placed between the lines. The rather flat topography around Munich meant we didn't encounter many hills to test the new lump's climbing prowess. But when it came to slowing, the ZF Intarder did most of the work for us – though we still had to dab the service brakes every now and again. Leaving the motorway and heading onto the rural A-roads, it was the new ComfortSteering system's time to shine. We actually liked it a lot. There's no way to configure the amount of 'stiffness' in the wheel (Volvo's similar Dynamic Steering offers a range of settings here), but MAN's default values were spot-on and made Trucks on test negotiating sweeping bends, tighter corners and junctions noticeably easier. Next trip
After returning to base, our next trip out was with a 39-tonne TGS 18.400 4×2 hooked up to a three-axle tipper trailer full of gravel. With a smidge over 10 bhp-per-tonne on tap, this would be a good test of the 400 bhp D15 – and right from the off, the truck was working hard. Nevertheless, the going was OK on the hill-less highway – so after 30 minutes, we headed into the woods to find an off-road track for a better test of its mettle.
MAN had prepared a small area of gravelled hills, dips and puddles for us to play around in, so we flicked the gear selector to the new DP performance setting to give us some extra oomph. Though the course was tight, the hills were stressing the engine at this weight. We reckon that unless an operator knows the truck will be running on easy roads, it might be better to spec the meatier (though heavier) 430 bhp, 12.4-litre D26 for a little more power overhead. For our last test, we took out a smaller TGS 18.330 4×2 rigid with box body for a spot of simulated urban distribution. Loaded to a more forgiving 18 tonnes, this vehicle had 18-plus bhp-per-tonne to play with – which made bimbling around the city streets a lot of fun.
The early-afternoon traffic had built up around town, giving us the perfect opportunity to try out the ACC's new Stop-and-Go feature. When enabled, the system will slow the truck to a complete stop and apply an electronic brake, then accelerate again automatically if the vehicle in front moves within a two-second period. If the wait is any longer, the driver can reengage ACC and have the truck pull away by either tapping the 'MEM' button on the wheel, or touching the gas pedal.
The system is smooth in practice and takes some of the stress out of stop-go shunting, but there are limitations. The system relies on tracking the vehicle in front, so if that vehicle should turn left or right at a junction, the MAN will think it's all clear ahead and start accelerating away – which might well be undesirable at a busy junction! Drivers would do well to keep this in mind and not rely on Stop-and-Go completely.
TEST TRUCK SPECS Models:
MAN TGS 18.400 4×2 distribution tractor unit
Cab: M
Chassis: 3,600 mm wheelbase, 800 mm overhang
Engine: D1556LF09, 9-litre, Euro 6D, ZF Intarder Max power: 400 bhp @ 1,800 rpm
Max torque: 1,800 Nm @ 1,000-1,500 rpm
Transmission: MAN TipMatic 12-speed automated
Test weight: 28,160 kg
MAN TGS 18.400 4×2 tipper tractor
Cab: L
Chassis: 3,600 mm wheelbase, 800 mm overhang
Engine: D1556LF09, 9-litre, Euro 6D
Max power: 400 bhp @ 1,800 rpm
Max torque: 1,800 Nm @ 1,000-1,500 rpm
Transmission: MAN TipMatic Off road 12-speed automated
Test weight: 39,000 kg
MAN TGS 18.330 4×2 box body
Cab: M
Chassis: 4,500 mm wheelbase, 2,350 mm overhang
Engine: D1556LF09, 9-litre, Euro 6D
Max power: 330 bhp @ 1,800 rpm
Max torque: 1,600 Nm @ 1,000-1,400 rpm
Transmission: MAN TipMatic 12-speed automated
Test weight: 18,000 kg