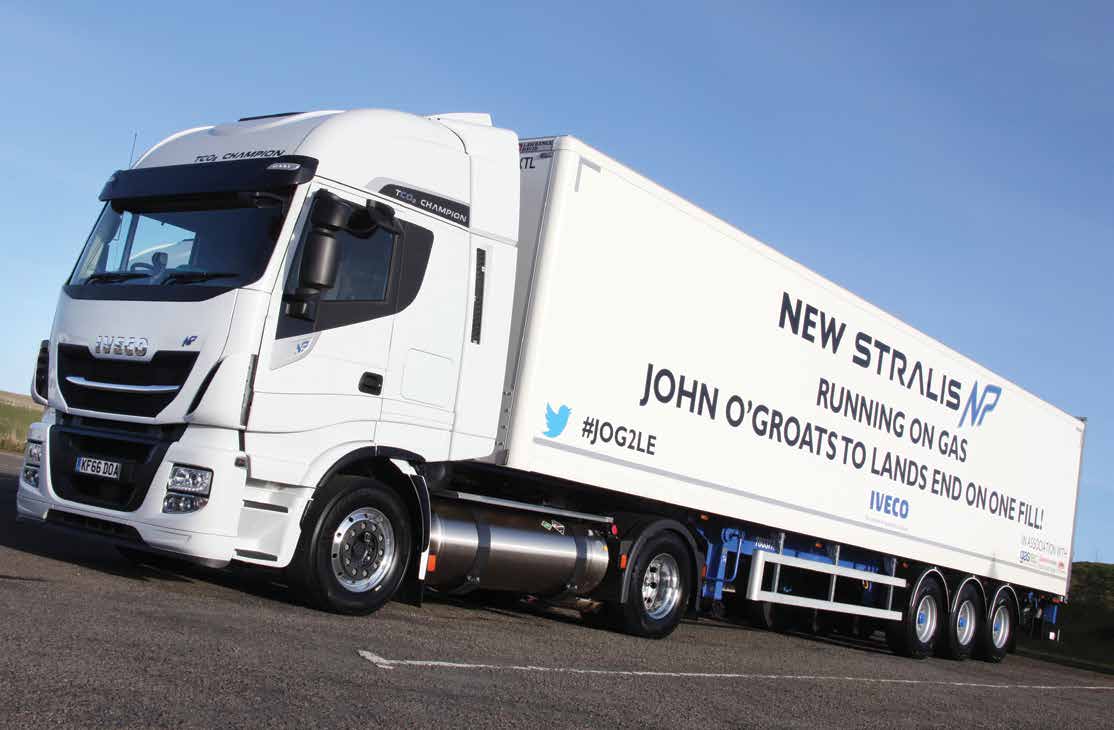 You'll have no doubt spotted the demonisation of diesel that the ill-informed tabloids have embarked upon. Well, most of the truck makers are already looking for alternatives and we've had a go at one, Iveco's Stralis NP, 'Natural Power'. Ian Norwell reports from Caithness, Cornwall, and every county on the road between the two.
There's no getting away from it, diesel is a very efficient fuel for using in truck engines. But, even though the latest Euro 6 trucks emit a tiny fraction of the pollutants you got from a truck a decade ago, it's still not spotless. How about gas?
Well, early gas engines had trouble dragging the skin off that proverbial rice pudding, but they have recently grown a pair of horns, and beefed up their act.
Martin Flach, director for alternative fuels at Iveco, tells us: "It's true that the torque characteristics of early gas engines were pretty poor, but we are now at the stage where it's practically on a par with diesel."
The other issue with gas – and it is still a problem – is the lack of filling stations, so Iveco set out to prove that this needn't be a bar to dashing for gas, by attempting to run their Stralis NP from John O' Groats (JOG) to Land's End, on just one fill-up.
Always on for a challenge, we stepped up to be one of the four drivers needed. We used two Stralis tractors, one 400hp NP running on LNG (liquefied natural gas), and a 460hp diesel version. Both were 4×2 tractors, running at around 32 tonnes. As the NP is aimed squarely at the supermarket trolleys, that weight makes sense. So, off up to bonny Scotland then…
The frozen north
The weather at John O' Groats was unseasonal. Clear skies, sunshine and no wind.
We had lucked out though – 24 hours later it was slinging it down with rain and blowing a severe gale.
The road from JOG to Inverness is almost all single carriageway and pretty tight in places. If two artics meet, there's not a lot of margin.
The NP sat on adaptive cruise like any other Stralis. We found that about 88k was the best setting
The choice can be between dropping a front nearside wheel on to the soft verge and risking calamity, or clashing mirrors with an oncoming truck.
When the locals seem to be mostly armed with checker plate protection over their mirrors, you know who's going to lose.
Setting off at 06:45 was hardly an early start, but we were soon eating into the trip. We started out in the NP and at 400hp, it's as low as you'd want to go with that kind of hilly terrain at that weight.
A run at the hills, where possible, was the best policy – riding the waves, if you like.
Once clear of the highlands and down onto the A9, M9, M73, M74 and the M6, life returned to normal.
The NP sat on adaptive cruise like any other Stralis. We found that about 88k was the best setting, leading to fewer overtakes and having little impact on journey times.
A big plus, especially on the tough going sections, was the standard fitment of a retarder.
This is Iveco's answer to the poor engine braking that a gas engine gives. We managed almost the entire JOG to Inverness section – at a lively pace – without using the service brakes, the retarder is that good.
The balmy south
Overnighting near Preston, we climbed into the 460hp diesel Stralis for day two and pressed on to the M5, then south all the way to Exeter where it was off to the A30 westbound.
The 400hp gas engine will be the first from Iveco, with higher outputs in development.
The extra 60 horses we now had were noticeable and we only dropped to 11th gear and about 75kph, on the hill up to Sourton Cross near Okehampton. Not bad, but our fellow drivers in the NP made slower progress here.
To be fair to Iveco, this is not the landscape they would recommend for their NP at 400hp, with flatter terrain being its natural habitat.
The run down to Redruth had a bit of traffic, but nothing like the guano that the A30 can dish out in the summer, so when we pulled into Smokey Joe's Truckstop at Scorrier, we were pretty pleased.
It was then solo tractors bobtailing on to Land's End – no space for trailers there. A romantic sunset had our photographer all dewey-eyed and that was that. So, the Stralis NP, cooking on gas, had made it all the way on one fill (with 200km left in the tanks), while our diesel 460 running mate had to fuel up in Gloucester services. So what's the future for gas then?
Number crunching
Over the entire route, the XP 460 consumed 383.5 litres of diesel and the NP used 344.3 kg of gas. Diesel consumption was at the rate of 27.71 litres/100k (10.2 mpg), and gas at 24.8kg/100km.
To translate this into hard cash, we have used the current published rates of 75p per kg for gas and 96p per litre for diesel, both ex-VAT. This equates to £258.25 worth of gas and £368:16 spent on diesel.
Therefore the Stralis NP's fuel costs for the run were £109:91 less that its diesel sibling. This trip seems to have proved that the lack of filling stations isn't much of an issue.
Iveco's technical boffin, Martin Flach, tells us that fleet buyers have even less to worry about.
He said: "If a fleet took 15 or 20 of these, the gas provider (there are plenty of them) would almost certainly pay to put a gas filling station in their yard. That kind of number would generate sufficient gas usage to justify the investment."
On the bigger picture, the Stralis NP is a more expensive chassis (at the moment) than the diesel versions, but the gas is cheaper. To make it all work, with average annual mileages, you'll need to own the truck for more than about two and a half years.
That's the break-even point and after that you can reap the rewards of cheaper fuel. And if you've ever suffered from diesel theft (we've even seen hooligan versions with a pick-axe through the tank), then gas doesn't have that worry.
The tanks are very robust, double-skinned and cryogenic – ie bleeding cold inside! Effectively un-nickable then.
Filling up needs a one-off half hour's training and sensible PPE.
Our verdict…
We can certainly see a future for this and when higher horsepower engines come along, it could spread outside the supermarkets and parcel carriers that the current 400hp engine will suit. The war on diesel, however ill-educated, will mean that trucks like this will eventually become commonplace. Just don't forget the heavy-duty gloves when you gas her up. Minus 160º is a bit nippy.