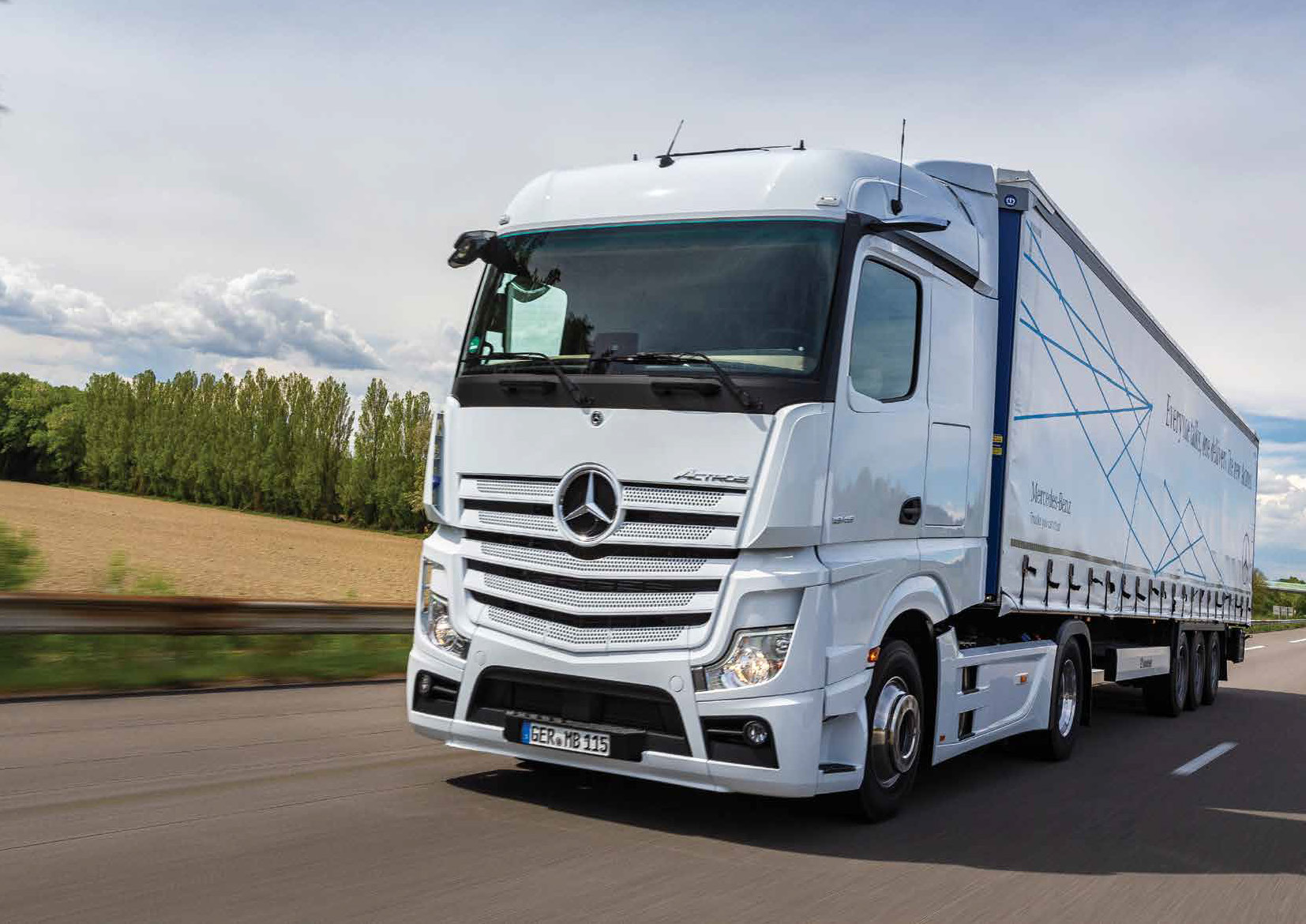 The all-singing, all-dancing, tech-laden Mercedes-Benz Actros has arrived! The question is now whether or not it'll live up to the hype.
Mercedes-Benz took the wraps off its mirrorless, partially self-driving New Actros in Berlin back in September 2018. At the launch event, we were given the chance to take a tractor unit for a quick spin around a test track – and, after just a handful of minutes behind the wheel, it was clear the German manufacturer wants to kick its production trucks firmly into 'Next Gen' territory.
Recently we were offered a more in-depth road test on the Spanish highways and byways in and around Barcelona – and were champing at the bit to take it for a proper drive on public roads. New Actros is loaded with new technology and 'world firsts' aimed at making truck driving easier, safer, more comfortable and more efficient – and we were keen to try them all out.
Looking at the vehicle from the outside, the first thing to notice is it has no rear-view mirrors. In-stead, cameras mounted high above the door windows feed signals to two 15in screens mounted on the A-pillars inside the cab.
MirrorCam is standard spec – you can have traditional glass mirrors if you want and it'll save some cash, but Merc reckons MirrorCam offers a load of benefits. It pans the image on the screens to fol-low the rear of the trailer while cornering and reversing; overlays a mark denoting the end point of the trailer and, by extension, some additional distance lines showing when it's safe to pull back in after overtaking; and the absence of conventional mirrors improves all-round visibility.
Switching from traditional mirrors to cameras also improves the truck's aerodynamic profile, which contributes to an improved fuel economy of around 5%. And they are also really easy to clean – just wind down the window and give the lens a quick wipe with your thumb!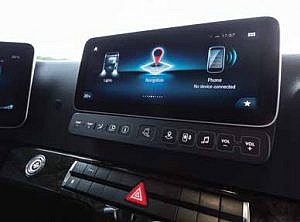 But the MirrorCam panels aren't the only new screens inside the cab, as New Actros comes with a Multimedia Cockpit (MMC) as standard. A primary display replaces the conventional instrument cluster behind the wheel (10in Road test as standard, although a larger 12in panel is an option) and shows driver information such as speed, gear, revs, fluid levels, driving time etc. Meanwhile, a 10in secondary touchscreen is mounted on the centre console and provides access to ancillary controls via virtual switches, plus other tools and apps (such as sat nav, air con, radio, interior lighting, phone etc).
Also new is Active Brake Assist 5, which uses improved radar and camera tech to better detect and react to people and objects. If it detects a risk of collision, ABA5 alerts the driver using a three-stage escalating warning system. If no action is taken, New Actros can bring itself to a complete stop.
Active Drive Assist is another of the truck's headline features. This partially automated driving system 'sees' using the camera and radar tech of ABA5 and works to automatically keep the vehicle in lane – though the driver remains fully responsible for the truck and has to keep their hands on the wheel at all times.
ADA combines with the new Predictive Cruise Control (PPC) and Proximity Control Assist (PCA). PPC uses data derived from sat nav to ensure the truck is travelling at the appropriate speeds for the road ahead and now slows automatically for corners, while PCA maintain safe distances from vehicles ahead. The result, claims Merc, is safer motoring and reduced stress for the driver.
ON THE ROAD
For our test, we were given an 1853 4×2 with BigSpace cab to take on a 114km trip from Barcelona, along the coast and then up into the hills to our destination: the Parcmotor de Castelloli race track. The first part of the route was on a busy motorway, and once we'd pulled out to the truck park we were soon cruising along at a steady 90km/h (since we were here to trial the new driving systems, our truck was only hauling around 14 tonnes so we can't really comment on pulling power during this test).
Two things became clear almost immediately. The first is that the MirrorCam system is superb. After our first drive in Berlin, we were concerned the screens on the A-pillars would be distracting, but in practice the opposite it true. Their position means it's actually easier and quicker to check
the screens, and the way the image follows the trailer is really useful. We still haven't tried the screens while driving in the dark(Mercedes-Benz assures us the image dims appropriately and low-light performance is more that adequate), but daytime driving is both comfortable and unobtrusive.
Secondly, we were surprised how quickly we adjusted to the Multimedia Cockpit. The primary screen is clear, uncluttered and easy to read, plus it can be controlled via a responsive touch pad on the left of the steering wheel. The secondary screen has its own touchpad control on the right of the wheel, meaning you don't have to push and prod the screen itself while driving.
After a few kilometres, it was time to try out ADA. The system comes on automatically with PPC and takes over steering duties when road conditions are clear enough. Blue lines appear on the primary MMC display to signal ADA is engaged, and then the wheel starts turning automatically. It's a strange sensation, and for a while we didn't quite know what to do with our hands. But we soon found adopting a relaxed grip was the best way forward and, after a while, we learned to trust it.
As mentioned, drivers must keep their hands on the wheel at all times (sensors detect if they are re-moved), and they must be ready to take back control at any point. Merc was keen to stress ADA is a driver assist only, and is not capable of fully autonomous operation.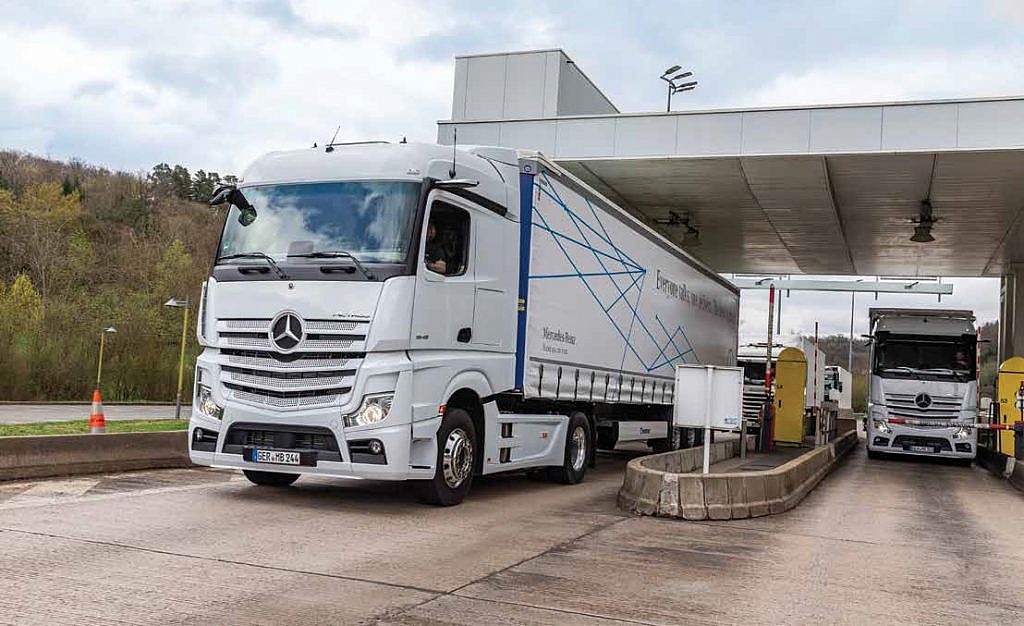 For the last leg of our trip, we turned off the highway and made our way up into the hills. Here, we started a winding descent on a stretch of road full of tight bends – and our task here was to make it to the bottom without touching the pedals, instead relying on PPC to ensure we entered and exited each corner at a safe speed.
Credit where it's due, the system worked faultlessly – the approaching corner direction is displayed on the MMC, along with distance info and the speed at which it must be taken. PPC slowed the vehicle for each bend, and accelerated us back up to cruising speed afterwards. It was effortless.
VERDICT
It's almost impossible not to be impressed with New Actros given the amount of new technology on board. It's the first series-produced truck to offer partially automated driving, packs a clear and useful digital cockpit, provides a vastly improved predictive cruise control which takes into account cornering speed, and is bristling with better safety kit.
It's also the first truck to replace conventional mirrors with cameras – and they provide real advantages to drivers.
We quickly got to grips with them despite our initial reservations. The screens might seem be strange at first, but in practice they are quick to check, sensibly positioned and offer genuinely useful distance makers and panning capabilities. We reckon the majority of drivers will like them (though cross-Channel truckers will need to remember to leave themselves enough room to open the door after squeezing onto a ferry). Overall, New Actros marks a new benchmark for modern commercial vehicles – and it'll be interesting to see how the other manufacturers react.
By Dean Barrett
Photos Mercedes-Benz