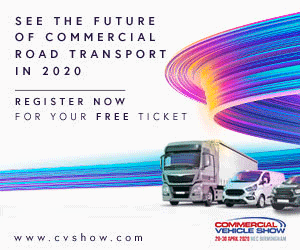 With thousands of visitors already pre-registered and over 380 exhibitors confirmed to date, the Commercial Vehicle Show remains the 'go-to' event for everyone working in road transport operations, logistics and distribution-based businesses. Register for your free ticket today!
The 2020 Show, which takes place at the NEC, Birmingham, from 28-30 April, will see every segment of the road transport industry represented, with exhibitors spanning the whole road transport, distribution and logistics supply business. From truck, van, pickup and trailer manufacturers through to fork-lift trucks, insurers, tyres, telematics and training providers, fuels and lubricants suppliers and much more, the Show provides everything fleet operators and sole traders need to help them purchase and maintain the safest and most efficient vehicles.
As the largest, most comprehensive and best-attended commercial vehicle event in the UK, the three-day Show provides truck and van operators with a far greater choice then can be found anywhere else. The central location and convenient transport connections to the NEC in Birmingham bring more than 19,000 visitors to the Show to meet exhibitors from the UK and abroad. It's the perfect annual meeting place for operators to catch up with vehicle manufacturers and suppliers, as well as providing the opportunity for them to learn about new products and services.
The biggest of its kind, unrivalled in size and visitor attendance, and offering the most comprehensive product range, more than 380 exhibitors are already confirmed, spreading over three of the NEC halls.
This year, the Show is pleased to announce a number of companies making their first appearance at the Show, such as the London Electric Vehicle Company, Midlands Truck and Van Ltd featuring Mercedes and Daltec. Renault Vans and Nissan are returning to the Show for 2020, and we will also be hosting regular exhibitors like Ford, Volkswagen, Fiat Professional, Vauxhall, MAN and many others from across the industry.
"As organisers, we aim to give our visitors a complete package of the commercial vehicle industry," said Murray Ellis, Show Director. "This is the industry's largest and most established commercial vehicle trade show with new vehicles, emerging technologies, and the opportunity to connect with key decision makers and other individuals who are as passionate about the sector as CV Driver readers are."
Skills shortage
With an estimated 64% of UK transport and logistics companies facing a severe skills shortage, the Show is also taking active steps to address this pressing issue. The current shortfall of nearly 60,000 HGV drivers is predicted to rise; an average driver age of 55, the return of many European drivers to their homelands because of Brexit and an outdated image are some of the reasons behind this downward trend.  Alongside the leading driver training specialists, providers will be showcasing ways to gain the necessary qualifications into the industry.
Murray Ellis commented; "Championing education and diversity is key to challenging any misconceptions of the commercial vehicle sector held by those outside of the industry, Visitors will have access to a wide range of training and skills providers, allowing them to discover the wide range of roles that are available within the industry.
Ellis added; "It is important that we take a grass-roots approach to opening up the industry to newcomers. To this end, we have introduced three live theatre spaces. These will allow us to facilitate both talks and panel discussions, informing and educating in a live show environment."
In addition to this skills shortage, recent studies have also shown that women make up just 20% of the workforce in the freight and transport sectors, and only 3% of Britain's HGV drivers are female. Therefore, a particular focus of many exhibitors has been to attract more women to the Show. One of the biggest barriers to entry into the industry was the lack of even the most basic facilities to support female drivers. To combat this, services and facilities providers are now actively planning their facilities for both sexes.
New for 2020 – Live Theatre
New on the agenda for 2020 will be a series of Live Theatre discussions, where sector leaders, innovators and commentators will talk about key industry issues throughout the three days of the Show. Designed to educate and provide insight from within the industry, the timetable and guest speakers for the Live Theatres will be announced in the coming month at www.cvshow.com.
Two dedicated zones within the Show make it easy to find sector suppliers.
To ensure your vehicles are kept running at maximum efficiency, the WORKSHOP zone will showcase everything from OE components and replacement parts to maintenance management systems, garage, workshop and bodyshop equipment.
For those moving goods to be kept at a constantly controlled temperature the COOL zone is a must visit. Here you will find a huge range of refrigerated vehicles and bodywork, side by side with the latest fridge units, monitoring equipment and other products specific to cold chain operations.
Register now for your free tickets
A visit to the CV Show will ensure you are fully briefed on the latest product and service innovations, fulfil all your sourcing needs and help improve your business efficiency, profitability and compliance.
The Show runs from 28-30 April and entry is free. You can get your ticket by registering at www.cvshow.com.
Let's get social
For the very latest news about the CV Show, follow us on Facebook, LinkedIn, Instagram and Twitter, and look for the hashtag #CVShow2020.
Commercial Vehicle Show is organised by The Commercial Vehicle Show LLP, comprising the Road Haulage Association (RHA), the Society of Motor Manufacturers and Traders (SMMT) and IRTE Services, the trading company of the Society of Operations Engineers.
Commercial Vehicle Show 2020 will run from 28-30 April 2020 in Halls 3A, 4 and 5 of the NEC in Birmingham.
The Show is open on Tuesday 28 April from 0830 to 1700, Wednesday 29 April from 0830 to 1700 and on Thursday 30 April from 0830 to 1630 and entry is free.
For the latest Show information, please visit www.cvshow.com.