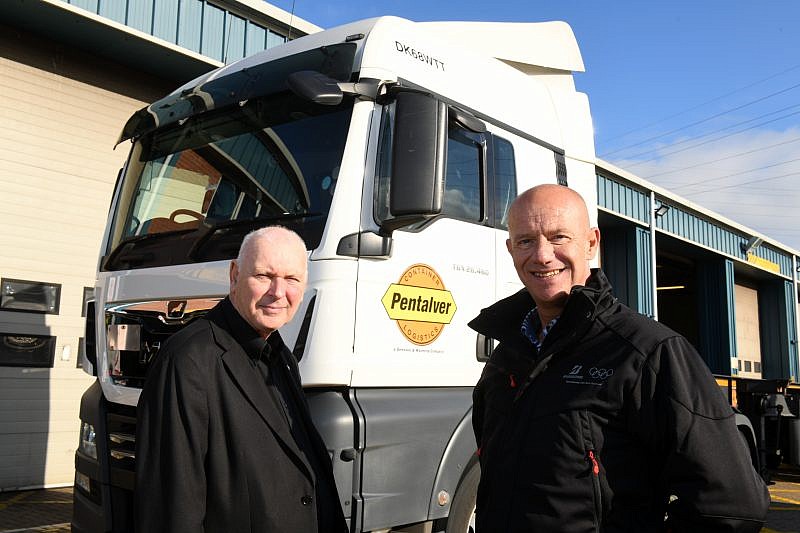 One of the UK's biggest freight haulage companies has given Bridgestone its most glowing endorsement in recent years, citing greater environmental benefits, improved road handling, reduced downtime and practical fuel savings per anum, amounting to around £500,000.
Pentalver, a subsidiary of Genesee & Wyoming Inc. (G&W), which offers a range of container services including road haulage and container conversions, operates a fleet of over 350 tractor units and 900 trailers in the UK – all fitted on a combination of Bridgestone's latest generation Ecopia H002 tyres and Bandag retread products.
The two companies have forged a close relationship over the past 12 years and Bridgestone is well placed to further strengthen its position in the years to come. Operating a UK wide terminal network, Pentalver has forged an 'indispensable' relationship with the world's largest tyre and rubber company, benefiting from its Webfleet Telematics offering and latest technological advances.
Pentalver's plaudits reinforce Bridgestone's multi-faceted approach to commercial fleet management, featuring product, services, channels, reporting methods and telematics insights.
Bridgestone's tyre partnership with Pentalver features the following aspects:
Ø  Short haul (Inland based) vehicles: Trucks – Ecopia H002 on front, Bandag retread on lift and drive axles. Trailers: Bandag retread.
Ø  Long haul (Port based): Trucks – Ecopia H002 on front and lift axles, Bandag retread on rear. Trailers: Bandag retread.
Ø  Bridgestone's Webfleet Solutions telemetry system implemented across the whole fleet to understand drivers-habits, use of cruise control, etc in attempt to save on fuel.
Ø  Bridgestone Partner network for breakdown assistance and round-the-clock tyre support.
Pentalver's Fleet Manager David Baldwin said: "Bridgestone is a leading global tyre manufacturer and the technology at their disposal is as good, if not better, than anything I have ever come across.
"We have made the right choice in supplier, both from a technical and people point of view, as we're benefitting from significant cost savings and are being treated as a unique business with bespoke needs by a talented team of professionals, who are experts in their field."
Further detail on each facet of Bridgestone's offering is provided below:
1.    Bridgestone Ecopia H002:
At 30% of all expenses, fuel is by far the biggest operating cost for long haul fleets. And not just that, the industry today is also faced with increasingly challenging EU CO2 emission regulations. The latest generation of Ecopia tyres has been designed in response to these everyday challenges.
The use of fuel efficient tyres on all axles can make a significant difference in fuel consumption. A reduction of 10% rolling resistance on a complete vehicle results in approximately 3% reduced fuel consumption (approx. 0.9litres/100km on a vehicle which consumes 30 litres/100km).
By working with Bridgestone, Pentalver is not only able to reduce their fuel consumption but also their carbon footprint.
2.    Bandag retreads
In addition to cutting tyre cost per km, retreading also helps Pentalver reduce their ecological footprint, by managing future scarcity of raw materials and ensuring efficient use of key resources.
It takes just a fraction of the energy to produce retreads in comparison with new tyres, adding up to 80% less CO2 and other carbon emissions.
Retreads contain up to 75% recycled and reused material, contributing further to sustainability and circular economy. Premium new tyre casings are made to last a second or even third life as a retread.
Re-using the worn casings as main retread component facilitates savings of up to 70 litres in oil, up to 32kg of rubber and 14kg of steel.
3.    Webfleet Solutions
Pentalver subscribes to Bridgestone's Webfleet Solutions telematics service, which provides invaluable insights into driver behavior.
Drivers have a huge influence on the amount of fuel each vehicle consumes. An aggressive driving style can negate the gains obtained from investments in fuel efficient tyres. Thanks to Webfleet Solutions, it is now possible to accurately measure the amount of fuel a vehicle uses through driver behaviour, allowing for those who employ a good driving style to be rewarded and others to be developed, as required.
Using fuel efficient tyres in place of standard alternatives, in combination with good tyre maintenance and economic driving style, minimises fuel consumption.
4.    Total Tyre Care
Total Tyre Care is designed to let Pentalver concentrate on its core business and take the worry out of tyre management.
Pentalver works with the Bridgestone Partner dealer network to provide the very best tyre support and husbandry, allowing for less downtime and better performance.
These dealers assist with correct inflation pressures, twinning of tyres, turning on rim and regrooving of tyres.
In addition, the 24/7 support provided by the Bridgestone Partner network means that any breakdowns are attended within the hour, saving valuable time and reducing hours spent waiting for roadside assistance.
David concludes: "All in all, in my view, Bridgestone's holistic offering, is what separates them from their competitors.  They are constantly changing and evolving, delivering the technology that is at the forefront of everything we do at Pentalver through their new and retreaded tyres and range of services."
Bridgestone's Commercial Operations Manager Paul Sheehan said: "Our multi-faceted approach has made an impression with Pentalver and it is great to hear so much positive feedback. Our product, services, channels, reporting methods and levels of innovation all combine to support Pentalver, while the relationships we have established over many years play an important role in reaching the right solutions. The industry has changed over the years, but we've embraced this change with a really forward-thinking company whose results speak for themselves."