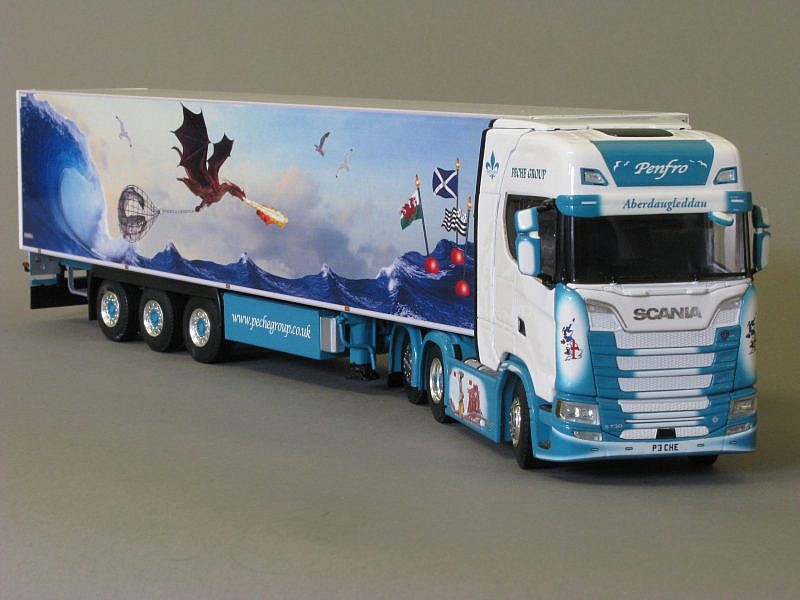 Customised promotional model vehicle specialists, Search Impex, are pleased to announce the release of a 1:50 scale Scania S730 V8 Highline 6×2 tag axle with 3 axle, refrigerated trailer, customised in the highly creative and original livery of Penfro Peche Ltd.
This is the fourth model to be produced in this operator's stunning livery – the first model having been based on Penfro Peche's Volvo FH3 Globetrotter XL and fridge trailer, the second on the Mercedes Actros and fridge trailer and the third on the Volvo FH4 & fridge trailer.
The models have been produced exclusively for Search Impex by WSI Collectibles as a certificated, Limited Edition.(175 pieces).
Incorporated in 1989 and fully operational since 1992, Penfro Peche began life operating from Milford Haven in Wales, but since then has also opened a second base at Lochinver in Scotland. Originally involved in the management of fishing boats and thereafter agency work and consultancy within the fishing industry, the Company branched out into transport in 1997. Nowadays, whilst the transport side of the business is still run from Milford Haven, the trucks, (with, incidentally, registration plates P3 CHE, P33 CHE and P333 CHE which are always transferred as trucks are replaced), load mostly out of Scotland.
The first truck purchased by Penfro Peche back in 1997 was a Scania 460 with, as is typical for the industry, a white reefer trailer. Whilst contemplating how best to livery the new reefer trailer, the Managing Director viewed the huge plain white sides very much as an artist's canvas – and so commissioned a local artist to hand-paint a design directly onto the trailer sides. The brief given was to be imaginative and creative, yet topical and relevant. The result was a painting depicting a (Welsh) dragon pulling a net from the water, with various fishing buoys in the seascape – the marker flags on top of the fishing buoys being in the national colours of the Company's trading partners.
Since this first trailer mural, the initial "story" has evolved, but it still very much retains the dragon character, as can be seen on the Company's present day trailers. Although now printed on vinyl, the imaginative graphics on the Penfro Peche trucks and trailers continue to turn heads (and cameras) wherever they go!
The new Scania, on which the next model is to be based, has inherited the
P3 CHE registration plate and is liveried, as would be expected, in the remarkably distinctive Penfro Peche style. And as for the trailer, this is again very much in keeping with what has now become this operator's unmistakable hallmark of using unique and highly creative graphics – visual imagery which will inspire the imagination of all those who are lucky enough to see it!
Models priced at £149 each (UK delivery & VAT) are available now from Search Impex. For details of availability of this and other models, collectors can visit the Search Impex website at www.search-impex.co.uk or call on 01332 873555