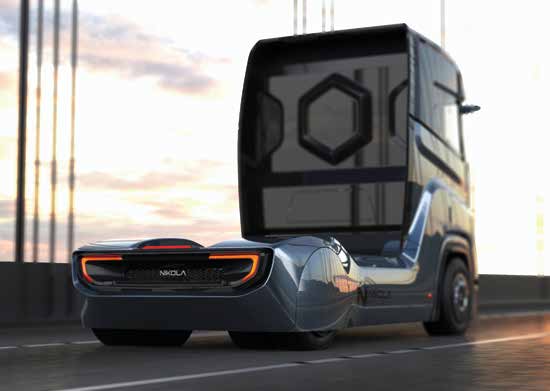 Nikola Motor Company
The latest product from the Nikola Motor Company has been revealed – and it features hydrogen power. The Tre (meaning 'three' in Norwegian) is still a concept, but promises between 500 and 1,000bhp, a choice of 6×4 or 6×2 configurations and a range of 500 to 1,200km depending on options.
The Tre will fit within the current size and length restrictions for Europe. The start of production is set for a similar time to that of the North American version – 2022/2023.
"This truck is a real stunner and long overdue for Europe," said Nikola Motor company founder and CEO, Trevor Milton. "It will be the first European zero-emission commercial truck to be delivered with redundant braking, redundant steering, redundant 800V batteries and a redundant 120kW hydrogen fuel cell, all necessary for true level 5 autonomy."
Nikola is currently working with Nel Hydrogen of Oslo to provide hydrogen stations for USA. As such, European testing is projected to begin in Norway around 2020. Nikola is also in the preliminary planning stages to identify a location for its European manufacturing facility.
By 2028, Nikola is planning on having more than 700 hydrogen stations across the USA and Canada. Each station is capable of 2,000 to 8,000kg of daily hydrogen production. Nikola's European stations are planned to come online around 2022 and are projected to cover most of the European market by 2030.