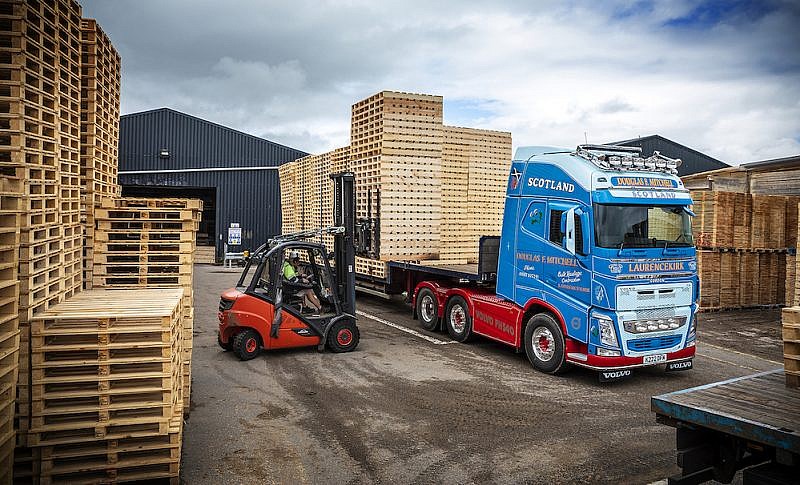 A Volvo FH tractor unit has been added to the fleet of Laurencekirk-based, Douglas F Mitchell Limited – a Volvo customer for the past 35 years.
The new FH tractor unit comes with a range-topping Globetrotter XL Cab and a 6×2 pusher axle 4,100mm wheelbase chassis and is powered by Volvo's D13K engine producing 540hp. Inside, the cab you will find leather interior and a Bed Resting Package feature, along with a coffee maker and microwave oven. The vehicle also benefits from a five-year, Volvo Gold Service Contract.
Douglas F. Mitchell will use its latest Volvo FH to haul a variety of trailer types, on transport assignments predominately linked to the agricultural industry. To provide maximum fleet utilisation, SB Components also fitted tipping hydraulics, in addition to chassis side skirts, chassis lockers and a catwalk to the truck.
Alcoa Dura-Bright alloy wheels and super single tyres on the front axle are also included in the firm's preferred specification.
The new arrival is also the most powerful Volvo FH to date within the company's fleet, with the remainder being 460, 480 and 500hp examples. The Laurencekirk operation's traditional Scottish fleet livery includes high presentation standards and a factory-painted solid Blue Regatta coloured cab sports additional paintwork and sign writing by Alan Dougan of Auchterarder.
"The new FH 540's fuel consumption figures are better than expected and despite its top power output, it's not using any extra diesel when compared to his other vehicles, with all working on a variety of job types," said Clive Mitchell, owning partner at Douglas F. Mitchell.