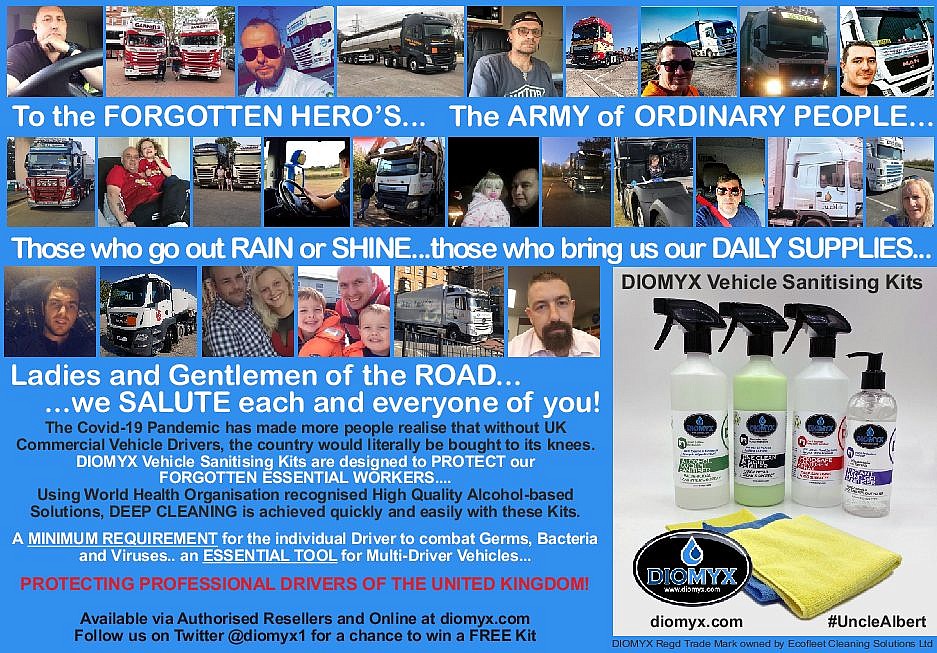 A Derbyshire based Vehicle Cleaning Chemical Manufacturing company has packaged a deep cleaning solution kit to help minimise the risk of commercial vehicle drivers contracting COVID-19.
Ripley-based Ecofleet Cleaning Solutions Ltd, already a leading manufacturer and supplier of cleaning products to some of the largest Fleet Operators in the UK, have developed DIOMYX range of Valeting & Hygiene Products to include a vehicle cab sanitising system.
Based on 70% isopropanol alcohol content – above the 65% recommended by the World Health Organisation (WHO) to combat the virus, Ecofleet MD Albert Marrocco explained: "We had already identified a gap in the market for a high-quality cab sanitising system and had a bespoke formulation ready to go based on the same alcohol content typically found in hand sanitising gels. The current pandemic has simply highlighted the importance of proper cab sanitisation – and we are ideally placed to serve that need with full production and packaging at our Ripley facility.
"Given that the virus can survive for several days on surfaces, sanitising the cab is absolutely crucial, especially when it comes to vehicles which are used by more than one driver. This is increasingly the case given the extra pressure on transport companies during the current pandemic.
"DIOMYX kits are already being used by both individual drivers and leading fleet operators across the UK who recognise the importance to protect their workforce and ensure continuity of service to their customers."
Ecofleet is also shortly to launch a dedicated training video on cab sanitising to help companies and drivers get the most from the sanitising kits and show how quickly and efficiently sanitising can be achieved to ensure drivers, and those with whom they come into contact, are protected.
DIOMYX Vehicle Sanitising Kits are available via a network of Authorised Resellers including Truck Stops & Washes, HGV Parts Dealers or online at www.diomyx.com