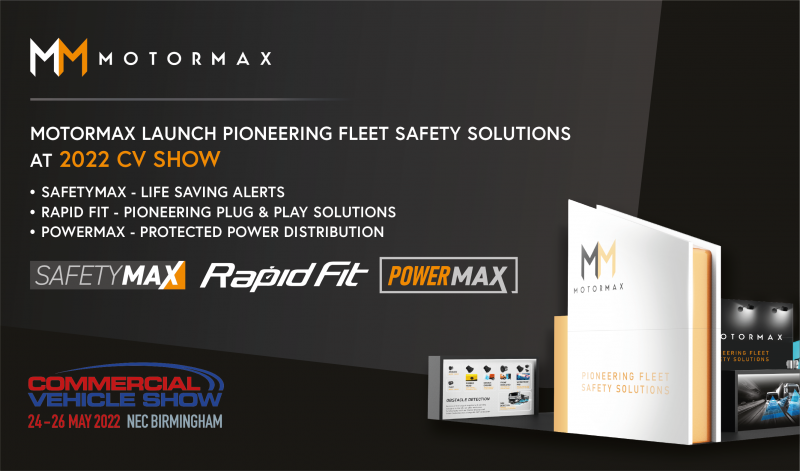 Visit Motormax on stand number 5F60 to see and experience our pioneering, industry-leading fleet
safety solutions. This year's CV Show sees the official launch of our exclusive solutions –
Safetymax, Rapid Fit and our brand-new power distribution unit, Powermax. You can also experience our Live Platform / DVR.
Safetymax – life saving alerts
Safetymax is an exclusive range of audible and visual warning safety systems designed and
manufactured by Motormax. We use innovative technology to improve the safety of the UK's largest
fleets, the welfare of drivers and the surrounding public. Safetymax makes sure critical and potentially
life-saving alerts are communicated clearly to drivers with timely warnings for them to act. We can
programme up to nine tailored alert images and voice prompts to be displayed on screen. We bring
together camera viewing combined with parking sensor technology to give drivers enhanced visibility
whilst manoeuvring a vehicle. Our technology is designed to integrate with the vehicle with the
appearance of a factory-fitted option.
Safetymax 360 Detection System
Our R&D team have developed an informative sensor detection system. It uses anywhere from four to
sixteen ultrasonic sensors to provide drivers with a clear indication of obstacles around the vehicle
below a predefined vehicle speed. A traffic light system at fixed points around the vehicle is displayed
on screen allowing drivers to understand the display, remaining at a safe distance whilst
manoeuvring.
Live Platform / DVR
From on-demand vehicle footage, live vehicle GPS, personalised notifications and reporting, our
industry-leading platform has already helped hundreds of businesses improve safety, enhance the
productivity and efficiency of their fleet.
As a "connected" vehicle via the live view DVR, Motormax can integrate any of the Safetymax triggers
through to the report suite on the live software. This enables the operator to view events and footage
from the warning system in real-time and view and export historical events.
CV Show 2022
Motormax Pioneering Fleet Safety Solutions
​
Rapid Fit
Rapid Fit is a pioneering, innovative Plug and Play solution. Our exclusive design means we have
created a professional and consistent installation process for alarm and lighting solutions, parking
sensors, reverse cameras and sensor step extensions. Rapid Fit significantly reduces in-life visits to
vehicles, improving the efficiency of fleets.
Every installation from number one to number one hundred is the same, so this simplified process
reduces margin for error. The installation method is also non-destructive so will not void the
manufacturer warranty. All of our Rapid Fit wiring looms are manufactured in the UK which allows us
to develop and produce solutions quickly to suit specific fleet requirements.
LATEST PRODUCT LAUNCH – Powermax
With the growing number of electric vehicles on the road,
Powermax is the ideal power distribution
unit for electric vehicles. New for 2022, the programmable battery guard is a solid-state battery
device. It monitors the source voltage, disconnecting equipment from the battery if the voltage falls
below a predetermined level. This ensures that there is always sufficient voltage remaining in the
battery to start a vehicle or to ensure power is available for other critical applications.
The unit can also be set to disconnect equipment at a lower voltage, ensuring the battery is protected
from total discharge. The battery guard can also be timed which will automatically disconnect after a
set period once the ignition has been switched off.
On our stand – seminar programme and refreshments
As well as being able to experience our new products, we have a seminar programme running
throughout each day. Come and join us to learn about our latest solutions and how we improved the
safety of the UK's largest fleets. Check our website for further exciting announcements at the end of
March.