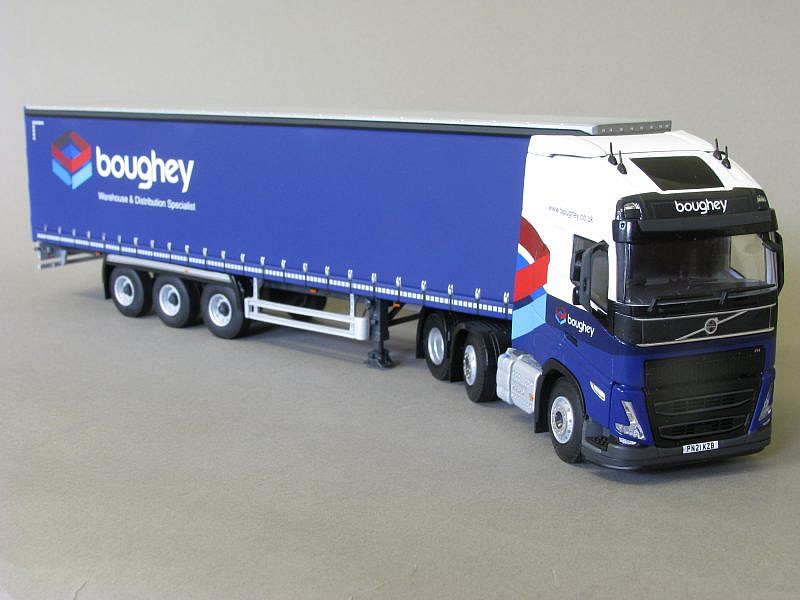 Customised promotional model vehicle specialists, Search Impex, are pleased to announce the release of a 1:50 scale Volvo FH5 Globetrotter XL 460 Euro 6 (6×2) tractor unit and 3 axle, curtain trailer, customised in the livery of Boughey Distribution.
The models have been produced exclusively for Search Impex by WSI Models as a certificated Limited Edition (105 pieces).
Based in Cheshire and founded in 1964, Boughey Distribution is one of the country's leading logistics providers to the food industry with particular experience and expertise in the ambient grocery sector.
Working with some of the UK's largest retailers, Boughey provides storage and distribution services together with a range of bespoke added-value services for the food industry including consolidation, e-commerce and contract packing.
Boughey operates from two sites, a purpose-built 48-acre site in Nantwich and a warehouse in Crewe, which offer a total of 1.1 million sq ft of space and 137,000 pallet spaces of ambient storage. Each day, the company manages up to 8,000 daily pallet movements, all controlled by the latest in systems technology.
The company's fleet of 127 vehicles and 250 curtain-sided trailers covers 10,000,000 miles each year. Investing in new fleet and the very latest technology, vehicle performance and efficiency are high priorities for Boughey, along with ensuring driver comfort and safety.
With a striking red, white and blue livery, Boughey's fleet will be familiar to many UK truck spotters and collectors as the fleet travels the length and breadth of the UK.
Models, available from Search Impex, are priced at £154 each (including UK delivery & VAT). For details of availability of this and other models, collectors can visit the Search Impex website at www.search-impex.co.uk or call on 01332 873555.