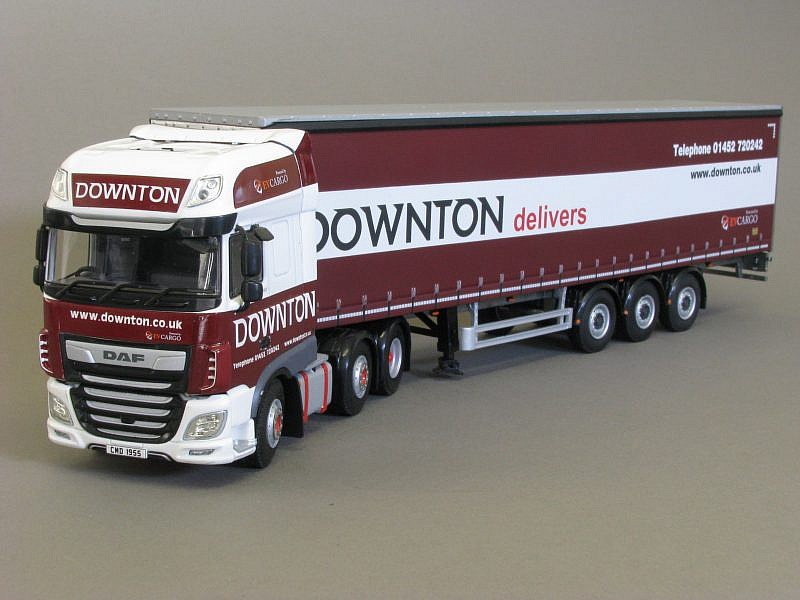 Customised promotional model vehicle specialists, Search Impex, are pleased to announce the release of a 1:50 scale DAF XF Super Space (6×2) tractor unit with 3 axle, curtain trailer, customised in the well-known livery of Gloucestershire based haulier C M Downton.
The models have been produced exclusively for Search Impex by WSI Collectibles as a certificated Limited Edition (230 pieces).
C M Downton Ltd was formed in 1955 when Conrad Michael Downton, the owner of a small Gloucestershire farm, invested in a gravel-carrying tipper lorry and began moving small loads around the county.
In the 1960s, Downton purchased its first articulated lorry – a Dodge Model D308-116 wheelbase chasis and cab, with a Leyland 370 engine and 900 x 20 firestone tyres. By the 1970s it had more than a dozen articulated vehicles as it diversified its operations and commenced working for the local brewing industry, winning major contracts with Bass Brewers and the Flowers Brewery in Cheltenham.
In 1985, Conrad Downton died suddenly at the age of 52. His three sons – Andrew, Richard and John – and daughter Kate took over the running of the business, and the firm enjoyed success as one of the UK's leading family-owned haulage contactors until 2018 when it was acquired by EmergeVest, and later consolidated into the EV Cargo group.
The long-term relationships that Downton enjoys with some of the UK's leading brands like Dyson, Magners Cider, AB InBev UK and Pets at Home is testament to the prominent role that the business has carved for itself in the industry.
Specialising in general haulage, the firm operates both Tiger and Cartwright curtainsider trailers. The DAF XF Space Cab makes up the majority of the 1200-strong fleet, despite including a limited number of Volvo and MAN vehicles from earlier acquisitions.
Around the turn of the millennium, the livery enjoyed a refresh from the original cream and maroon colouring to the iconic white stripe bearing the 'Real Distribution Solutions' tagline. This later changed to 'Downton Delivers' that remains true today.
The model is reflective of the 2019 livery that includes logo additions on the tractor and trailer units following the EV Cargo group consolidation in 2019.
More detailed information about the operation can be found at www.downton.co.uk or for the EV Cargo group at www.evcargo.co.uk
Models, available from Search Impex, are priced at £146 each (including UK delivery & VAT).
For details of availability of this and other models, collectors can visit the Search Impex website at www.search-impex.co.uk or call on 01332 873555.