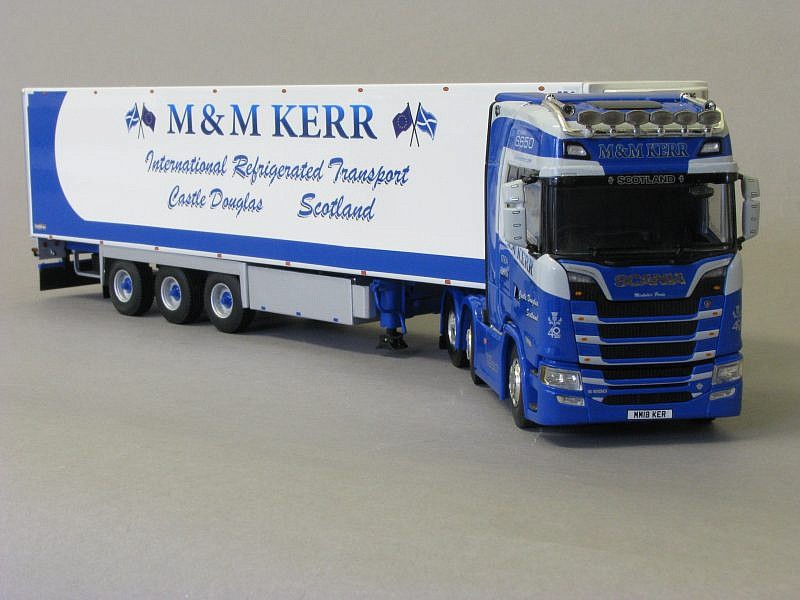 Customised promotional model vehicle specialists, Search Impex, are pleased to announce the release of "Michele's Pride" – a 1:50 scale Scania S650 Highline (6×2) tractor unit with 3 axle, refrigerated trailer, customised in the attractive livery of Scottish operator M & M Kerr International Refrigerated Transport.
The models have been produced exclusively for Search Impex by WSI Collectibles as a certificated Limited Edition (175 pieces).
Founded by Andrew Kerr back in 1975 and based in Castle Douglas, south-west Scotland, the business originally started as a livestock haulier but, since the mid-1990s, it is no longer involved in livestock movement and has since become a leader in refrigerated meat transport. With more than 40 years of service to the Scottish meat industry (2016 marking the Company's 40th anniversary), M&M Kerr remains a family-run transport company specialising in refrigerated haulage services with daily full-load and groupage services across the UK and Europe. Now run by Andrew's son, Mikey, together with his wife, Michele, this husband and wife team share the same commitment, drive and passion that have been the hallmark of the business over the last 40 years or so and which ensures that M&M Kerr continually adapts to meet the changing needs of its customers.
With a fleet of more than 20 high-specification trucks (a mix of Scania & Volvo) and fridge trailers fitted with the latest temperature and satellite tracking systems, the Company is able to monitor the temperature in every trailer and identify the exact location of the vehicle. In order to help protect the operator's commitment to reliability, M&M Kerr generally replaces its tractor units every five years and its trailers every six years and all inspections and maintenance are carried out at its own workshop in Castle Douglas.
M&M Kerr operate throughout Scotland & England and have daily services to France, Belgium, Holland and Germany, as well as running further afield with weekly services to Italy, Switzerland, Denmark, Norway and Sweden. As to be expected, this means all M&M Kerr drivers are well experienced and have an excellent knowledge of collection and delivery locations throughout Europe.
Without doubt M&M Kerr's trucks are already a familiar sight to many UK truck enthusiasts and collectors and for sure, the continental work undertaken by this operator almost certainly means a collectors' following that will extend well into mainland Europe – and probably beyond!
Models, available from Search Impex, are priced at £149 each (including UK delivery & VAT).
For details of availability of this and other models, collectors can visit the Search Impex website at www.search-impex.co.uk or call on 01332 873555.