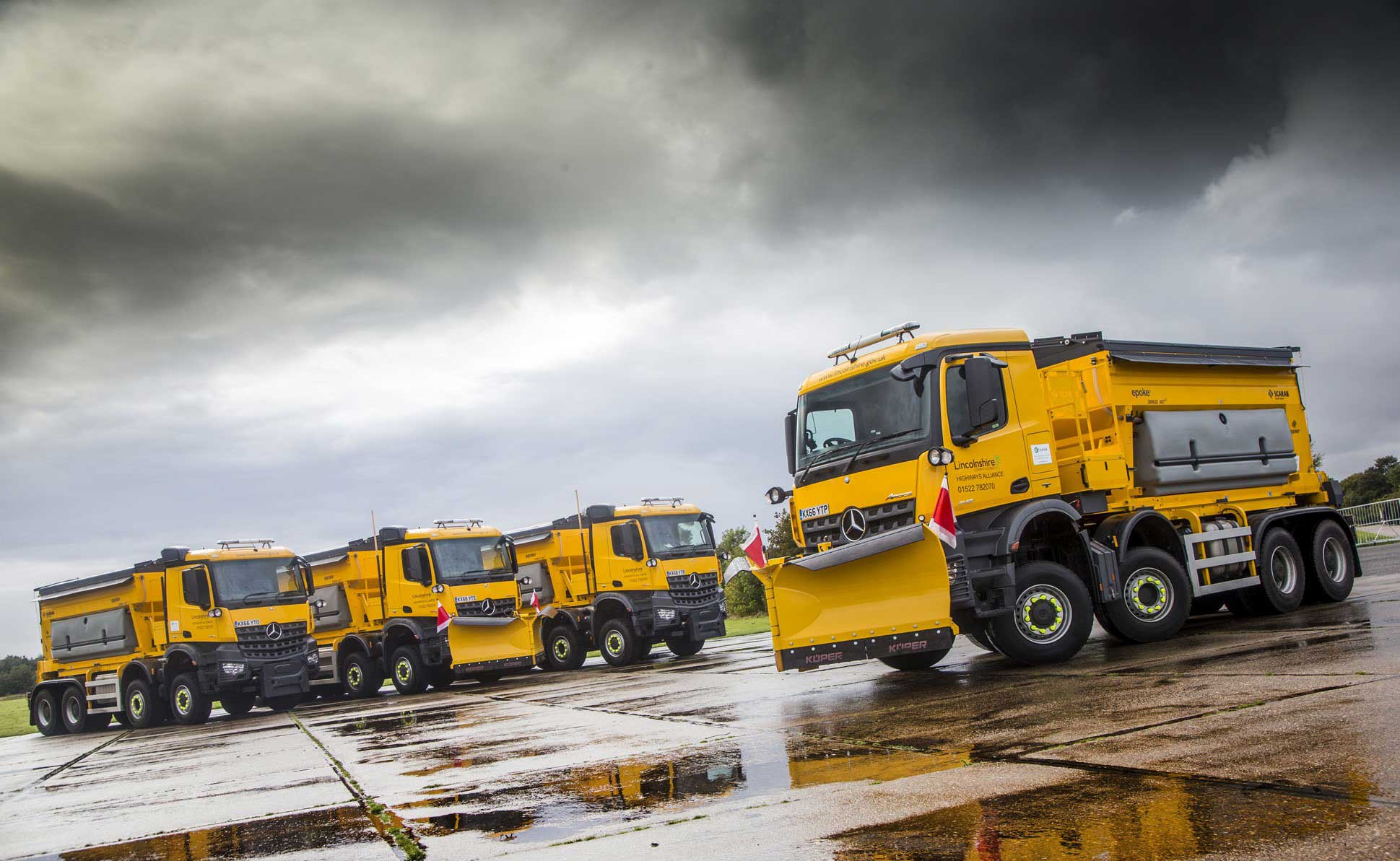 Lincolnshire is renowned for being one of the flattest counties in Britain, yet its new Mercedes-Benz gritters will be ensuring the roads remain open this winter in an area of hills and steep valleys.
The UK's first 8×6 Arocs models will see action should temperatures plummet in the Lincolnshire Wolds, a designated Area of Natural Beauty with the highest ground – near the village of Normanby le Wold, at approximately 551 feet (168 metres) – in eastern England, between Yorkshire and Kent. The four trucks were purchased by contract hire specialist Essential Fleet Services for operation by Lincolnshire County Council. Key to the order won by Dealer Intercounty Truck & Van, was the availability of a factoryfitted front drive axle, as well as the proven reliability of previous Mercedes-Benz vehicles and its own, high-quality back-up.
The latest arrivals are Arocs 4143 AKs with ClassicSpace M-Cabs, advanced 335 kW (428 hp) six-cylinder engines and smooth Mercedes PowerShift 12-speed automated transmissions. Their Danish-built Epoke gritting bodies were fitted and supplied, along with demountable Riko V snowploughs complete with Küper blades, by UK agent Scarab, of Tonbridge, Kent. Mercedes-Benz Axors in 6×4 configuration delivered by Intercounty Truck & Van and leased through Essential Fleet Services form the backbone of Lincolnshire County Council's fleet of 47 gritters. However, the new 8×6 Arocs have replaced 6×6 vehicles by another manufacturer – two are based at its Willingham Hall depot near Market Rasen, and one each at Horncastle and Manby.
The 32-tonne Mercedes-Benz chassis offers a gritter body with carrying capacity of 10 cubic metres. The vehicle can go further and stay out for longer than its 26-tonne predecessor before it has to return to base to reload.
Lincolnshire County Council has been at the forefront of the development of winter roads maintenance technology for many years. As with previous gritters, its new trucks are equipped with sprayers that pre-wet the dry salt with a brine and water solution just before it reaches the spinner, so it clings better to the surface and is not blown away. This allows the salt to melt snow and ice more quickly.