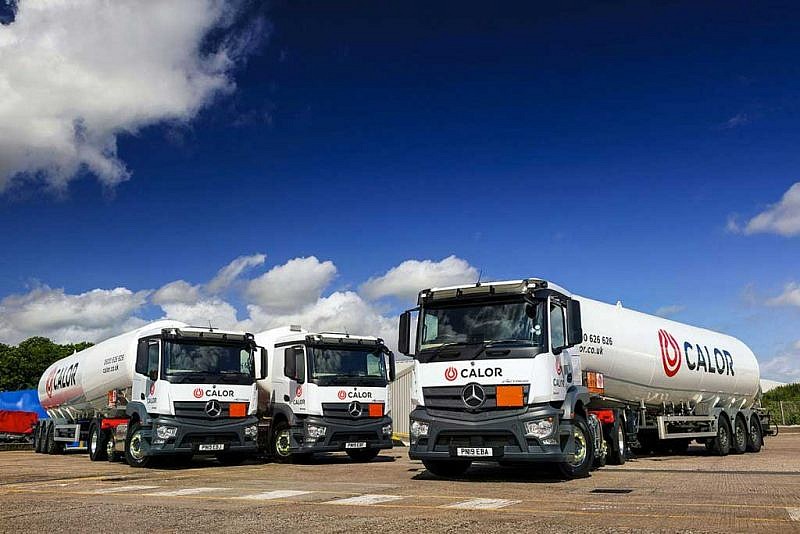 Calor's determination to improve safety while maximising efficiency has prompted it to add Mercedes-Benz trucks to its fleet.
The high-profile gas supplier's first 20 vehicles to wear three-pointed stars are now operating from its depot in Immingham.
Dealer Ciceley Commercials will shortly deliver another 10 trucks, all Antos 26-tonners with bodies by Lakeland Tankers, of Stourbridge. These will be based across nine of Calor's national network of sites. Safety is at the core of the Calor business and it was essential that any new vehicles in the fleet reflected this operational focus.
The new Calor units, like all road going Actros tractors, are equipped with Mercedes-Benz Safety Packs. In addition to the Active Brake Assist 4 emergency braking system – which incorporates pedestrian recognition technology – these include Proximity Control Assist and a driver's airbag. Calor's national vehicle engineering manager Alan Harrison and senior colleagues were treated to a demonstration at Mercedes-Benz Trucks' Wentworth Park Customer Experience Centre, near Barnsley, of Active Brake Assist 4's ability to prevent or minimise the effects of accidents,.
Seeing the system in action, and the speed with which it can bring a truck safely to a halt with no driver input, was a real eye-opener, Safety was a crucial consideration when we sat down to evaluate the bids we'd received, and its leadership in the field was instrumental in enabling Mercedes-Benz to win our business.
Active Brake Assist 4 employs multi-mode radar to monitor moving and stationary objects in front of the vehicle and sounds an audible warning when it senses potential for a collision. If the driver takes no action it will apply staged braking followed by full braking power to prevent a crash, or dramatically reduce the effects of an impact. The system is looking for moving pedestrians from a standstill, even one stepping into the truck's path from behind a parked car.