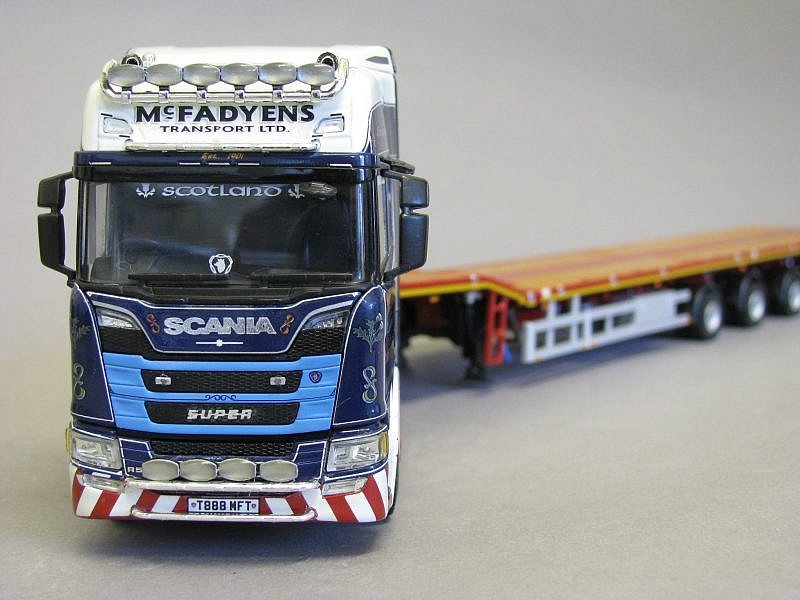 Derbyshire based promotional model trucks specialist, Search Impex, is pleased to announce the release of a Scania R500 Highline, 6×2 single wheel tag axle tractor unit with a Nooteboom 4 axle, extender telestep trailer, customised in the livery of well known Scottish operator McFadyens Transport Ltd.
The model has been produced exclusively for Search Impex by WSI Collectibles as a certificated Limited Edition (175 pieces).
Charles McFadyen
Based in Campbeltown, in the Scottish region of Argyll & Bute, it was back in 1901 that Charles McFadyen started a haulage business. Using a horse and cart, he would meet vessels at the pier and collect cargo (comprising, more often than not, coal or bricks) and deliver it around the area to local merchants. It soon became a thriving family business as each of his five sons, on reaching suitable ages, were also given their own horse and cart and tasked with finding more local haulage work. The growing "fleet" of horses and carts were kept at the nearby family stables in Longrow from where the McFadyens also advertised public excursions by horse-drawn wagonettes to popular local destinations such as Southend or Machrihanish, but this was their only official venture into passenger transport.
Towards the end of the War in 1945, the first motor lorries began to replace the horse and carts. With ex-army vehicles becoming readily available, Archibald McFadyen purchased several second-hand Bedford tippers, one of which was a square nosed 'OY' type which had served with the army. Since then, a wide variety of makes has been used by McFadyens, including AEC, Albion, Commer, ERF, Ford, M.A.N, Mercedes and Volvo. In November 1978, a Scania LB86 tipper joined the fleet and its arrival on the scene heralded the start of the long and close relationship with Scania which continues to this day.
Historically, a large amount of the business was based on livestock transport but today the business focuses mainly on timber haulage and wind turbine transportation for the renewable energy sector.
McFADYENS Transport
Today's fleet of around 30 trucks is dominated by Scania ranging from standard 6×2 units through to heavy duty 8×4 trucks and trailers comprise a wide variety of types from extender telesteps, flat beds and step frames, through to low loaders, world adaptor clamps and superwing carriers, not to mention the necessary variety of escort vehicles. McFadyen trucks are well-known and easily recognisable with their original colour scheme of Oxford blue, with contrasting red chassis and white wings, topped off with the trade mark bachelor blue grille and hand-painted livery.
Models are priced at £169 each (including UK delivery & VAT) and are available from Search Impex.
For details of availability of this and other models, collectors can visit the Search Impex website at www.search-impex.co.uk or call on 01332 873555.