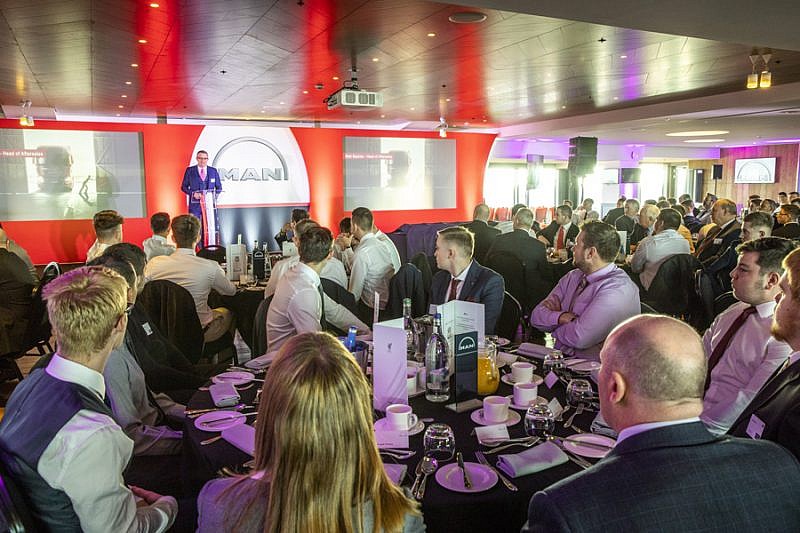 MAN Truck & Bus UK celebrated the achievements of the best and brightest young men and women involved in the MAN Truck & Bus Apprenticeship Academy recently at a dazzling awards lunch held at Liverpool Football Club, Anfield.
Matt Squires, aftersales director, MAN Truck & Bus UK Ltd, hosted the awards and commented: "The awards recognise those who have made an outstanding contribution to the apprentice programme, continuously showing commitment, dedication, hard work and passion for the brand.
"The apprentices, whose fantastic achievements we are celebrating, represent the future of our business and have all demonstrated high levels of engagement with model attitudes and behaviour, while their clear focus and drive to succeed is very impressive," added Matt.
The MAN Apprenticeship Academy develops young people for the Retail network in order to support succession planning and MAN's future growth aspirations. The Academy has seen over 2,000 apprentices graduate since it was established in 1996.
The MAN Apprentice of the Year competition began in 2001 and today there is currently over 120 Apprentices training in the MAN network.
Matt continued: "These highly valued young men and women will lead the drive to keep tomorrow's MAN Trucks, Vans and Buses out on the road and earning. Today we see finalists from past years who have gone on to develop great careers with MAN Truck & Bus UK – many of our senior staff today began their careers as technicians."
The MAN UK Apprenticeship programme is one of the largest in the commercial vehicle industry and continues to generate high quality staff for the UK MAN dealer network.
The recruitment of apprentices is increasing year-on-year, a testament to the positive contribution the apprentices make to the MAN network.
Chosen from individual job categories, the finalists were nominated by managers, mentors, assessors and trainers on the basis of their commitment, determination and ability to work as part of a team.
The seven MAN Truck & Bus Apprentice of the Year winners were: year 1: Joshua Hunt, MAN Truck & Bus Plymouth; year 2: Edward Lawrence, Cordwallis Group; year 3: Neko Daniels, MAN Truck & Bus Westbury; business and admin level 3: Kirsty Dyer, MAN Truck & Bus Bristol; parts level 2: Callum Gilchrist, MAN Truck & Bus Bellshill; parts level 3: Jacob Phillmore, MAN Truck & Bus Westbury and sales: Ben Fraser, MAN Truck & Bus Bellshill.
MAN Truck & Bus UK celebrate Apprentice of the Year Awards 2018