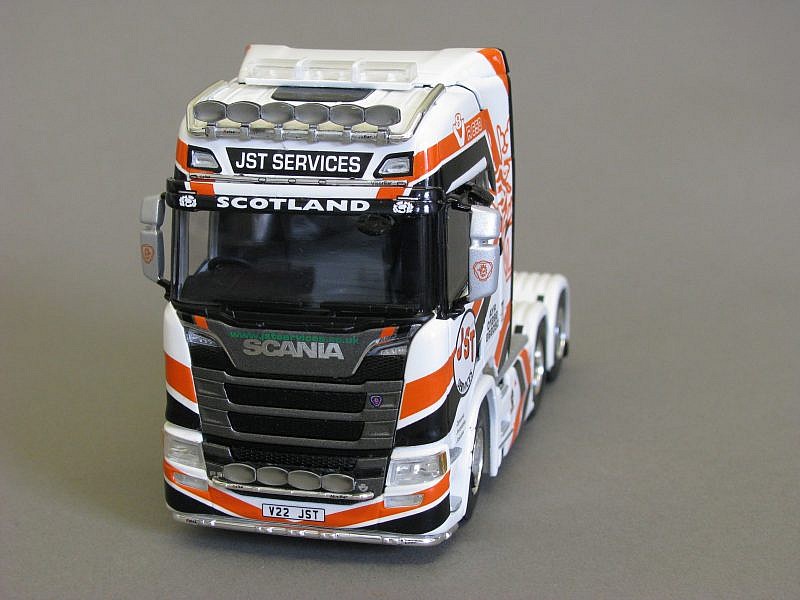 Derbyshire based promotional model trucks specialist Search Impex is pleased to announce the release of a Scania R650 Highline (6×2, single wheel tag axle) solo tractor unit, customised in the well-known livery of specialist Scottish operator JST Services (Scotland) Ltd.
This is the second model to be commissioned by JST Services and follows on from the sell-out release of the first model – a Scania R730 Streamline Topline (8×4) solo tractor unit which was commissioned specially to mark the Company's 25th anniversary in 2018.
The new Scania model has been produced exclusively for Search Impex by WSI Models as a certificated Limited Edition (225 pieces).
Based in Ayr, south west Scotland, JST Services was established in 1993 by John & Linda Scott. With the efforts of a dedicated team, the business has grown to become one of the largest timber handling businesses in Europe, whilst at the same time diversifying into shipping and port handling solutions.
JST Services take great pride in their fleet of vehicles which have become a familiar sight throughout the west coast of Scotland and across the country. The business is particularly proud of its achievement in successfully developing highly effective mobile port handling machines. These are delivered using specially adapted tractor units (such as the Scania R730 Streamline Topline 8×4 on which the first model was based).
Models, available from Search Impex, are priced at £108 each (including UK delivery & VAT).
For details of availability of this and other models, collectors can visit the Search Impex website at www.search-impex.co.uk or call on 01332 873555