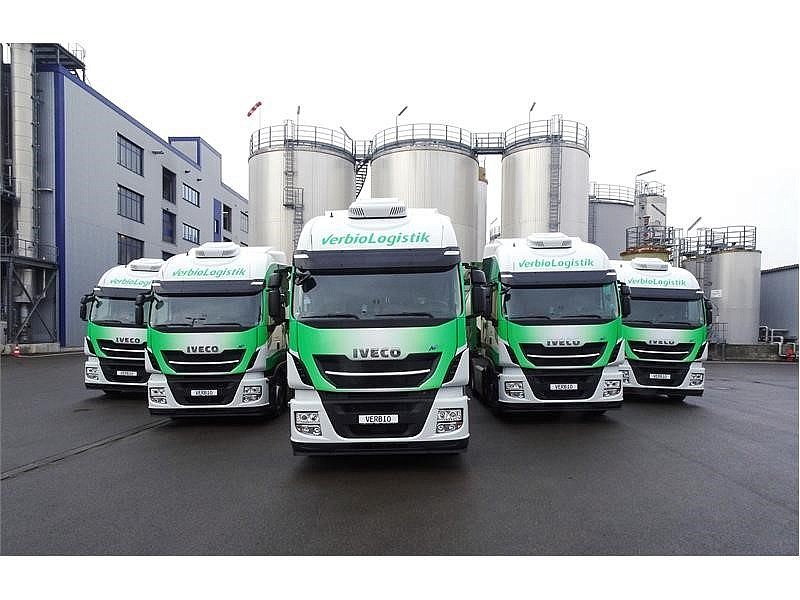 Iveco has supplied five Stralis NP trucks to Verbio Logistik, which will run the new vehicles on biomethane generated from straw, taking a major step towards CO₂ neutral transport in heavy goods vehicles. This supply also marks an important milestone for Iveco: the 1,000th Stralis NP delivered.
The five Stralis NPs will be fuelled by biomethane produced in Verbio's own plant in Schwedt, achieving a 90% reduction in CO₂, as well as a significant decrease in particulate matter and NOx emissions compared to conventional diesel trucks.
"Verbio is a key customer for us in the area of alternative traction with natural gas, because their fuel comes from a renewable source. We strongly believe that biogas is the new hydrogen! The choice of the Stralis NP for their fleet clearly shows that, with biogas, heavy transport can be carbon-neutral and profitable today," said Pierre Lahutte, Iveco brand president.
The trucks are the 400bhp mono-fuel CNG version. With two fuel tanks containing 920 litres of CNG or biomethane, this configuration has a range up to 570km. The new Stralis NP vehicles have been equipped with high-performance hydraulics that make it possible to seamlessly integrate them into an existing trailer fleet with moving floor technology. The Stralis NP trucks have the double advantage of their excellent environmental performance together with extremely quiet operation, as their noise level is 50% lower than their diesel counterparts, both while driving and in power take-off (PTO) mode.
Read more here in the CV Driver Magazine