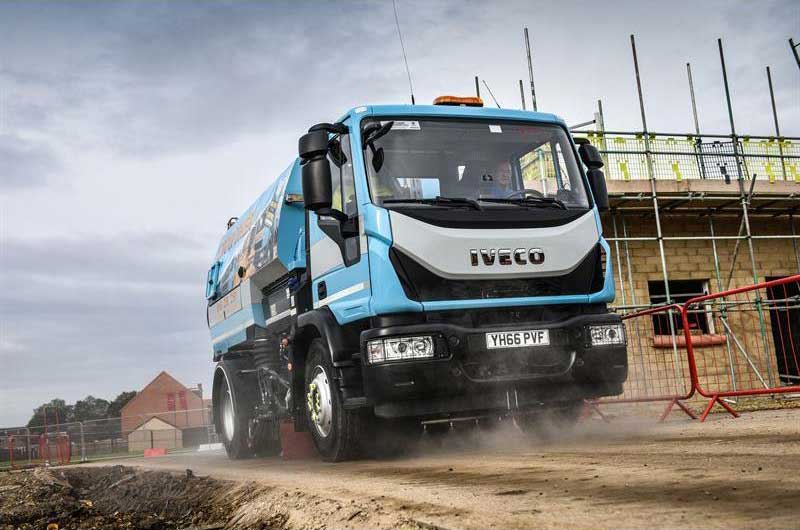 Family-run plant hire specialist JW Crowther has expanded its fleet with an Iveco New Eurocargo road sweeper, featuring a body built by Johnston Sweepers. Supplied by Iveco dealer Northern Commercials, the left-hand drive New Eurocargo (ML150E22) joins a fleet of 45 trucks at the Leeds-based company, where it will be used to keep dust and debris under control at construction sites around the north of England.
JW Crowther director Nigel Crowther said: "We have a number of road sweepers built on a competing truck manufacturer's chassis, but owing to the low speed, stop/start nature of road sweeping work, they suffer frequent downtime due to forced regeneration.
"Iveco's New Eurocargo eliminates that issue thanks to its HI-SCR passive regeneration system; it means the vehicle never needs to make stops for forced regeneration, and there's no action required by our drivers to operate the system. It's absolutely perfect for this type of operation. "We have also been impressed with the New Eurocargo's 12-speed transmission," added Crowther. "Road sweeping is all about precision control, and it's an ideal match for this kind of work – plus it gives our drivers the comfort of two-pedal driving." JW Crowther marks one of the first UK sweeper fleets to take delivery of Iveco's new Euro VI road sweeper, which was unveiled at the CV Show in April 2016 following a special product development project with Johnston Sweepers. Iveco now offers New Eurocargo sweeper chassis in 7.5, 12, 15 and 18 tonne models, and in left-hand drive, right-hand drive and dual steer variants.
Powered by Iveco's Tector 7 engine, the New Eurocargo is capable of producing up to 220 hp between 1,950 and 2,500 rev/ min, and up to 800 Nm of torque between 1,250 and 1,950 rev/min.