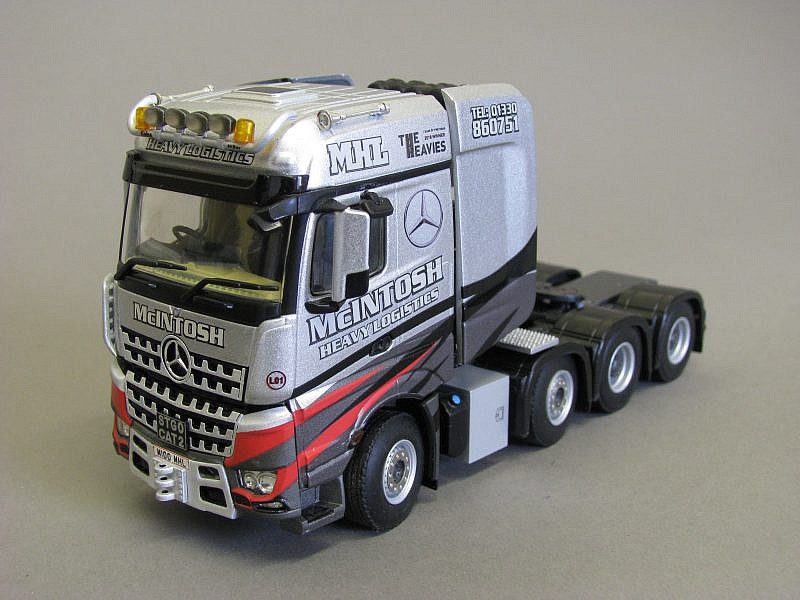 Promotional model trucks specialist Search Impex is pleased to announce the release of a 1:50 scale Mercedes Arocs (8×4) solo tractor unit, customised in the livery of McIntosh Heavy Logistics – a subsidiary of Scottish operator McIntosh Plant Hire (Aberdeen) Ltd.
The models have been produced exclusively for Search Impex by WSI Collectibles as a certificated Limited Edition (175 pieces).
McIntosh Plant Hire (Aberdeen) Ltd., is the North East of Scotland's leading earthworks, plant / transport hire and heavy haulage company. Today's business stemmed from a company owned and run by the current Managing Director's father.
Incorporated in 1976, the Company is a wholly owned and family run business, operating from a modern purpose built 63 acre site 10 miles west of Aberdeen.
With a combined experience of more than 100 years in the industry, work undertaken ranges from straight forward topsoil supplies, through to major earthwork projects. The company has a wealth of experience in every aspect of earthmoving and general civil engineering groundworks and employs a 50 strong workforce. Projects undertaken include new housing and industrial developments, new construction and upgrade of existing road networks and the construction of golf courses (having completed five new Scottish courses to date).
The Company's activities also extend to the heavy and abnormal haulage sector, courtesy of its subsidiary McIntosh Heavy Logistics (MHL) which, with a fleet of eleven STGO heavy haulage tractor units & circa 20 low loaders, 4 stepframes and modular line equipment, operates fully throughout the UK. Loads of up to 150 tons, (STGO Cat 3), can be carried, but MHL also has the capacity to carry / move loads of up 240 tons, quayside. Whilst, as would be expected, MHL takes care of the in-house movement requirements for McIntosh Plant Hire (Aberdeen) Ltd's earthmoving equipment, its core business is the transportation of equipment for many major companies within the oil industry. MHL provides a complete logistics package from quotation stage and route planning, through to all the necessary authority notifications and end of journey crane lifting requirements.
The Mercedes Arocs (with its memorable "family" registration plate of M100 MHL) is the latest truck to join the fleet and is plated up to 180 tons. Keen to get it earning its keep, the new Arocs has already undertaken some heavy duties, making light work of loads ranging from 130 through to 180 tons (payload) on McIntosh low loader rigs and modular equipment.
Models, available from Search Impex, are priced at £115 each (including UK delivery & VAT).
For details of availability of this and other models, collectors can visit the Search Impex website at www.search-impex.co.uk or call on 01332 873555.