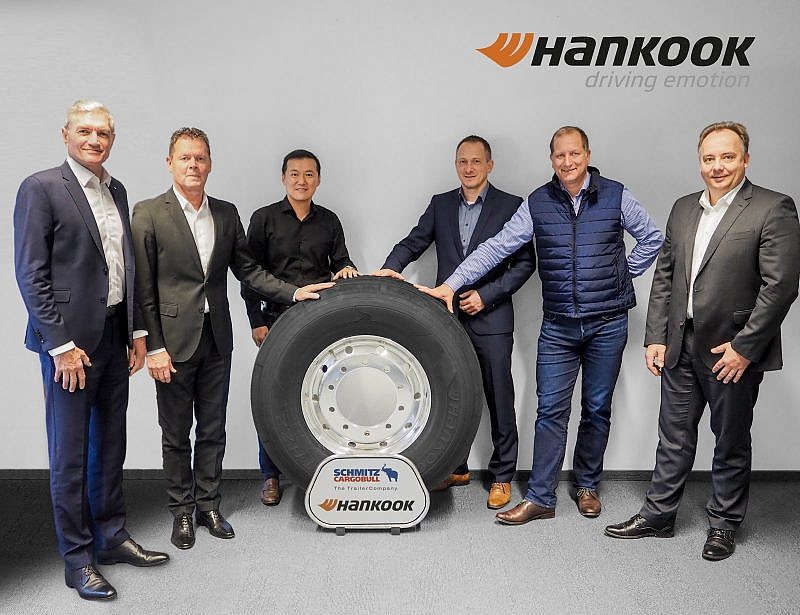 Premium tyre maker Hankook is further expanding its relationship with Schmitz Cargobull and will continue to supply its complete tyre portfolio consisting of state-of-the-art and particularly economical truck trailer tyres, adapted for European operating conditions, to the industry leader. The cooperation, which began in 2013, will therefore be extended by another three years. The success of the relationship is demonstrated, among other things, by the "strategic partnership" award that the trailer manufacturer presented to Hankook in 2017 as the only tyre maker to date.
"Hankook is an original equipment partner of numerous internationally renowned automobile and commercial vehicle manufacturers in Europe. Due to strong growth of the logistics industry in recent years, partnerships in the tyre business for commercial vehicles and truck trailers have become increasingly important," says Sanghoon Lee, President of Hankook Tire Europe. "As an industry leader, Schmitz Cargobull has particularly high demands in terms of performance, efficiency and sustainability and we are proud that our tyres meet these requirements in full," adds Dietmar Olbrich, Vice President of Marketing and Sales at Hankook Reifen Deutschland.
Schmitz Cargobull AG, with its headquarters in Horstmar, Germany, is Europe's market leader in the commercial vehicle segment. The original equipment business with Hankook truck tyres for Schmitz Cargobull will continue to focus particularly on the European market and currently comprises nine trailer dimensions in the 19.5 and 22.5 inch range, including the Mega-Trailer Dimension 455/40 R 22.5 of the efficient Hankook e-cube Max series. The exceptionally high mileage e-cube Blue lines for international long-haul traffic also come into operation, as well as construction site patterns from the Hankook SmartWork series. Furthermore, regional transport SmartFlex line and the SmartControl truck winter tyre portfolio are also used by Schmitz Cargobull.
Specially adapted for the respective application, the intended patterns impact in the areas of environmental friendliness and mileage – relevant for the TCO (Total Cost of Ownership), which is particularly important in the transport business. Hankook's premium truck tyres are fitted to the multiple award-winning Schmitz Cargobull trailers for national and international heavy goods transport in Europe. All Hankook tyres are delivered directly to Schmitz Cargobull's production sites.