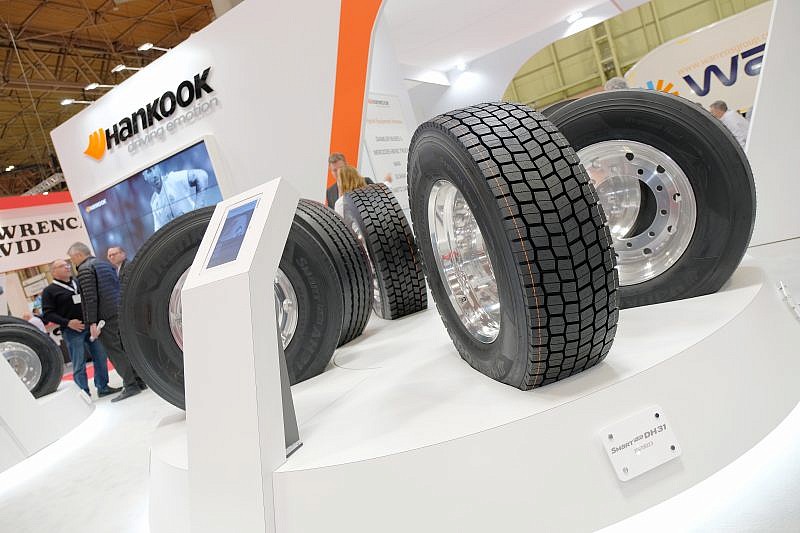 This summer, Hankook Tyre UK will be exhibiting at the Commercial Vehicle Show – the largest and most comprehensive road transport and commercial vehicle event in the UK from 31st August to 2nd September at Birmingham's National Exhibition Centre. The premium tyre maker will be presenting a comprehensive range of commercial vehicle tyres, including its new Laufenn truck tyres.
Daventry, UK, 8th June 2021 – Hankook Tyre UK will be presenting its expanding portfolio of commercial vehicle tyres at the Commercial Vehicle Show in Birmingham. Taking place from 31st August to 2nd September 2021 at the National Exhibition Centre (NEC), the company's stand will be located in Hall 5, number 5B50. At the show, Hankook will be presenting new products, which will have their world premiere at the CV Show. The stand will also display a comprehensive range of existing Hankook truck and bus tyres, including the steer (SmartWork AM11), drive (SmartWork DM11) and trailer (SmartWork TM11) tyres from the recently expanded SmartWork series, for regional on/off road. The new all-season Vantra ST AS2 (RA30) multi-performance van tyre for reliable driving in all weather conditions will also be exhibited, along with tyres from the new Laufenn line-up.
Already viewed as the leader in the UK truck tyre replacement market, the development of the new Laufenn truck tyres is a result of the research in the ever-evolving commercial tyre market to further increase market share dominance in the UK. The new Laufenn commercial portfolio is based on a recognised brand with high quality products, and innovative technologies. The second-line brand offers good value for money, and guaranteed retreadability throughout the range, not only to reduce costs, but to lessen the impact the products have on the environment.
Paul Emery, Sales Director for Hankook Tyre UK said, "As Hankook is viewed as the leader in the UK truck tyre replacement market and the Commercial Vehicle Show is the largest road transport and commercial vehicle event in the UK, it is the ideal opportunity to present our brand new products, alongside our existing innovative tyre solutions. Hankook continues to build on its reputation for producing outstanding tyres delivering superb mileage and reliability and the new Laufenn product further demonstrates our understanding of the market and how customer needs are changing."
He continues, "Our share of the market has grown considerably in recent years and fleets looking to maximise value for money in every area of their business have returned time and time again to Hankook, which prides itself on providing reliable products and service for customers and linking this with excellent cost per mile figures."
Hankook Tyre UK looks forward to welcoming visitors and press to the Hankook stand (Hall 5, Stand 5B50) between 8.30 am and 5.00 pm.