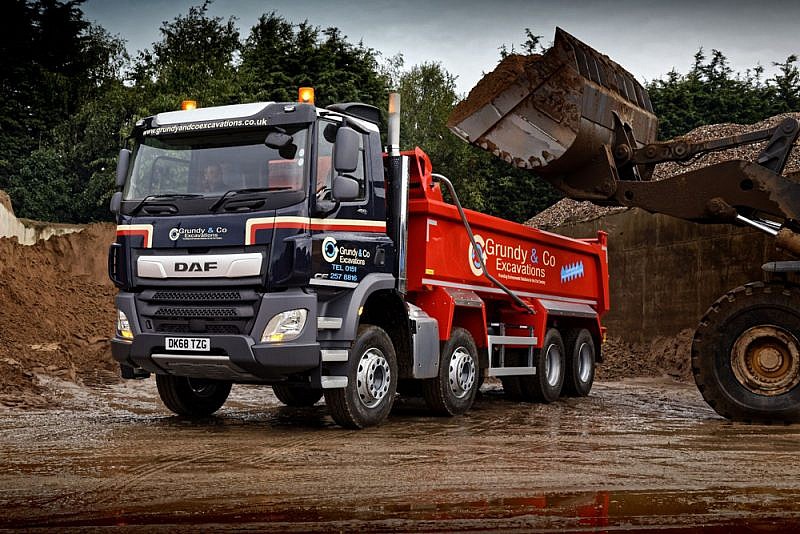 Bulk-excavations contractor and specialist recycling company, Grundy & Co Excavations Ltd, has taken delivery of its first DAF 8×4 tippers. The CF 450 'FAD' eight-wheelers join the operator's mixed heavy-duty tipper fleet running out of Widnes alongside the firm's own washing and recycling plant. Grundy also has a Transfer Station, Skip Hire operation, Waste Disposal facilities and a Landfill site.
The decision to take the DAF 8×4 chassis for the first time was the result of a demonstration vehicle provided by local DAF Dealer, North West Trucks. The firm's owner, Kevin Grundy, said: "We've never had a DAF 8×4 before, but it's fair to say we were very, very impressed. Impressed enough to order two of them, and we certainly haven't been disappointed – far from it!"
One of the key factors in choosing the DAFs over simply adding more of the other marques in the fleet was the low weight of the chassis. This allowed Grundy to specify a heavy-duty steel body from Marshalls Truck Bodies without any loss of payload. This decision in itself made the choice of DAF a sound one as far as the operator is concerned, but fuel performance proved to be the icing on the cake.
"We're all finding it hard to believe," said Kevin. "Even the drivers are talking about it. We have never had heavy tippers that didn't need refuelling for two and a half days like these two. We keep a very close eye on fuel and rely on our own exact figures, and when you know you're getting around 11mpg on motorway stretches from vehicles doing this type of work, and they're still bedding in, you know you're on a winner. We're very happy!"