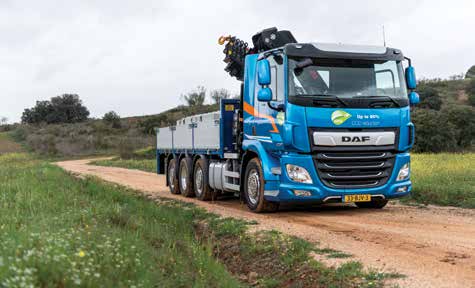 DAF Trucks has given its construction sector vehicles an overhaul, proving more choice for on- and off-road operators.
Having revamped much of the core range of vehicles, DAF Trucks introduced new axles and chassis configurations for its construction vehicles, offering greater specification flexibility.
First up, DAF is offering a 10-tonne front axle for CF and XF from Q2 2019. Featuring parabolic suspension with three leaf springs, this vehicle will be of interest to tipper operators who require heavy cranes to be mounted behind the cab – for example – and helps avoid overloading with diminishing loads.
Also new is a 7.5-tonne trailing non-steered axle with single wheels, which is 10kg lighter thanks to a newly designed die-cast axle housing. Static load capacity is also boosted to 26 tonnes – a substantial increase of 25%. This will prove a good fit for payload-sensitive work, such as shifting containers or moving building materials along with a rear-mounted crane.
FAQ and New FAW tridems
DAF introduced its FAQ tridem a few years ago and it's still a niche product, particularly appealing to those who need to go into farmyards. With greater traction and a reduced turning circle, FAQ has a single driven axle where all of the other axles steer, which virtually eliminates tyre scrub and reduces damage to fragile access points.
"Drivers can go in every day or every week to pick up milk or feed and not leave their mark on the farmyard," says DAF's UK Marketing Manager, Phil Moon.
Plus, two of the steering axles on FAQ can be lifted when unladen to save on tyre wear and fuel, and improve ride characteristics. The rear axle lifts first, then the pusher axle (though care must be taken not to overload the drive axle).
As of Q4 2019, DAF is introducing a FAW tridem chassis that features double-drive and is geared for more off-road applications. The manufacturer is particularly marketing this model at the UK concrete mixer market and it will have a technical GVW of 37 tonnes.
Concrete mixers have largely migrated to four axles, but this can limit access on certain sites. "There are a number of concrete mixer operators who want to go back to the accessibility they were used to with a three-axle 26-tonne, 6m3 chassis, but with the ability to deliver 8m3 of product," explains Moon. "FAW can provide this thanks to its impressive turning circle of 7.8m and its and four-axle capacity."
So given the benefits of manoeuvrability, fuel economy and payload, will we see a shift towards tridems for tippers? Well, a potential downside to this configuration is the centre of the load needs to be much further back. Even on concrete mixers, a tridem can result in a fairly big gap between the cab and the body and a pronounced overhang at the rear of the vehicle, so this needs to be considered carefully when ordering.
"If you have a conventional 8×4 with a Day Cab and the body mounted quite far forward, that's a perfect balance," says Moon. "If you try and put the same body and the same cab on a tridem, you'll end up overloading the front axle. You can now spec the new 10-tonne front axle, but you may end up with something that's not so nicely balanced.
"However, if you have a sleeper cab or some equipment behind the cab that isn't particularly heavy, it may well be that a tridem starts to make sense." In the UK, the legal payload for a four-axle, 32-tonne GVW rigid tridem is 24 tonnes.
CF FAT & FAD
DAF's new CF FAT and FAD single-reduction driveline features 10.8-litre MX-11 engined (367, 408 or 449bhp), which weighs up to 200kg less than the 13-litre variant. The mainstay is still the SR1132T single-reduction tandem axle, though it can also be spec'd with a lighter HR1670T hub-reduction tandem option.
The trucks sport TraXon transmissions which have now been upgraded with dedicated on/off-road software to improve shifting characteristics for construction operations – though 16-speed ZF manuals are still proving popular with tipper operators.
"We see about 15% of our eight-wheelers going out with a manual gearbox," reveals Moon. "It's not the bigger fleets or franchise operators, but there are a lot of die-hard tipper operators who still like stirring the gears. And we'll continue to offer that as long as they continue to take such significant numbers."
Weight is paramount in the construction sector, particularly in the concrete mixer market. A volume target of 8m3 of concrete is the usual requirement for a 32-tonne eight-wheeler chassis and DAF reckons it can achieve it with enough comfort to ensure operators can carry a decent sized water tank and also allow for some build-up of concrete on the chassis itself – all while staying within the legal weight limits.
This is primarily due to two substantial phased weight reductions. The first was back in 2015, when DAF shaved 140kg off these chassis; and then a 2017 update saw another quarter of a tonne taken off. Together, these have made a significant dent in unladen chassis weight.
Steering clear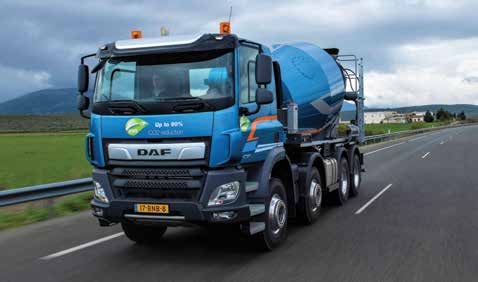 The growth in steered axles in both tractor and rigid format has been significant over the years, with a rearmost steering axle now an almost standard offering in a number of configurations. "If you look at our three- and four-axle CF and XF rigid sales for last year, about 33% had steered rearmost axles – around 850 per annum," says Moon.
Steered trailing axles can be spec'd on FAN 6×2/4 rigid, FAQ 8×2/6 tridem rigid, new FAW 6×4/4 tridem rigid, and FTM 6×2/4 tractor units. But DAF also offers an FAX 8×2/6 rigid with twin axles at the front, a drive axle and then a lifting steering axle at the rear. These, explains Moon, are popular in the CF variant with a crane at the back of the cab, for example.
In addition to CF cabs, FAD, FAX and new FAW will also be offered with the bigger XF cab. Although he's not expecting a huge shift to XF-cabbed construction vehicles, Moon says he feels some pressure from customers who typically mount heavy cranes and who could use a bigger cab due to running a driver and banksman, for example.
"We have customers currently who will take a CF Space Cab, but are living in the cab regularly and want something bigger," he adds. "So the with the XF cab, they'll appreciate being able to move about more freely, and have a lower floor with reduced engine tunnel to give the driver more space.
"And with the driver shortage, this sort of spec may help operators attract and retain better drivers," he concludes.
DAF Trucks is looking to strengthen in the mixer market