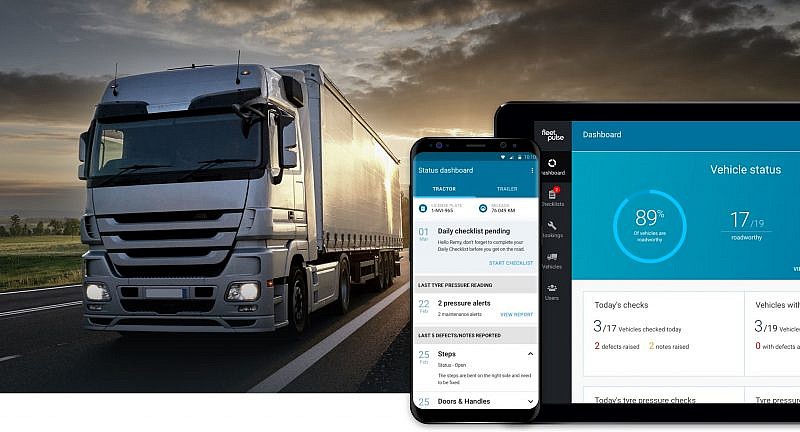 Bridgestone, the world's largest tyre and rubber company, announced the launch of FleetPulse, its three-in-one solution composed of a mobile app, a centralised website and tyre pressure monitoring system (TPMS) hardware. With vehicle downtime still one of the biggest challenges faced by businesses today, FleetPulse improves transparency into vehicle health to significantly reduce the likelihood of unexpected, costly and potentially dangerous breakdowns, thus increasing time on the roads while ensuring high safety standards. FleetPulse, which automates roadworthiness checks, will also help fleets to simplify their operations and reduce maintenance costs – two other key challenges for fleets. Visit Fleetpulse
FleetPulse Shining a light onto unseen issues
The digital revolution has changed how the world thinks about mobility and is paving the way for a new generation of solutions. Through advancements in sensor and connected technologies, we now have unseen insights into vehicle performance.
FleetPulse provides fleet customers with these insights to help them understand what is happening with their fleets and simplify life on the road for drivers. With the designated FleetPulse Android app, drivers and technicians have an easy-to-use platform to complete roadworthiness checks for their vehicles. Replacing what is currently a manual process, the
FleetPulse app ensures that nothing is missed by making sure that all necessary checks are made.
Then, through the centralised FleetPulse online portal, fleet and maintenance managers can access status updates for their entire fleet via the cloud – including defects and damage, as well as performance data. They can then make individual requests to drivers and technicians – including new checklists, service bookings and even the removal of vehicles from the road – directly through notifications from the FleetPulse app.
Now, drivers, technicians and fleet managers can also benefit from new insights into tyre health thanks to FleetPulse. The service comes with TPMS hardware for the vehicle – consisting of Tirematics sensors and a dongle. Connecting to the vehicle's TPMS, FleetPulse automatically collects data on tyre pressure, before relaying the results back to drivers and managers through the FleetPulse app and online dashboard in real-time. This helps to ensure tyre pressure is optimised, which is essential given that that 30% of breakdowns are caused by low tyre pressure, 90% of tyre-related breakdowns are caused by slow leakers and 20% of commercial tyres on the road are significantly under inflated. By ensuring appropriate tyre pressure is maintained, FleetPulse avoids breakdowns, excessive wear and unnecessary fuel burn – cutting unwanted tyre costs and CO2 emissions.
For any driver, anywhere, anytime
Today FleetPulse is the only solution on the market combining vehicle checks, booking services, fleet management and TPMS in a single platform, all while enabling real-time communication between drivers, technicians and fleet managers via the cloud. FleetPulse can be used anytime, by any driver, across all tyre brands, and is available on Android devices.
The FleetPulse app and TPMS hardware will be available on the market from September 2018, with a free trial period. The TPMS hardware will be available online as well as from selected retailers. Its cost would be amortised within a year, based on the assumption that a typical tractor and trailer combination running at optimal tyre pressure can save, on average, up to 1,100 euros per year in fuel, tyre and breakdown costs.ii
Paolo Ferrari, CEO and President of Bridgestone EMEA, commented on the announcement, "At Bridgestone, we're dedicated to understanding and addressing the real, daily challenges that drivers and fleet managers face. Digitalisation gives us new and exciting ways to do precisely that, and I'm proud that Fleetpulse is our latest example. Our pioneering use of data and technology, alongside our leading investments in R&D and our relentless focus on the customer, mean we're rapidly realising value from mobility solutions that deliver greater-than-ever efficiency, convenience and sustainability."
Learn more about FleetPulse on https://fleetpulse.app. Google Play Fleet Pulse App
To discover more about FleetPulse as well as Bridgestone's other pioneering mobility solutions, technologies and products. Bridgestone Truck Tyres