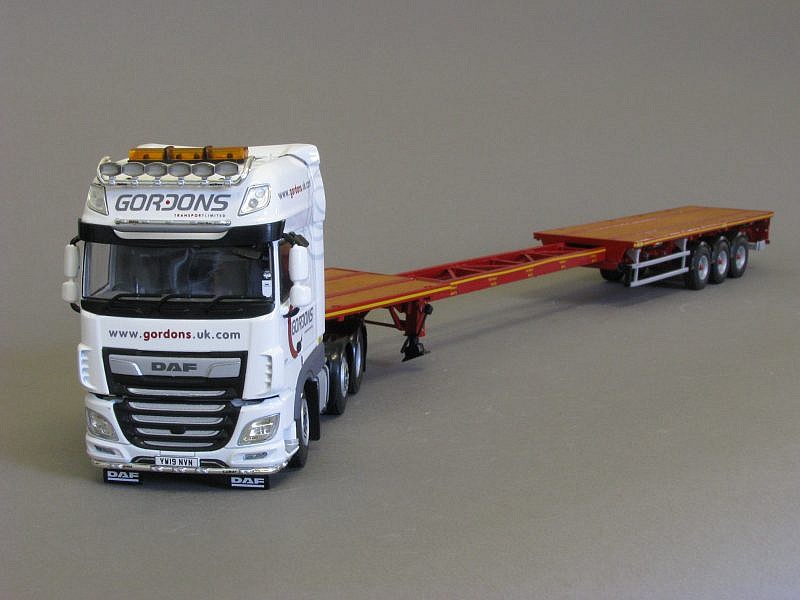 Derbyshire based promotional model trucks specialist Search Impex is pleased to announce the release of a 1:50 scale DAF XF Super Space (6×2) tractor unit with 3 axle, extender flatbed trailer, customised in the livery of North Yorkshire based Gordons Transport Ltd.
The models, commissioned to mark the 40th anniversary of Gordons Transport, have been produced exclusively for Search Impex by WSI Models as a certificated Limited Edition (155 pieces).
Based in the tiny village of Beal, North Yorkshire, Gordons Transport Ltd was established in 1979 by Cecil Gordon. An HGV driver by profession, Cecil found himself with his leg in plaster following an accident at work and for some time was unable to continue driving. Whilst off work recovering from his injury, he decided to keep himself busy and studied for the Transport Managers CPC at Queens College, Hull. Back on both feet and complete with his successfully acquired CPC qualification, Cecil took the plunge to go it alone and so resigned from a full-time job with a regular income and obtained a loan to buy his first truck, a Volvo F88.
This first vehicle was kept very busy serving the local farming community and it wasn't too long before additional vehicles were added to the fleet and the client base expanded. Hard work and determination – very much the ethos of the business from the outset – ensured the Company continued to grow soundly and steadily and that it earned a good reputation amongst its customers.
Although Cecil has now retired from the business, he did so proud in the knowledge that it was passing safely into the hands of the second generation of the family and knowing, too, that from starting out with a single truck, today's commercial operation, with a fleet of around 40 DAF trucks and 150 trailers (all flatbed), has become one of the largest flatbed operators in the country.
The trucks and trailers are all maintained in-house, in purpose built workshops based at the Company's main site in Beal, near Goole. Each of the Company's vehicles has an allocated and fully trained driver and is supplied with the necessary equipment to ensure goods are securely and safely transported. The business offers nationwide specialist road transport services seven days a week and serves customers in the construction, plant hire and manufacturing industries.
Models, available from Search Impex, are priced at £153 each (including UK delivery & VAT).
For details of availability of this and other models, collectors can visit the Search Impex website at www.search-impex.co.uk or call on 01332 873555.